How My Grocery Budget Works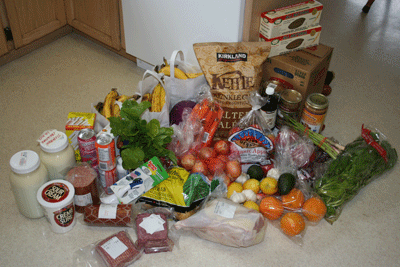 *My most recent grocery shop last week*
Grocery budgets are tricky things. There are so many variables that come into play: family size, special dietary needs, family members appetites, where you live (which country, what part of the country, urban or rural)…
I've been wanting to share how my grocery budget breaks down for quite a while now, but feel that it's important to state up front that I know there are so many variables that affect what our budgets look like. This is simply my budget, that works where I live, with the resources I have available to me, and the needs of my family.
A few things to note about our family and what makes my budget distinctive: I live in Canada, the Vancouver area to be exact (a fairly large, urban area with surrounding farmland). I have a husband who is a somewhat lighter eater as far as men go, two young kids (2 and 4) who are excellent eaters, and I happen to be eating for two at the moment (I'm pregnant). We entertain or serve food to others in some manner at least once a week. We don't eat wheat products (we all have wheat sensitivities) which raises our costs for baked goods significantly because we only buy alternative grains. I would guess that I buy at least 70-80% of our food either organic or naturally raised, which costs more, of course. We eat a whole foods diet and very little that is packaged or processed. I cook almost entirely from scratch. We live in a rental house, but I have a decent sized garden out back.
Now that my caveats are through, I hope that this can give you a little glimpse into how a whole foods diet (done frugally) can look, and it will give you a better idea of what I buy and how/where I buy it.
Monthly Grocery Budget:
$400 CAN (based on today's conversion rates, this would be about $343 US)
How it breaks down:
$72
Raw milk cow share (this gives me 1 gallon of grass-fed raw milk per week)
$10-15
Free-range/Organic eggs (generally about 5 dozen). I usually buy "seconds" (non-perfect eggs) from a local organic farmer, which are a great deal for me. Every spring/summer there is a window of 2-3 months when he transitions to new hens and doesn't have any eggs for me. At the moment, I've just found a woman who raises about 20+ hens in her yard, about a 10 minute drive away, and will sell me free-range eggs for $3 a dozen.
$70
This is for 2 trips to my produce market, each totaling about $35. This gives me 2-4 large bagfuls of wonderful, fresh produce every two weeks. The one that I choose to shop at also brings in some organics, and in season, grows much of their own unsprayed and organic produce. I'm excited this summer to also try out a fairly local (30 minutes away) Farmer's Market that I just learned about, since there isn't one truly near me. I may shift some of my spending to that market, while things are in season here.
$50
Grass-fed beef and free-range poultry (chicken/turkey). This looks different every month. I try to set aside a minimum of $20 each month towards a large purchase of beef, and more if I can manage it. About every second month or whenever I'm running low, I make a trip out to my local meat shop in the country, where I usually spend between $50-80 on whole chickens, ground chicken and turkey, preservative-free sausages and deli meats, soup bones, etc.
$100-175
Azure Standard Food Co-op. This is where I am spoiled. My MIL lives in Seattle, WA, which gains me access to this fantastic natural foods coop. We generally see her about once a month, whether she comes up or we go down, so that's how I get my orders. I have, on occasion, had my order sent to a pickup location just across the border (we live within 20 minutes of the USA border) when I knew I wouldn't get it as fast as I wanted it. This used to be an amazing deal for me, when the dollar was at par. Now, it's only so-so and some items aren't actually worth buying anymore.
Nonetheless, this is still the place where I buy all of my bulk grains, baking supplies, raw honey, raw cheese, sometimes pastured butter or colostrum, some natural concentrated cleaning supplies, dried beans and lentils, some spices and herbs, dried unsulphured fruits, etc. If prices continue to rise in the US, and the dollar gets any worse, I will be purchasing my grains and other bulk grocery supplies in Canada, from places like Anita's Grains and Spud!.
This is also where I would take money from to do a large order like buying Coconut Oil from Tropical Traditions.
$50
This is the amount left over for picking things up from my local grocery store or from Costco, and it is a bit higher on the months when I make a smaller co-op order. This includes items like discounted organic milk for making yogurt, organic lemon juice, nuts and seeds, teas and coffee, some spices, toilet paper, ziploc bags, brown rice, sour cream, butter, coconut milk, fresh or frozen fish, canned salmon, tomato paste, bananas, organic tortilla chips, olive oil, the odd treat like Knudsen Juice Sparklers or Kettle Chips, etc. Though it's not always possible, I try to stretch this through coupons and/or store sales or discounted items.
If it sounds like a tight budget, it is! There are many months that I struggle to stay within this budget, and occasionally I go over, though I do my very best to avoid this using my cash system.
I have definitely been feeling the crunch lately, as my Azure co-op orders have gone up in price by almost 30% due to the exchange rate alone. That's not to mention the general rise in grocery prices, in both the US and in Canada. As well, I've recently upped our cow share by $13 a month, in order to have more milk for myself to drink (most of it was going to my kids before and we never had enough to really go around).
My budget changes in the spring and summertime, as my garden begins to put out fresh produce and I try to limit my produce shopping by focusing on what we have on hand. I also try to reduce the other areas of my budget in the summer (by stocking up pre-summer when possible), in order to make room for purchasing about 150 lbs of fruit to put away in the freezer and through canning. This includes picking blueberries and raspberries (mostly for the freezer, a bit for jam), canning and freezing peach slices, as well as foraging for wild blackberries to freeze and make jam, etc. The past two years we have also gleaned (ie. picked for free) apples from a wild orchard, which I used to make canned applesauce, fruit leather and dried apples.
I do my best to put away garden produce as well. Last year, this included a lot of frozen zucchini, frozen pumpkin puree, winter squash, dried herbs (mint, basil, oregano, dill, parsley and thyme), cucumbers (dill and sweet) and a whole lot of canned diced tomatoes and tomato sauce.
Though it sounds like a lot of work (and it is, I won't lie to you), all of that summer preserving really pays off. I haven't had to buy a single can of tomatoes this year, less herbs than usual, barely any squash, and not a speck of frozen fruit. We've still got zucchini and pumpkin, which I need to use up now. There's still a bit of jam, one can of peaches, and the applesauce only ran out recently. The pickles were long gone, sadly. We like pickles in this family! 🙂
That, my friends, is how my grocery budget works!
Do you have any more questions about the specifics of what I buy, or why I do it a particular way? Care to share a bit about how your own budget works?