First off, happy 4th of July to all the Americans out there! Those of us who are Canadian actually celebrated Canada Day on Tuesday, July 1st, though it is not quite the massive celebration here that I'm sure you are all partaking of down there today!
It's been a while since I showed any garden pics, so for my own sake of recording my garden's progress and for those who are interested, here we go: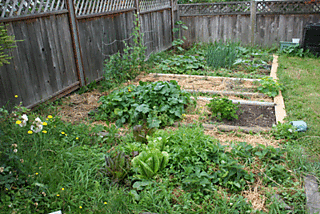 A full length view of the garden, starting at the weedy end. 🙂 It's 12 by 28 feet, for those who were wondering, and it has slightly raised beds that we made this year.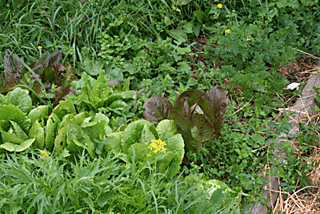 Greens and carrots (and weeds- I'm starting at the weedy end!). From left to right, Mizuna (oriental greens), then romaine, then a lettuce blend, and then a few short rows of carrots. The carrot area is a bit overtaken by weeds that are growing beside a huge rose bush, and quite honestly, I just haven't had the time to get to this portion of the garden yet!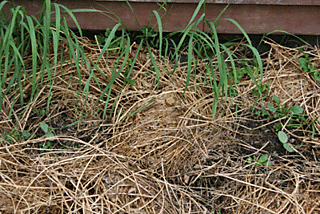 If you look closely, in the two little dark mounds (amid the hay), you can see two little watermelon seedlings coming up. I had started them inside back in late April, and lost all 3 seedlings to the cold snap that just finished a week ago. I re-seeded about 2 weeks ago, and we'll see whether I've lost too much time to get anything at this point. It's worth a try, anyways (and they're Sugar Babies, so they have a shorter growing time than large watermelons).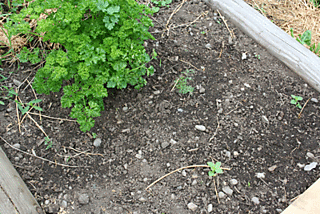 Oops, I missed a picture of the large and luscious turnip greens! Somewhere under the leafiness are a whole lot of big radishes and turnips, which we are presently enjoying! Right beside them is this sad little herb garden I've begun from seed (except for the parsley, which I bought as a seedling). It's difficult to see, but to the left of the parsley is thyme, to it's right (sort of) is dill, on the top right corner is genovese basil, and the bottom right is oregano. Next time, I will begin my herb seedlings in the late winter, rather than in the mid-spring!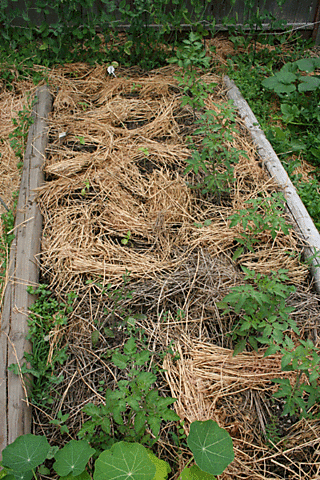 Here are my tomato and pepper plants, all started from seed in the early spring. There are 12 tomato plants (2 in another row, due to lack of space), including 3 different varieties of full-size heirloom, and 2 heirloom cherries. There are also 7 peppers (2 varieties- one Italian, one Hungarian). The tomatoes are finally starting to perk up after the cold snap, now that it has warmed up and I've been fertilizing like crazy. The peppers are still feeling a bit stunned by the cold, I think, though today they looked slightly more perky, so there's still hope!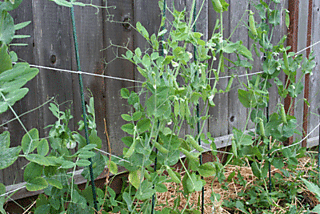 My darling peas, which are almost ready for us to begin enjoying! To the right are Alaska shelling peas, and to the left are Oregon Snow Peas. I wish I had planted more (what you see is most of what I've planted, though I cut off a bit on the left). I will plant again in late summer, a much larger crop!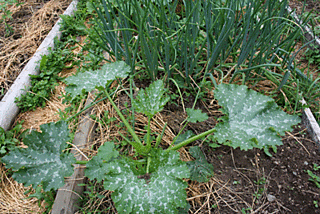 My sick zucchini plant. 🙁 I'm not sure what the white stuff on the leaves is, so it's one of my projects this weekend to figure it out and hopefully I won't have to rip out the entire plant, because my second zucchini is very small after it took 3 attempts to get a seed to sprout! Behind the zucchini, you can see the onions which we will start eating as soon as we finish the bag of store onions in our pantry, and we are already enjoying the incredible green onions- my kids love to munch on them when we're out gardening!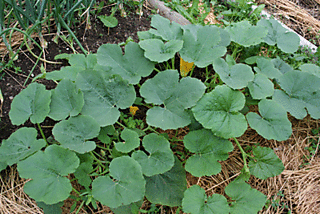 One of my winter squash plants (quite frankly, I don't know which one- I thought the pen I used for labeling my vegetables was permanent. It wasn't and the words washed off in the rain- thus, I am not 100% sure about several of the plants in my garden!). But look- flowers! So exciting! Next to it is a second carrot patch I planted just a couple weeks ago, with little teensy sprouts popping up, though I am thinking I shouldn't have planted it next to these sprawling squash plants, as soon it will be overtaken!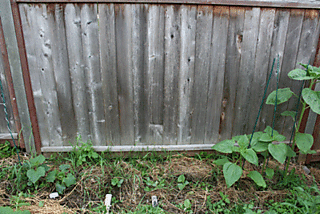 These are my cucumbers, as three very different stages! To the right, I think those are lemon cucumbers, which look so different than anything I've seen before! They're getting quite big, but so far, no flowers or fruit! In the middle are some long and pickling cucumbers I planted recently after losing several plants during the cold weather. To the left are two strong little plants that survived the cold and are starting to grow again after being a bit stunted.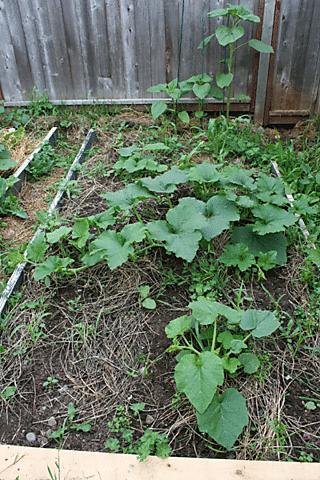 This row is my attempt to do a little companion planting, with sweet corn and winter squash (pumpkins and one other) below. Only trouble is I've had a really hard time germinating the corn, and so it's coming up pretty sparse (which could cause pollination issues- I suppose I'll have to hand pollinate), and because I kept having to replant the corn, the squash has gotten large faster than the corn is coming up. If nothing else, I'll have a nice squash patch, I suppose, because it is really flourishing! I'm still holding out hope for some garden fresh, organic corn, though!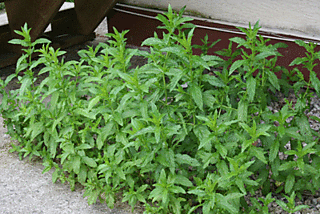 Lastly (and most randomly), a patch of the wild mint that is growing all around our house! A friend was visiting the other week and pointed it out to me (I had no idea what it was, but her mother taught her to pick it when she was a girl). I've dehydrated some to make tea and it was great, so I'm going to try to make use of as much as I can!
And thus ends my looong tour of my garden! How is yours doing? Any tips for my mildewy zucchini leaves, or for my stunted peppers? Also, what are the best and most frugal ways you know of to stake/cage tomatoes?