What's next, lead in baby receiving blankets?
Can you believe this? A pair of pajamas has just been recalled due to a violation of lead standards in the screen print on the shirt!!! It's appalling!
This is the offending pair of pj's, made by Children's Place: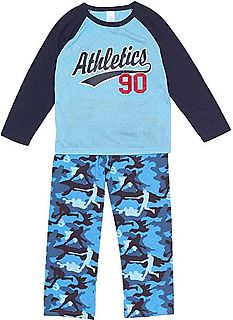 Honestly, sometimes I just don't know what I can do to protect my kids. I can't buy all organic cotton clothing, and would have never thought in a million years that a simple logo on a pajama shirt would contain lead. Call me naive, I guess (or maybe call me sane and call the manufacturers of children's clothing irresponsible, incompetent and negligent).
If you, like me, would like to be alerted as soon as items are recalled so that you can at least immediately remove the items from your home and make more educated choices about what you are purchasing, you may want to visit the U.S. Consumer Product Safety Commission, and sign up to receive their email alerts whenever new items are recalled.
I've been getting these for about 4-5 months now (I receive all alerts for Child and Household), and though they usually don't apply to anything that I have bought, I am grateful to be kept up-to-date and be made more aware of the types of items that may be of concern.
Maybe I shouldn't be so shocked, but this just pushes on all of my parental protection buttons in a major way. I am thankful that ultimately they are in God's hands, and not my own, because I so often feel helpless in my efforts to shield them from harm.