Living Simply Saturdays- I can't do it all!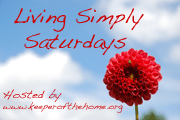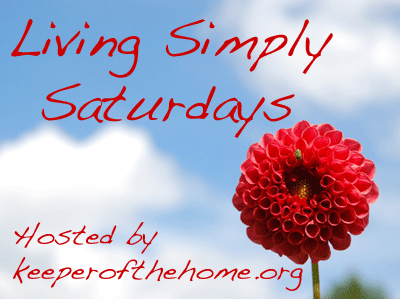 Welcome to the first Living Simply Saturdays carnival! If you're unsure of what it's all about, please visit this post to find out my vision for it, and then this one for some simple guidelines.
I'm currently reading The Worn Out Woman, an excellent book which is meeting me right where I'm at. This past Saturday, I was blessed to be able to go out by myself and do some reading, thinking, planning and praying (sort of a mini personal retreat) at a local coffee shop, and this is a quote that stood out to me:
"The problem is that we really can't do it all- and if we try, the items we never get to are sometimes the most important ones. Overcommitment is not only exhausting; it also makes maintaining balance almost impossible because "urgent" issues will almost always crowd out those that are more important but less time sensitive.
We quickly reach the point where we are routinely postponing time with the Lord and with family and friends in favor of "getting things done"- even replacing meaningful relationships with the temporary rewards of trying to live up to everyone's expectations."
I would add to that, "and especially to my own expectations."
One thing that may be obvious about me to those who've been around my blog for long is that I simply want to do too many things. The problem is not that they're not good things to do. It's just that I do not always prioritize those things carefully enough, and then plan and act accordingly. As a result, what is most important is not necessarily what gets done when my time runs short.
This is an area that I am seeking to grow in, and one resource that has really helped me is the book Shopping for Time. It encouraged me to take the time to really think and pray through all of the things that are clamoring for my time and attention, and ask the Lord to help me decipher which are the things that are most important for me to do, in the particular season that I am in.
By setting my priorities like this, it helps me to ensure that I am spending my time and energy on those things that really matter the most, because the reality is, I just can't do it all (and no, neither can you).
Ahh… one of many, many lessons that the Lord is teaching me throughout this past year, and still very much as I write this!

What are you learning about seeking greater simplicity in your life? Do you have any tips to share with us that have helped you to declutter your home or your heart? What does Living Simply mean to you right now (in your schedule, your meals, your shopping, your activities, your mothering)?