Homemade and Frugal Christmas Ideas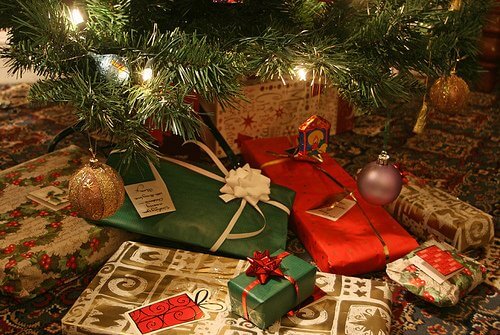 Written by Kate Tietje, Contributing Writer
Christmas is coming…soon! It's a huge, commercial, and expensive holiday. Many families spend well over $1000, and some far more than that, on Christmas presents and paraphernalia every year. For families who are trying to be frugal or have to stick to a budget, it can be hard to provide a wonderful, stuff-filled Christmas for not too much money.
In a perfect world, we wouldn't have so much stuff. Christmas would be primarily or entirely about celebrating Jesus' birth and enjoying time with our families. And for many families I think this is true!
However, presents are one of the ways we show appreciation for those we love, so selecting (and paying for) gifts is something that we all have to think about to some extent!
In our home, we strive to live debt-free, so it's important for us to select gifts that we can afford to pay for. It saves us from having to get rid of credit card debt after the holidays are over. Last year, we accomplished this by doing a totally homemade Christmas! It was really neat and we made a lot of awesome presents for our family members, including a set of homemade wooden blocks for my nephew!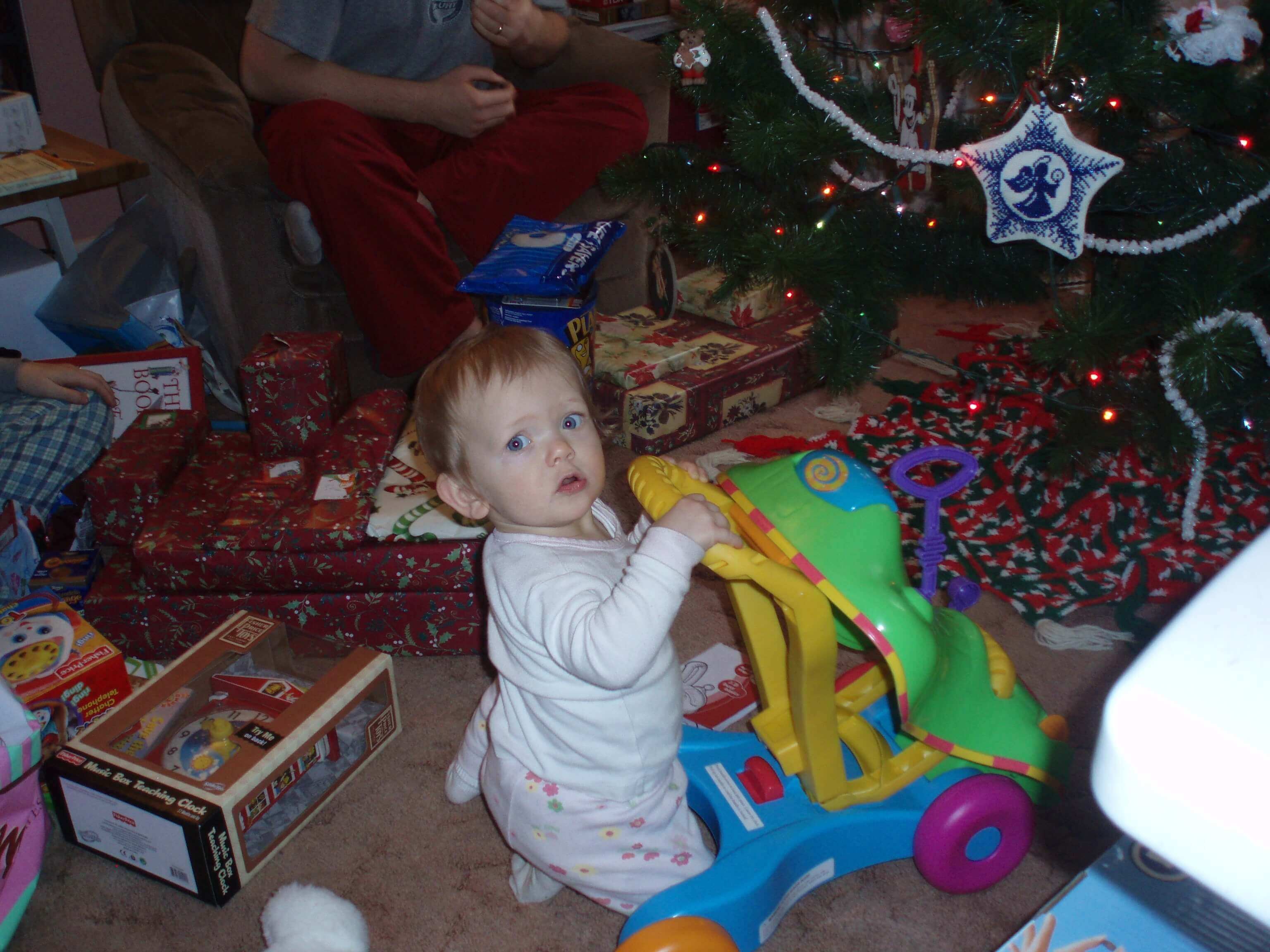 Homemade Christmas gifts are excellent, and they really show that "it's the thought that counts".
Here are some ideas for homemade Christmas gifts:
Homemade lotions, soaps, lip balms, bath salts, or other bath products
Blankets (knit, crochet, or simply sewn), scarves, pot holders
Candles
Rice- or flax-filled heating pads (various sizes and shapes!)
Clothes or diapers (home-sewn)
Wooden Blocks, or other wooden toys
Cloth around the house (kitchen towels, wipes, "unpaper" towels, handkerchiefs, "Swiffer" reusable pads, etc.)
Decorated t-shirts (painted, iron-on, etc. – look for environmentally friendly decorations!)
A baked good (fudge, pumpkin bread, or cookies)
Coupons for help – babysitting, dinner, other chores or errands
Doll clothes or accessories (for little girls)
Homemade jewelry
Handmade cards, scrapbooks, poetry, or an essay (on why you love them so much)
Anything else you love to create!
Making homemade gifts for everyone does take time and equipment. It can be hard to figure out what to make each person, source what you need, and find the time to create it. So, you may want to limit homemade gifts to people you are closest to. Or, you may want to try some of the easier gifts, like coupons for help or baking something. Everyone appreciates those, it will be obvious how much you care, but you'll find that your holiday check-list isn't ridiculous.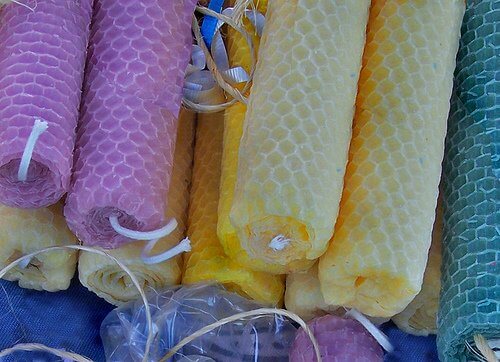 Image by psyberartist
Frugal Gift-Giving Ideas
Supposing, though, that you're someone who just loves to give gifts, and/or just doesn't have the time to make all those gifts (maybe, like me, you have little kids and lots of other projects…but that doesn't describe anyone here, right? 🙂 ). So, it may be most feasible for you to purchase some gifts. How can you do this and still be under budget?
There are lots of ways!
Don't be afraid to check thrift stores for gifts, especially for children! My children do not need new toys or clothes; lightly used are just fine! You can often find excellent deals at children's resale shops, Craig's list, Ebay, garage sales, or other resale places.
Perhaps you have a crafty friend (or two) who would be willing to make gifts for you, or help you make some. Etsy is also a fabulous option (very small plug for my friend – she runs the Malot's Hope Etsy shop, and all the proceeds are going to their adoption journey. But there are tons of excellent Etsy shops).
Everything on Etsy is handmade by the shop owner, and each shop owner focuses on different things. Some do purses, clothes, reusable cloth, diapers, perfumes, body soaps and lotions, jewelry, wood working, and just about everything else you can think of. Some shops are much more affordable than others; each shop owner sets their own prices. You will be getting top quality, handmade stuff and the artisans really earn what they charge. There is a wide range of prices available, though.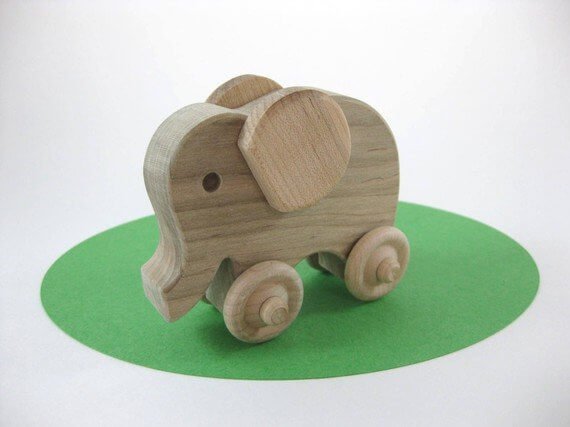 This adorable wooden elephant is from this Etsy shop!
Try a "swap" event. Gather together many of your friends and swap items. It could be used toys that your children no longer play with, or clothing that no longer fits. You could swap electronics if you want (don't like that Xbox360 and want a playstation?). If you're all crafty, you could even get together and swap a bunch of small items that you've each made, so that everyone goes home with a bunch of gifts for others! i.e. someone makes and bring soaps, someone makes scarves, someone makes jewelry, etc. Wouldn't that be neat? Like a cookie swap, but with crafts!
You could also choose to re-gift items in your home that are unused or lightly used that you think would bless someone else. I hesitate to do this personally, but I know a lot of others enjoy it. If it's something you don't want, and know that someone else would enjoy (please don't give them junk!), it may bless everyone to pass it along.
Keep the gifts small. You don't need to have a big pile for every person, and you don't need to buy something expensive. One Christmas we gave my father a new router (expensive). Another Christmas, a jar of homemade skin cream (frugal). He loved both and asked for more of the cream. It really is the thought that counts!
You could also buy a small scrapbook, a cookbook, or another type of book that your recipient would love (and on that note, I just want to remind you that my new book, Real Food Basics, makes an excellent gift for those new to real food!). A small basket of soaps or candles with a loving note could go a lot further than any extravagant purchase.
If all else fails, decide on no presents. Bring "I love you" cards or something you've baked if you want to do something. Decide to have a day or a weekend of exclusive family time – no phones, computers, TVs, or any media. Just spend your time with the ones you love! Enjoy your Christmas.
How do you plan a meaningful, frugal Christmas?
Top image by alancleaver