(If you haven't already entered the Basic Crochet DVD giveaway, make sure that you do so! Comments will be closed Wednesday at 4 pm!)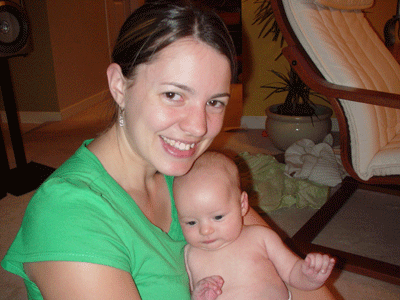 **Enjoying my sweet little guy in the early weeks after his homebirth. Would you believe that we have basically no pictures of his birth because either the battery died or the film ran out on all 3 cameras present? 🙂 **
Last time I shared some of my reasons for choosing homebirth, and a bit about my experiences thus far.
This time I would like to bring to you a few other opinions, from some real life friends/family who have also chosen homebirth!

Angela, mother of 3.
Her first child was an intended homebirth, but was born in the hospital after induction due to dangerously high blood pressure. Last two children were born in her home, with the same midwife I use. Both babies had issues with their umbilical cord (one had the cord wrapped around it's neck 3 times, the other had an extremely short cord which could have presented problems). Regardless, both births ended safely and she would definitely choose homebirth again.
Here are some of her reasons:
You don't have to labor anywhere but in your own home, where you are comfortable, in your own environment.
You can have your hubby right there in bed with you after the birth.
Indulging in a special treat after the birth (Her treat of choice? A cappuccino!)
You can be more comfortable in your own bed and bathroom, and have everything you need right there.
It feels safer. There can still be complications, but a good midwife knows how to handle these.
You can choose to have any guests that you would like present at the birth.
You and your husband stay in charge of what happens to their baby. No fighting with doctors and nurses over their ideas about baths, feedings, etc.
She loves that her older children didn't have to go to the hospital environment to meet their new sibling, but could just visit and bond with the new baby at home.

Jessica, mother of 1 (soon to be 2).
Her first birth was a successful homebirth, also with the same midwife. She is choosing a homebirth again for this upcoming baby.
She says,
"I chose homebirth because I knew that I would be more relaxed in my home than in the hospital, and therefore it would make the labor and birth easier because I wouldn't be tense. I spent hours in my soaker bathtub and it was wonderful. Overall, it was an amazing experience that I would love to repeat!"
Amy (my sister-in-law), who just recently became a mother of 2.
I attended her first homebirth, which was very intimate, beautiful and complication-free. It was great to see her and her husband so at ease in their own surroundings, and relaxing soon after the birth. Her newest baby, born two weeks ago, arrived in quite the hurry (about 40 minutes) and so she was thankful that they had already been planning a homebirth, didn't need to attempt to get to the hospital and already had everything they needed on hand!
Here are her thoughts:
"My biggest reason for choosing homebirth is mostly about my comfort. I feel safe at home and I like that I can control my environment. I can do whatever I need to do. I also love being able to have a birthing pool.
Hospitals feel white and sterile to me, full of interruptions. I feel as though I couldn't be focused and safe. I trust my midwives and I know what they can do if something were to go wrong."
Want to know more about the safety of homebirth?
Homebirth: Safety and Benefits
The Safety of Homebirth: The Farm Study
Homebirth: As Safe as Birth Gets
This list is not exhaustive at all, but just a few links that I was able to easily find online. There are many books available, and most midwives should be able to provide you with reading on the safety of homebirth. When we made the decision to attempt our first homebirth, our midwife provided us with detailed information on the legality and safety of homebirth (with several studies and a lot of very encouraging statistics), including specifics for the province in which we live.
I could have gone more into providing you with links and studies and statistics, but the fact is that it's not my agenda to convince you that homebirth is safer than hospital birth. Truly, I just want to present it as a wonderful option and to simply whet your appetite on the issue. It's a decision to be made prayerfully and carefully, with both husband and wife in full agreement, to which there is no right or wrong answer. 🙂
For those who have had a homebirth, or are considering having one, are your reasons similar to the ones given above? What is it about homebirth that appeals to you?