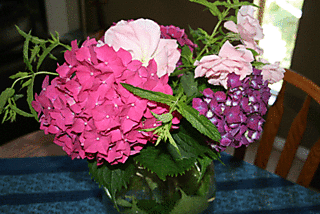 The lovely flowers that I picked from my garden for Making my Home a Haven, are a perfect example of how I struggle with contentment. A mere year ago, we were living in a 2 bedroom condo that was located in a somewhat unsafe neighborhood (though the condo itself was quite nice), in the midst of a busy city we didn't particularly like, with no yard or garden to speak of.
Fast forward to now… we live in a fairly large 3 bedroom house, in a quite, peaceful cul-de-sac, in a much more suburban neighborhood, with a good sized front and backyard, my very own vegetable garden, and a yard that grows pink and white roses and deep pink hydrangeas which I did not plant.
It calls to mind this verse…
;"And when the
LORD your God brings you into the land that he swore to your fathers,
to Abraham, to Isaac, and to Jacob, to give you—with great and good
cities that you did not build, and
houses full of all good things that you did not fill, and cisterns that
you did not dig, and vineyards and olive trees that you did not
plant—and when you eat and are full, then take care lest you forget the LORD, who brought you out of the land of Egypt, out of the house of slavery."; Deuteronomy 6:10-12, ESV
How quickly I forget what the Lord has done for me, and what good gifts He has given me! Instead, I so often become comfortable and then complaining and then discontent. The funny thing is that even with this wonderful provision of a house to live in and a yard to enjoy, I now hear myself grumbling about what I don't have. "I wish we could own our own home, instead of renting. I wish we could move out to the country. If only I could grow fruit trees. If only I could have a bigger garden." Complain, complain, complain (And that's just in one area of my life!). Sound familiar?;
As I mentioned, this weekend I attended a ladies morning out, where I was blessed to be taught about learning contentment by Janis Shank, the wife of one of the lead pastors in our family of churches.
I loved these two definitions of contentment:
Webster's: happy enough with what one has or is, not desiring something more or different, satisfied.
"Christian contentment is that sweet, inward, quiet, gracious frame of spirit, which freely submits to and delights in God's wise and fatherly disposal in every condition." Jeremiah Burroughs (from The Rare Jewel of Christian Contentment– this sounds like an exceptional book, and I hope to get it!)
Janis described contentment as being
Satisfied and happy
Still and quiet
Submissive to God's will
Trusting in the Lord
Ouch… satisfied? still and quiet? submissive and trusting? Obviously, I have a lot to learn!
She spoke of the vicious cycle that leads us to discontentment. First, we begin to compare ourselves with others (oh, this is such a big one for me!), and then we begin to covet what we do not have (ouch again!), and then we begin to rail our complaints for what we think that we ought to have.
"Certainly our contentment does not consist in getting the things we desire, but in God fashioning our spirits to our condition." Jeremiah Burroughs
"It is very common for people to allow themselves great liberty in finding fault with such things as have only God for their cause…It sounds indeed much better to murmur at the course of the world or the state of things, than to complain of God, but if these have no other cause but God and His providence it is a poor distinction to say that you are only angry at the things but not at the cause and director of them." William Law
And one that particularly spoke to me,
"A man or woman who is little in his own eyes will count every affliction or disappointment as little and every mercy as great." Jeremiah Burroughs
So where do we go from here? How do we cultivate Godly contentment?
There were four things she talked about that further contentment in our lives, and I think these are the things that we need to keep bringing ourselves back to over and over again, as we recognize pockets of discontentment in our lives.
Recognizing that God's sovereignty rules over every aspect of my life
Believing that God is my source of all good (oh, and how much good He has lavished upon me!)
Trusting that God is my strength
And allowing eternity with God to be my ultimate security
I don't think that any of us escape the struggle of discontentment. We all have things in our life that we wish were not as they are– our marriages, our homes, our finances, our health, our children, our friends, our leisure, our duties… I could go on. I am so thankful that although our justification is absolutely complete and not lacking anything, God still continues to work out our salvation as He sanctifies us (a fancy way of saying that Jesus has done it all- we are 100% saved, but God will never stop changing and molding us into His image until we reach heaven).
I so desire to rest in the goodness of what I have already been given, learning to be fully satisfied in Christ, and to quietly trust in His will and His ways over those aspects of my life that are difficult and painful.
"O Lord, my heart is not lifted up; my eyes are not raised too high; I do not occupy myself with things too great and too marvelous for me. But I have calmed and quieted my soul, like a weaned child with it's mother; like a weaned child is my soul within me. O Israel, hope in the Lord from this time forth and forevermore." Psalm 131:1-3
(I discovered this link to Janis speaking on Hope on the GirlTalk blog, so you can go ahead and listen to this wise and godly woman while you iron your laundry! This was another part of what she shared with us on Saturday, and it was very worthwhile!)