Hair Clips That Actually Stay in Place: Lilla Rose Giveaway!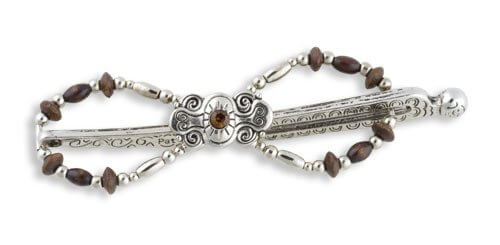 I guess it's giveaway week around here, because I have a giveaway for you today, one more coming up this Monday, and did you catch the Cultures for Health giveaway on Monday?
I usually stick to products that are specifically natural, healthy, related to going green or some such thing. Every once in a while, though, it's fun to do something that's just pure girly.
I'll confess to being skeptical when I first agreed to try out the hair clips from Lilla Rose. I have thin, fine, slippery hair and nothing really holds it better than anything else that I've tried. I'm also not one to spend much money on accessories for my hair or on jewelry. My expectation was that they would be just another so-so clip with a pretty design that I wouldn't be willing to fork out money for.
You guessed it… I was totally wrong. (It's good and humbling for me to announce that to thousands of people every once in a while.)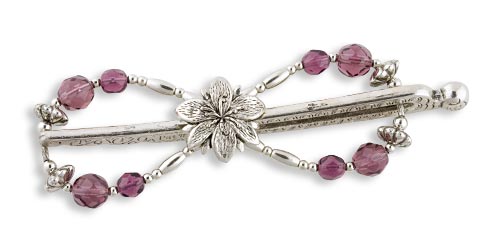 I love my Lilla Rose clips! I've only had them for about 2 weeks, and I have been wearing them almost non-stop. Here's what's unique and awesome about them:
They are flexible, which helps them to adapt to how much hair you have, the style that you're doing, and I think it's also part of why they hold hair better than other non-flexible clips.
The stick is attached to the clip front. I've had those cute hair holders that have a soft leather front and then a stick that goes through two holes to hold it on your hair. Except that then I lost the stick. Shoot. There's no chance of losing either piece of the clip and it also helps you to maneuver it better because it's all connected.
The stick has little grooves in it to help grip more or less tightly depending on the style and your hair thickness. Again, I think this helps to hold it more firmly.
They actually stay in my hair. In one place. All day. Without falling or slipping. (Yes, I'm still in shock)
I tried an extra-small and a medium. My hair is just above shoulder length, and I have lots of hair but it's thin and fine. I use the extra-small to do a half-up style, and the medium can do either my ponytail (on the tightest setting- I could probably use a small for a slightly tighter fit) and it is the perfect size for any up-do's. My 6- year old daughter tried a mini for her hair (similar in texture to mine) and it makes a great ponytail or up-do for her, although her hair slips a bit when we tried a half-up, just because it's so fine.
For those who have the opposite hair issues (curly, thick, too much hair, out of control hair), there are large, extra-large and mega flexi clips sizes. This helpful sizing guide shows you which size will suit your hair and the styles that you like to wear it in.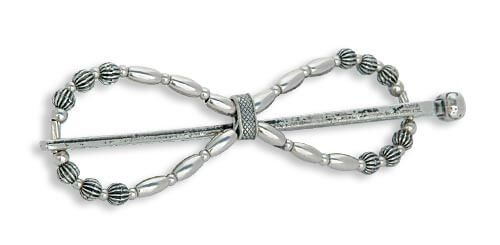 My only request with the Lilla Rose clips would be more with simple, plain designs. I'm not a fancy gal, especially when it comes to what I put in my hair, and so I did have to look carefully to find the ones that were the least decorative to suit my taste. That said, I know that many women prefer far fancier and prettier things, and so you may just love the design selection.
(For those who are curious and have similar taste to me, I ended up choosing the Contemporary Flower, Scrollwork Stoneset in Wood and Etched Lily with Amethyst, and I also really liked the Antiqued Silver Band.)
My awesome Ad Manager, Kate, also tried some clips and here's what she had to say:
"The Lilla Rose clips are beautiful. I used a small to put up my daughter's hair, and it stays better than most clips — at least until she pulls on it! I love that the two parts of the clip are stuck together so you can't lose them. And this, despite my daughter's best efforts! (She loves the clips so much she insisted on carrying them around the house a lot.) I had thought that there was only one style but many sizes, but I was wrong. There are many styles, and there will be one that suits you!"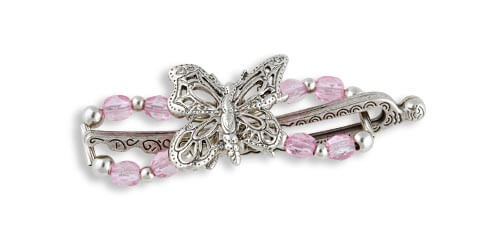 Clips range in price from about $12 (extra-small) up to $24 (for the extra-large, elaborate designs). I probably wouldn't have been willing to pay that much without having tried them, but now that I've used them and realized just how much I like them, I don't think the cost would be a barrier for me anymore. I'm honestly using my medium clip 2-5 days per week and it's just so sturdy and handy that I think I would pay to replace it if I lost it.
Would you like to win some Lilla Rose clips?
I will be choosing two winners, and they will each get their choice of any 2 clips. Here's how to get entered:
1. Visit the Lilla Rose site and tell me which clip(s) you would love to win!
2. Subscribe to Keeper of the Home by RSS feed or by email (and be entered to win our monthly email subscriber-only giveaways!).
3. Follow Lilla Rose on Facebook or Twitter.
4. Share about this giveaway through your blog or favorite social media (find Keeper of the Home on Facebook and Twitter here).
Giveaway has now ended.
Disclosure: This giveaway is generously sponsored by Lilla Rose. I was provided with clips and earrings to sample, so that I could be surprised by how awesome they are. 🙂 My opinions, as always, are my own.