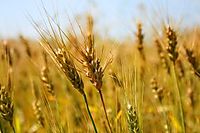 Anyway, on to my question. As I've stated I am striving to be a better steward of the blessings that God has given my family. As, I know you are aware, rising grocery costs are making it difficult to maintain our budgets. My family cannot spring for an electric grain mill, it is just really not in our budget. So, I was wondering if you think it would be practical to purchase a manual one. I'm a little concerned that it would be so difficult and time consuming to use that I would give up. I have 5 kids ages 6 and under, including a set of 2 year old twins, so my time is very precious!— Hannah
I received this question a little while back (ok, maybe a long while back- my emails are a bit backed up at the moment!), and I don't have a really great answer for her.
My initial thought is that a manual one may be quite consuming to use and perhaps not worth it (maybe better to hold out and find a good used electric one on ebay or craigslist). My second thought upon rereading it is that perhaps the older children could help and make the process a little bit easier, though I've never used a manual one myself and am not sure of the strength, time, or effort it takes to use it to make enough flour to feed a family.
Thoughts? Opinions? Have you used a manual one and would you suggest it?
If not, where did you get your electric one, what brand do you have, and where have you seen the best deals?