Whole Chickens – Less Waste, More Mouth-Watering Goodness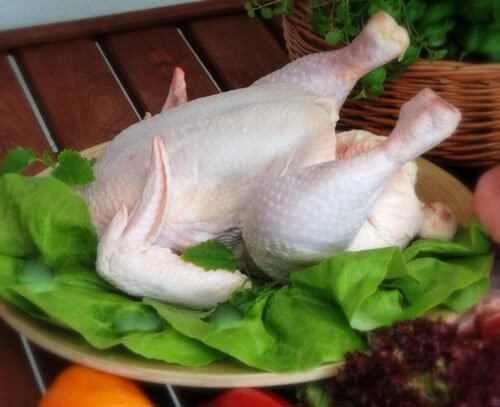 By Sharon Kaufman, Contributing Writer
Without exception, I always buy whole chickens – free-range, sustainably raised, local whole chickens. You may wonder why I bother with whole chickens when I could simply buy the particular cut I want, prepackaged, and be ready to go. Here's why:
Whole chickens require much less packaging – just one plastic bag or butcher wrap compared to parts that get packaged into multiple Styrofoam trays.
In the kitchen whole chickens result in less food waste since all parts are used.
Whole chickens really stretch the budget, being much cheaper pound for pound. Compare $.99 – $1.59 per pound for whole chickens to prepackaged parts that range anywhere from $1.99 to $6.99 per pound or more.
A whole chicken yields many meals and a vast variety of meal options. A whole fryer, cut up results in: 6-8 breast cutlets (Chicken Divan, Chicken Parmesan, Chicken Cutlets, Tandoori Chicken, etc.); two thighs and 2 legs (Coconut Chicken, Chicken Tortilla Soup, chicken pot pie, etc.); two drumettes (these are frozen and collected from more chickens to make appetizers, etc.); 2 wings tips and a carcass, used to make Traditional Bone Stock (makes wonderful soups, sauces, curries, brown rice, etc.); chicken fat which is a traditional healthy fat (called "schmaltz" by old timers) that can be used for sauteing or in sauces imparting a smooth, toothsome quality to food; organ meats which can be eaten for dense nutrition (if the family objects, these parts can be used for healthy pet food).
Whole chickens are much less likely to contain pathogens that cause food-borne illness since they are less processed than parts sold separately.
Eating the whole chicken is more nutritious than eating boneless, skinless breasts or thighs. Because I buy local sustainably raised chickens, it is safe to eat the skin, the fat, and use the bones for stock. All of these "throw-away" parts have wonderful culinary and nutritional value.
All in all, I spend between from $5 (sale price) – $7.95 (regular price) and get from 4-7 meals out of one chicken (depending on leftovers). I also get sauces that would cost big bucks, brimming with dense nutrition and superb flavor but devoid of the harmful fake ingredients found in store-bought varieties. And money is saved on oils since I use the schmaltz in place of olive oil, butter etc. That's pretty cheap eating! But with entrees such as Chicken Divan, Chicken Parmesan, chicken curries, stir-fry, delicious soups, even main dish salads, the meals have great appeal.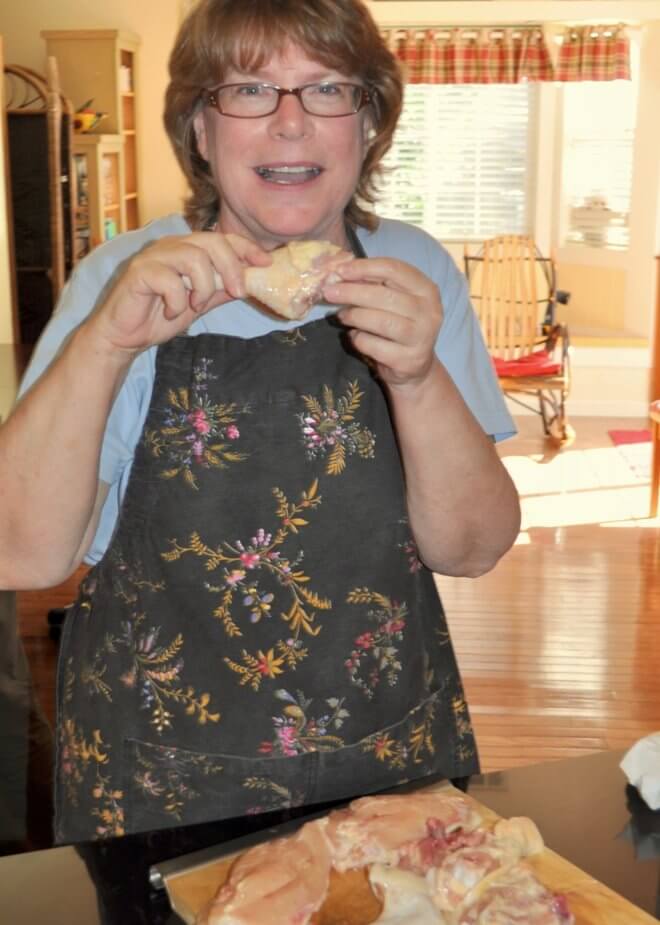 Some helpful videos:
It makes sense (cents) to buy chickens whole! Many women opt not to because they do not know the best procedures to get the most out of a whole bird (such as how to cut up a whole chicken). So I found some really great demos on YouTube about how to use a whole chicken.
The following video demonstrates the method I've used to cut up whole chickens since I was about 13, when my mom first taught me. (To sanitize the cutting board after cutting up the chicken, wash with hot soapy water, dry, spray with full-strength hydrogen peroxide followed by a spray of full-strength white vinegar; let air dry. This method is completely effective and non-toxic): How to Cut Up a Chicken
I really like the method demonstrated in this next video and use it equally as often because it results in a boneless breast. It also demonstrates how to freeze chicken parts: How to Fabricate a Chicken
The third video shows how to prepare chicken cutlets. I cut the flattened cutlets in half, to be about the size of the palm of my hand, resulting in more servings. Use cutlets for Chicken Parmesan, etc.: Preparing Chicken Cutlets
Last but not least is a video about making chicken stock. (Go here to read about the wonderful health benefits of traditional bone stock.) I do some things differently, however. Please read my comments below after you watch the video: How to Make Chicken Stock
Comments on making stock:
1. Do not trim off the fat. It goes into the pot as well, along with the bones and any skin removed from the breast or other parts. After the stock has chilled I remove the fat from on top of the stock and use it for sautéing, etc. since it is a nutritious fat. Keep it covered in the refrigerator.
2. To make stock, put only the carcass and water (enough to cover by 2 inches) in the stockpot. I also include about 4 chicken feet, which add gelatin to the stock. (I buy chicken feet frozen at Whole Foods Market.) Next, add 2 tablespoons of raw unpasteurized apple cider vinegar to the pot so it can begin to draw minerals out of the bones. Let the pot sit with the lid on for an hour at room temperature.
3. Turn on the burner and bring to a boil. Reduce to a simmer and remove any scum as it forms. Add veggies and herbs. Sometimes, I leave out the veggies because I really like the taste of "naked" stock.
4. After simmering for several hours, remove any meat from the carcass (it gets dry if left to cook too long), then return the bones, skin, etc. to the stock pot. Use the chicken meat for yet another meal – chicken salad sandwiches for instance
5. Continue to cook the stock longer than suggested – a total of about 6 hours. Stock will not gel if cooked much longer. Still, six hours is enough time to transfer the minerals, glucosamine, collagen, gelatin, etc. from the carcass to the stock.
6. Did you notice that chilled stock in the video was watery? Really good chicken stock gels – like jello – after chilling as a result of cooking it longer than an hour. Adding chicken feet aids in this also.
Why not get together with a friend who wants to learn how to cut up a whole chicken. Watch the video and then give it a try!