(Summer Giveaway Week) Win a $100 Gift Card to Deborah & Co!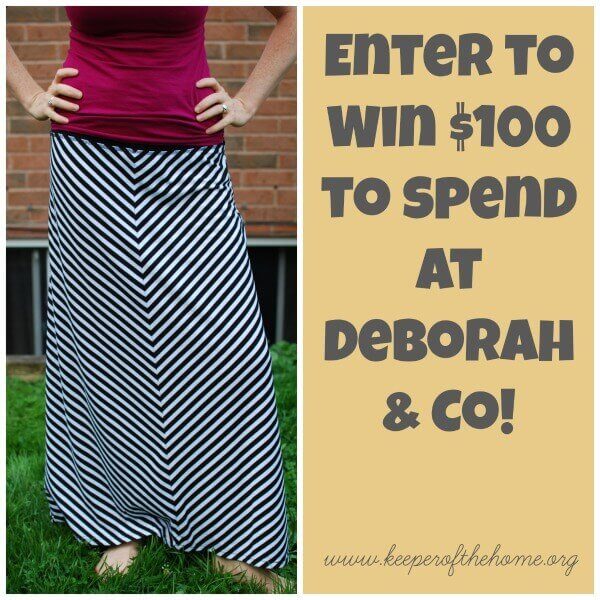 Deborah & Co. is an online clothing shop that offers fashion without compromise. They have cute skirts, tops, and more – all with modesty in mind.
What I appreciate most about the things I got to try was that they are fashionable without baring more than I prefer. I feel beautiful but not inappropriate, which is more than I can say about some of the styles available at the mall these days.
Can I just say right now that I love my job? I get to write and work for this amazing site and I get to review some pretty darn amazing products to share with y'all. These items are no exception.
I love that Deborah & Co. offers pieces that are customizable for length, and in a variety of styles for different levels of coverage preference. There's truly something for everyone in their store!
Here's what they sent me to try out:
This skirt. People – THIS SKIRT. I love it. Let's just skip the preamble so that I can go ahead and gush. There's another skirt that I tried and enjoyed that I will talk about below, but for now I just need to confess that I've worn this skirt 5 out of the last 7 days and it's currently in the wash or else I'd still be wearing it.
It is the Striped Maxi Skirt, and It. Is. Amazing. It's dreamily comfy, stylish and attractive, and beautifully shaped. I love that it's flowy and soft and just as comfy as my yoga pants (seriously!) but still gorgeous and dressy.
I simply can't say enough good about it. Just trust me – if you win the gift card you should buy it for real. If you don't win, you should still buy it – it's that awesome.
They also sent me these fabulous green earrings. My only complaint about their jewellery selection is that it's not big enough! These are my new favorite earrings – I just adore the bright splash of color! (Yes Mom, you were right – green does look best on a redhead).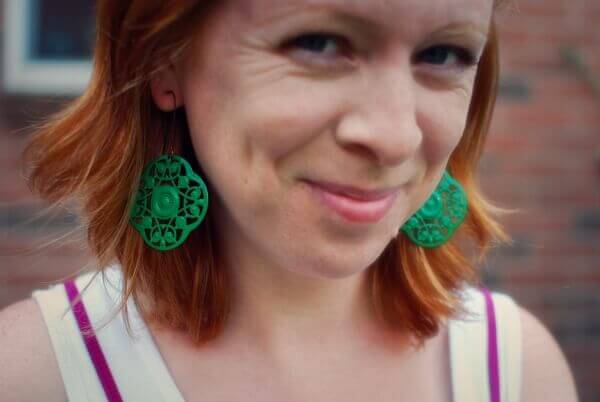 See that white tank top under my pink one? Tricked ya! It's not an actual tank top – it's a totally brilliant little thing called a Halftee Tank. It is cropped just below the bust and provides coverage for low-cut and spaghetti-strap tanks, of which I have several.
This halftee tank is the perfect solution, and it seriously just increased my wardrobe options by like 50%! I wouldn't wear the pink tank on its own, but with the halftee tank underneath I'm much more comfortable.
I also realllllly love that it is cropped so that there's no extra bunch layers of material under my shirt. Mamas don't exactly need extra padding in that area, AmIRight?!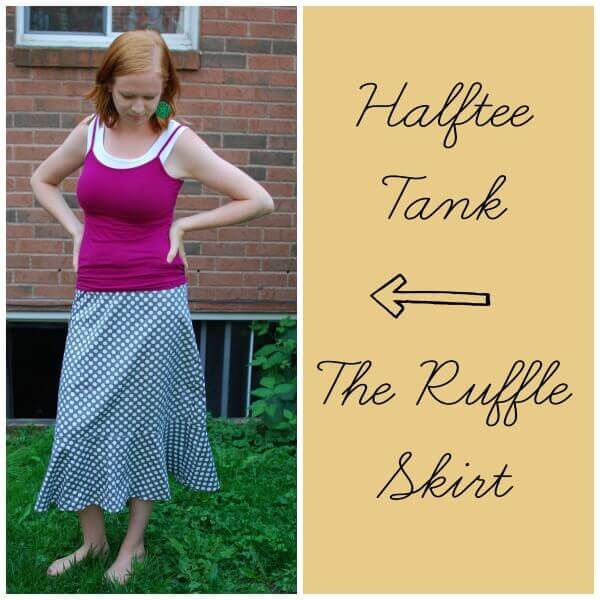 The last thing I tried out from Deborah & Co. is this adorable ruffle skirt. They come in a wide variety of patterns and colors, and you can totally customize the length. It is not as perfectly comfy as the maxi skirt, but it is much less casual-looking in person. It's a bit of a sturdier fabric, and it's obviously well-made. I would wear it to church or any special occasion. With my halftee tank and a black tank top over it, it looks amazing.
Today we are offering one lucky winner a $100 gift card to Deborah & Co. Enter below for your chance to win!
Bonus! Deborah & Co. is offering a coupon code for 10% off any item at the store: HOME10. This expires at the end of September. You can also get another 10% off by subscribing to their blog!
Contest open to USA and Canada. Disclosure: All opinions expressed are my own. I honestly use and love this product. This giveaway was generously sponsored by Deborah & Co, and I received the products for free for the purpose of review.