The Easy Guide for What to Do with Bell Peppers
So, we all know that Peter Piper picked a peck of peppers, but what in the world did he do with all of them?? OK, I know, he pickled them, but I'm not a fan of a pickled peppers, so I guess the real question is:  what should I (or you!) do with an abundance of delicious, antioxidant rich, garden-fresh bell peppers?
The way I see it, there are three options for what to do with bell peppers: can them, freeze them, or use them fresh. Let's explore those options!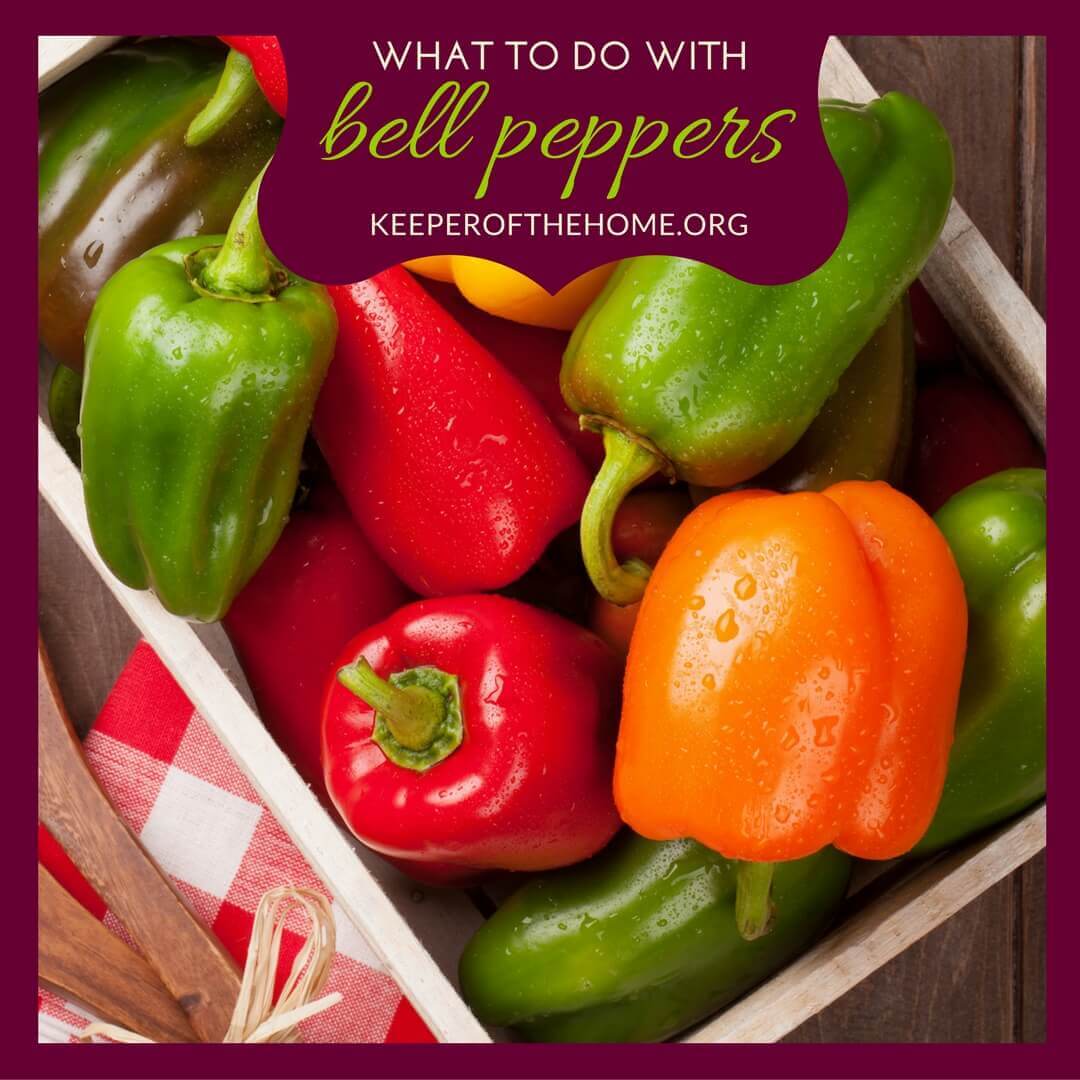 Canning Bell Peppers
There's good news and bad news here. The good news is that it's really not too complicated to do! The bad news is that — according to most food science experts — you really do need a pressure canner to do it. But since I'm betting a lot of you Keepers have one, check out this post for some great step-by-step- directions.
And just to show I am not prejudiced against the pickled pepper, even though it's not my favorite, here are some instructions for an easy way to can pickled peppers!
Freezing Bell Peppers
This process is fantastic for those of us who haven't ventured into the world of canning. Peppers can be frozen without any parboiling or blanching;  just wash and dry them, then chop or slice into the style you'd like to eventually use them for cooking. (Frozen and thawed peppers aren't meant to be eaten like fresh peppers; but they are ideal for cooking!) 
Put the bell pepper pieces into a freezer bag and pop them in the freezer! Yep, it's really that easy!
I tend to use diced/chopped green peppers in a lot of recipes, so I will do several bags of those.
Then for the colorful (red/yellow/orange) bell peppers, I generally slice them and use them in fajitas or stir-fry. I've found that I can generally stock up with nearly enough to get me through to the next summer's batch!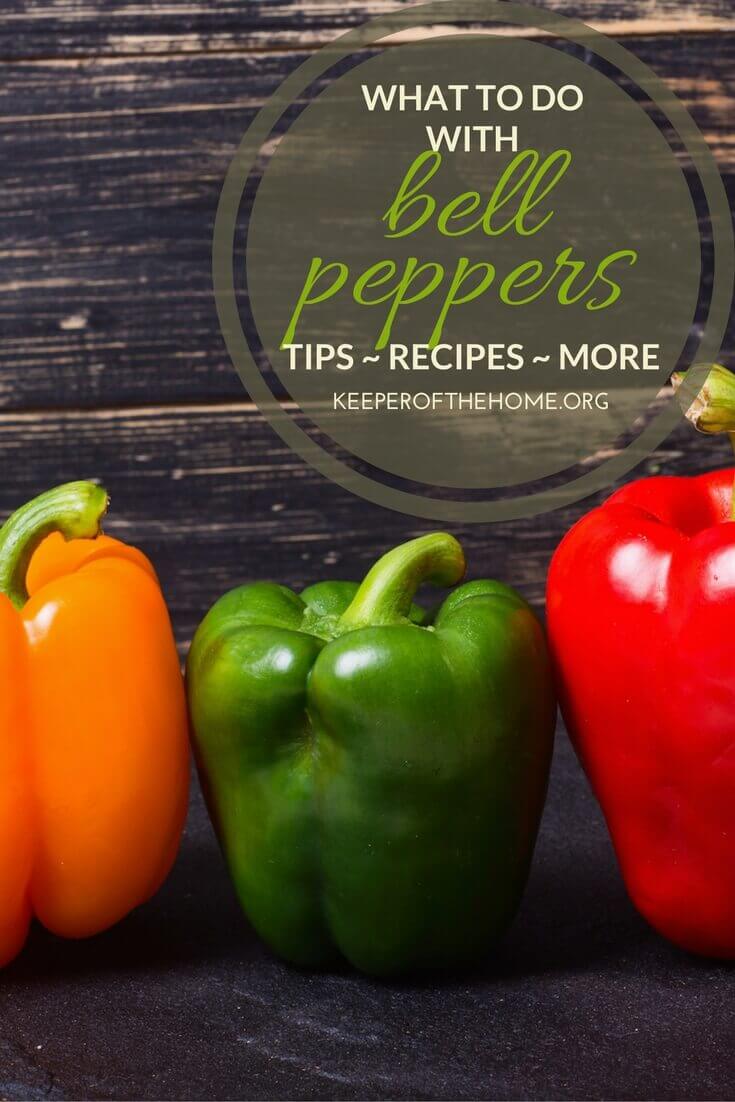 Using Bell Peppers
When your bell peppers are fresh from the garden, that's the time to really enjoy the pepper slices dipped in some ranch dressing, or topping your chef salad. Not only do they taste incredible, but the health benefits are the greatest when the peppers are fresh, too. 
In cooking, you can use either fresh or frozen/thawed bell peppers, and there will be minimal difference. NOTE:  When you do thaw peppers, thaw them completely before cooking, and use a paper towel or similar to pat excess moisture away. 
There are oodles and oodles of recipes out there that call for bell peppers. Here are some ideas for ways to use them, including a couple of my personal favorite bell pepper recipes!
Add chopped peppers to:
egg dishes (scrambled, omelets, casseroles)
soups / salads
pasta sauce
pizza toppings
tacos (and other Mexican foods)
Delicious Denver Breakfast Casserole
Ingredients:
1 (16 ounce) loaf of bread, cubed or broken into 1-inch pieces (Hawaiian bread is delish in this dish!)
3 cups cooked ham, diced
½ green bell pepper, chopped
½ red bell pepper, chopped
½ small sweet onion, chopped
2 cups shredded cheddar
10 eggs
2½ cups whole milk
1 tablespoon Dijon mustard
2 teaspoons Worcestershire sauce
½ teaspoon salt
¼ teaspoon black pepper
3 scallions, sliced (optional)
Directions:
In a medium mixing bowl, combine ham, peppers, and onion.
Lightly spray a 9×13 pan with cooking spray, then layer half the bread cubes, half the ham/veg mixture, and half the cheese.
Repeat layers to use remaining ingredients. Set aside.
In a large mixing bowl, combine eggs, milk, mustard, Worcestershire, salt, and pepper. Beat together until fully combined.
Pour this mixture over the ingredients layered in the baking dish.
Lightly press the top with a spatula to ensure the bread is fully soaked.
Cover dish with foil, and refrigerate overnight (or at least several hours).
When you're ready to cook, bake at 350 degrees for an hour, or until cooked through. (Note:  if you like scallions, you can top the casserole with those before cooking).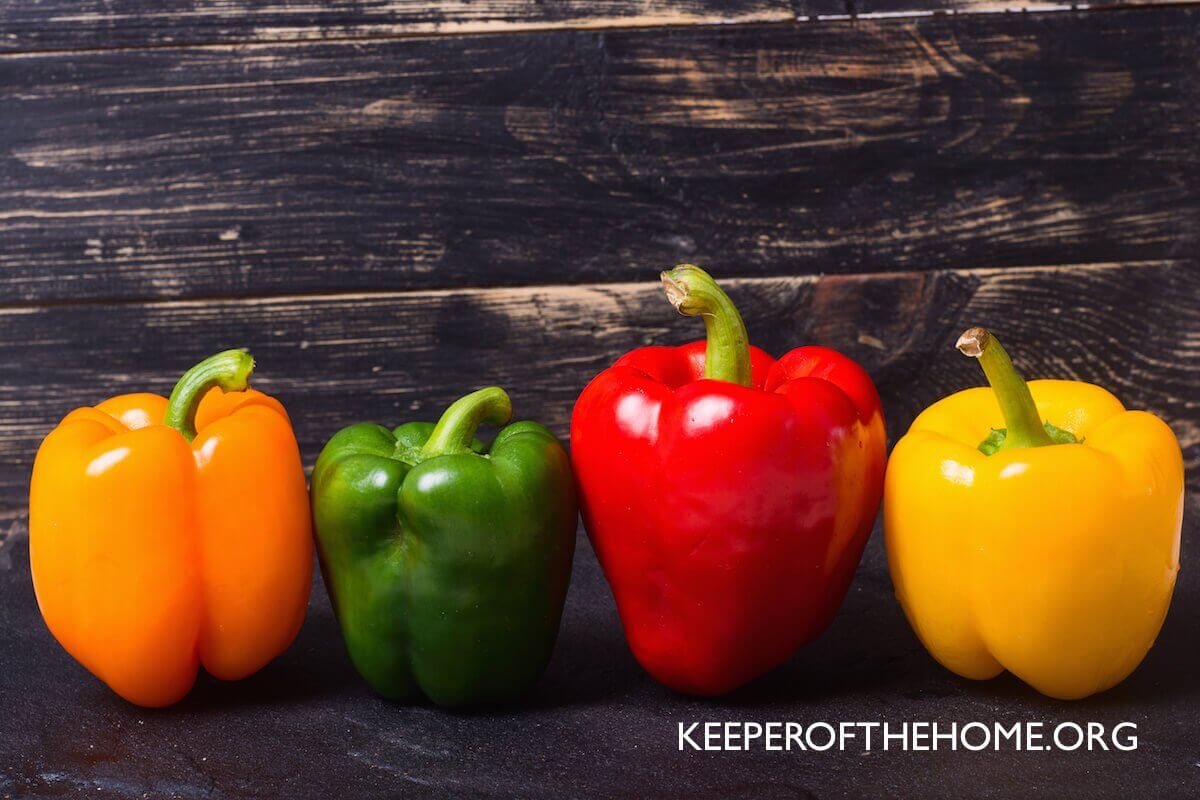 Best Stuffed Peppers
Peppers:
1 lb lean ground beef
¼ lb Italian pork sausage
1- 10oz can diced tomatoes
4 cloves minced garlic
2 tsp salt
1 tsp pepper
¼ tsp cayenne pepper
2 Tbsp parsley
4 large bell peppers, halved lengthwise and seeded
1 cup grated parmesan cheese, plus more for topping
Sauce:
1 onion, diced
1 Tbsp olive oil
2 cups marinara sauce
1 cup beef broth
1 Tbsp balsamic vinegar
¼ tsp crushed red pepper flakes
Rice:
1 cup uncooked long grain white rice
2 cups water
Directions:
Preheat oven to 375 degrees.
Combine rice and water in a saucepan, and bring to a boil over high heat. Reduce heat and simmer 20 – 25 minutes until rice is tender and liquid is absorbed. Set aside.
Sautee diced onion in olive oil until softened, about 5 minutes. Remove half of the cooked onion to a large bowl and set aside. Add to the remaining onion in skillet the marinara sauce, beef broth, balsamic vinegar, and red pepper flakes. Simmer for 5 minutes, then pour mixture into a 9 x 13 baking dish and set aside.
With the reserved onions, combine the ground beef, sausage, tomatoes, parsley, garlic, salt, pepper, and cayenne. Mix well. Stir in the cooked rice and parmesan cheese. 
Stuff bell peppers with this mixture and place in the baking dish over the marinara sauce mixture. Sprinkle with added parmesan cheese. 
Cover with foil, and bake for 45 minutes. Remove foil, and bake an additional 20 – 25 minutes, until the meat is no longer pink and the peppers are tender.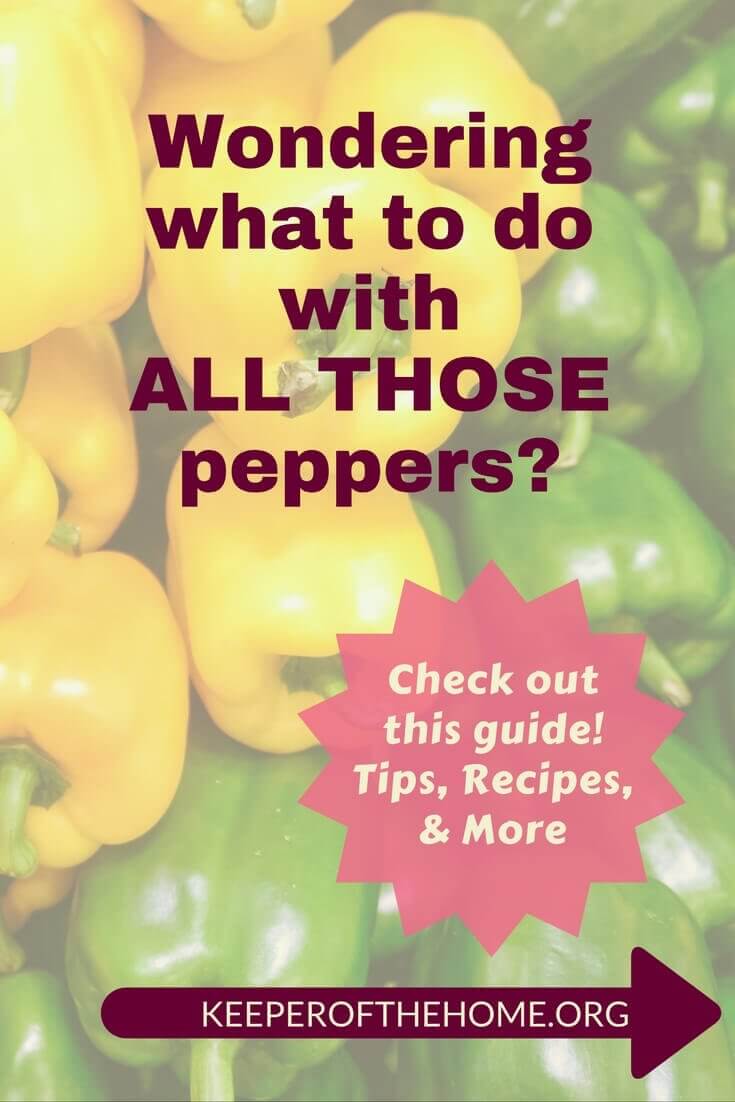 Bell Pepper Slaw 
Ingredients:
6 bell peppers (red/orange/yellow), sliced into thin strips
2 stalks celery, finely chopped 
4 scallions, chopped
½ head green cabbage, thinly sliced and roughly chopped
3 Tbsp sugar
1 tsp salt
1 tsp pepper
½ cup apple cider vinegar
1 ½ tsp celery seeds
3 Tbsp Dijon mustard
½ cup mayonnaise
Directions: 
In a large bowl, whisk together sugar and salt with cider vinegar until dissolved. 
Add the celery seeds and pepper and stir. 
Add in the bell peppers, celery, scallions, and cabbage, and toss to combine. 
Refrigerate at least one hour to allow the flavors to mingle. 
Add the Dijon mustard and mayonnaise to the slaw, and toss to coat. 
Refrigerate until ready to serve.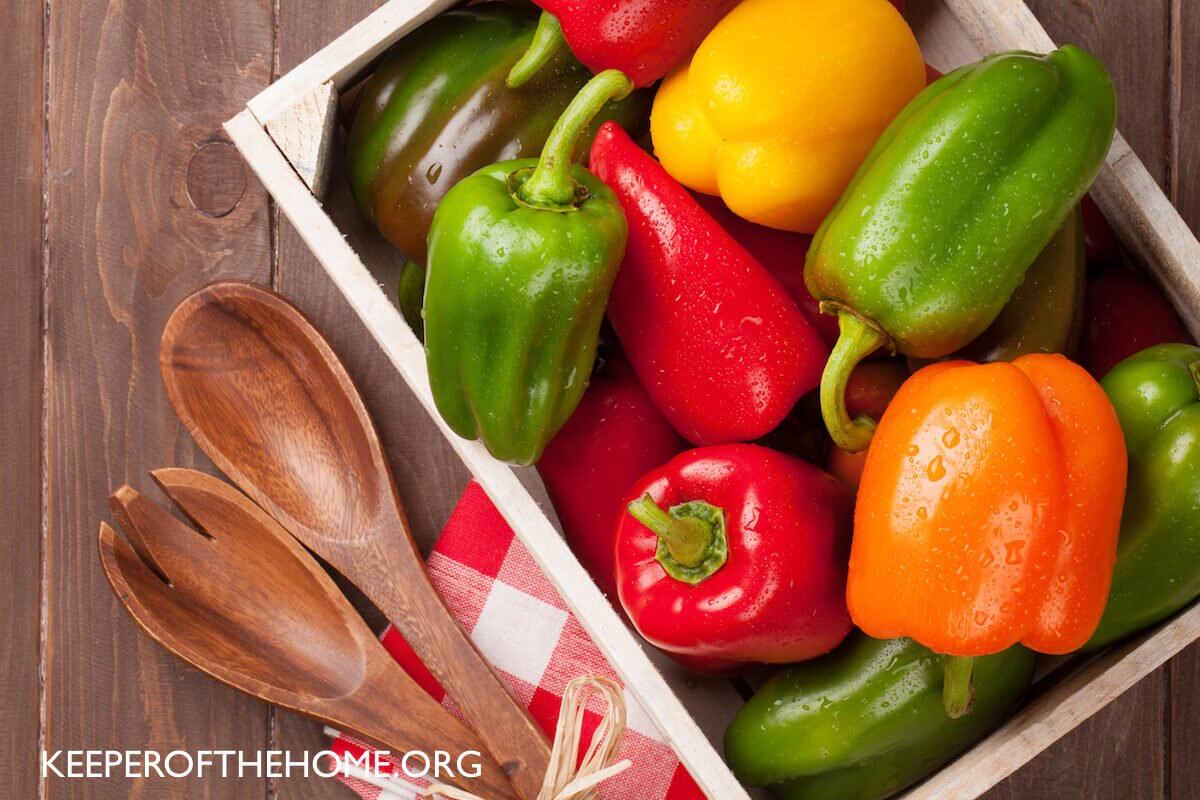 Those are a few of my favorite ways to use peppers, but like I said, there are a gazillion other possibilities out there.
Here are some links to other great recipes:
What do you do with bell peppers? I'd love your ideas!
This post contains affiliate links.