Fall Giveaway Week: Win a Fender Beginner Guitar Package from Resound School of Music ($130 value)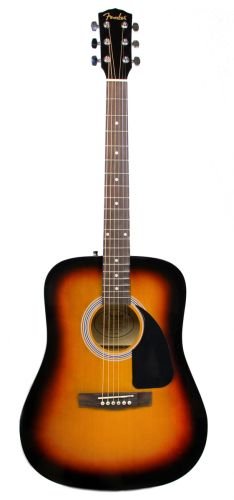 Many of you already know that we're an entrepreneurial family, and that we run another home business, in addition to Keeper of the Home.
It's called Resound School of Music, and the concept is unique in our area. Instead of having students come and take lessons at our studio, we send teachers out to student's homes to teach music lessons all over Surrey and Langley, as well as other parts of the Fraser Valley. As a homeschooling mom of 4 little ones, not having to drive my daughter to her piano and drum lessons each week is such an awesome convenience, and we know that many of our clients feel the same way.
For a long time, my husband and I have talked about how we could share our school with my readers, but the challenge is, of course, that most of you do not live local to our school, which is just outside of the Vancouver, Canada area. So offering a giveaway of music lessons didn't seem like a very feasible option!
Neither did giving away a free piano or set of drums… I don't even want to think of the shipping logistics.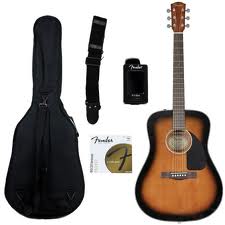 We finally came upon the perfect idea, though: A Fender Beginner Guitar Package.
Fender is a well-recognized and trusted brand that has sold more guitars than any other brand in history. The beginner guitar package my husband has selected comes with a gig bag, guitar strap, tuner, extra strings, and guitar picks – everything a student needs to get started – and is a great first guitar for most students.
I say MOST students because if the student is really young, my husband usually recommends a smaller guitar. If you win this draw, and the guitar is for a smaller child, let my husband know and he will make sure that you get a good starter guitar that is the right size.
If you or your children are interested in learning guitar or adding to your musical collection, we want to give you a chance to win this sweet starter guitar package.
Here's how you can get entered to win a brand new Fender Beginner Guitar Package:
Rather than simply leaving comments, I'm trying out a new method for entering giveaways. Click below to complete one Rafflecopter form, for all of your multiple entries, and then you're done!
a Rafflecopter giveaway

Giveaway ends 12:01 am September 14th, 2012