Free Shipping on Health Homemaking!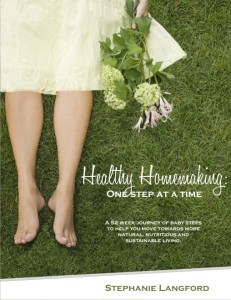 If you've been thinking about purchasing a paperback copy of Healthy Homemaking: One Step at a Time either for yourself or as a Christmas gift, today is the day to do it! I just received a one-day-only coupon to pass on to you (from Lulu.com, the company the publishes/ships the book for us) that will take the cost of shipping off of your order, equaling a $4 discount.
Coupon code is: mailship1
It's good for US shipping only, and the coupon will last only today (Monday, Dec.7).
Click here to buy now
Additionally, if you miss the shipping discount today, you can use the coupon code "humbug" throughout the month of December to receive 10% off the cost of the book (regular $18.95). Only one promo code per purchase, so use this code only if the shipping code has expired.
(And don't forget… tomorrow is the Healthy Holiday Eats and Sweets Carnival, so get your recipes ready!!!)