Winners of Desires of My Heart Ebook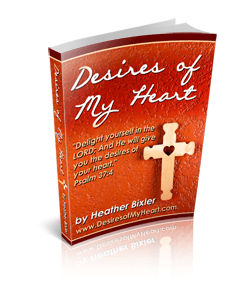 The two winners of the Desires of My Heart ebook and hand-stamped necklace giveaway are:
Kristy (rnkristy1@)
Sara (s.timm@)
Congratulations!
This insightful devotional ebook is only $0.99 (yes, you read that right!) and available in PDF, Kindle and Nook formats. If you're looking for some new devotional material, you can learn more the book and purchase a copy here.
I was also asked whether the Psalm 37:4 hand-stamped necklaces are available to be purchased, and the answer is yes. There is a limited supply and you can purchase one here.