Confessions of an imperfect homemaker (and how I survived my darker days)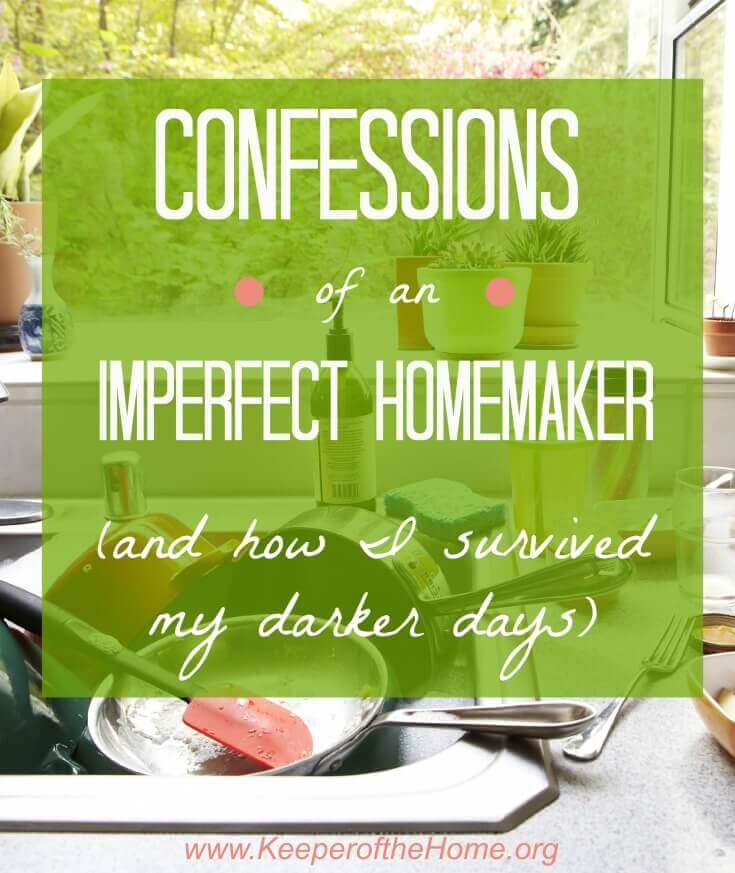 I vividly remember this one lovingly-but-terribly prepared stir-fry that I served to dear friends just months after having my first baby and becoming a full time homemaker.
The beef was so tough and badly cooked, you had to chew, chew, chew, and take a huge gulp of water to try to get it to go down. How they got through that awful meal so graciously, I just don't know.
Then there was the time about a year and a half later when my husband was very sick and a dear friend paid for a cleaner to come and help me out once a week. Her first time in my laundry room, she gasped and held up my drier's lint collector and asked me if I ever cleaned it out.
I was mortified to admit that I barely ever did, and felt even worse when she explained that it was a fire hazard and should be done every few loads. The truth? I honestly didn't know it needed to be cleaned out until it just got too full. I felt like an idiot.
Here's the thing… what I know about homemaking has been very hard earned.
It was never really taught to me (although both my mom and step-mom are very capable ladies who keep their homes well). I was always encouraged towards excelling in school, earning scholarships, heading towards university, and having a career.
Sure, I had a few chores at home. I could wash dishes, do a decent job on a bathroom, push a vacuum around a bit, and get a load of laundry through the machines. I could make grilled cheese sandwiches and boxes of Kraft Dinner and mix up frozen juice and flip pancakes from a batter someone else had made.
But understand the intricacies of what it took to keep a house clean and maintained?
Manage a schedule or routine that didn't involve band practice, work shifts at McDonald's and history paper deadlines?
Care for and train up children in a way that went beyond making sure the kids in my Sunday School class thought I was a cool teacher?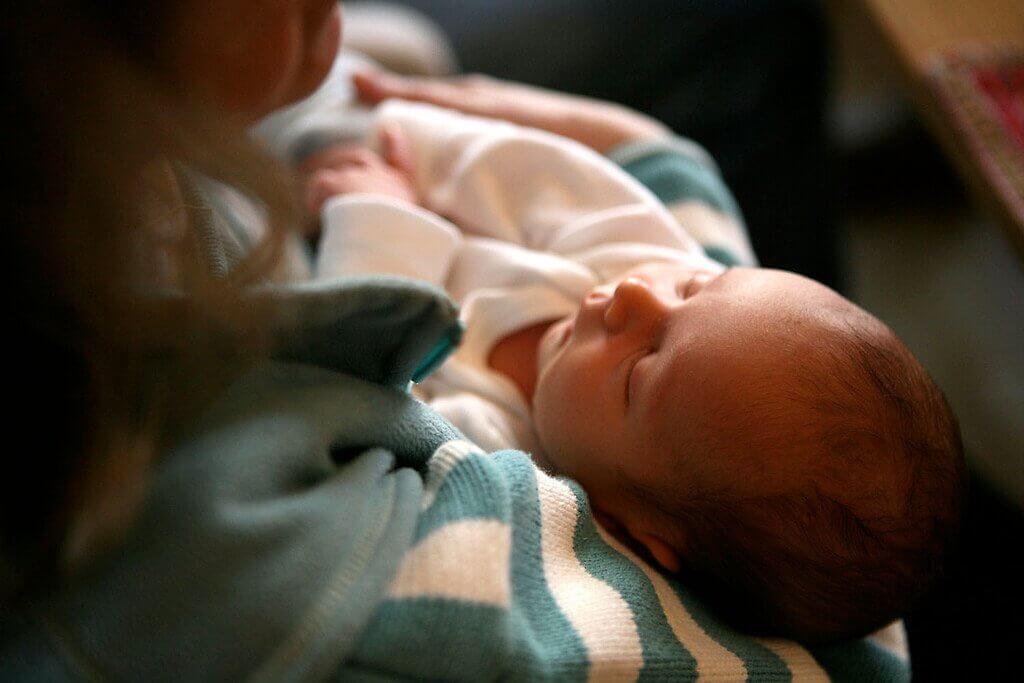 I was utterly unprepared.
And when that time came, when I said "yes" to the man who had won my heart, and then 13 months after our marriage, said "you're mine" to the sweetest, most innocent bundle I'd ever held in my arms, I had never been at such a complete loss.
(Sheesh, I'm already making myself tear up as I write this post… good thing you get to read it instead of watch me ugly cry through it, huh?)
Oh, I wanted to do well by them. I really did.
I was determined to learn to do it all – Keep up with the laundry. Stick to our meager budget. Make food that was actually palatable. Be a good mama to that little girl.
But good intentions and heartfelt desires don't always take us far enough.
I remember those daunting early weeks and months of motherhood, and the tear-filled sessions I spent on the hand-me-down futon couch in our dark basement apartment where I sat wallowing in hopelessness.
As I stared in frustration at the unthinkable amounts of laundry that one tiny person could make, as I read book after book from the library trying to learn how to care for an infant, shop frugally, plan out meals and cook the basics, and as I felt guilty about finding it so darn hard to even get myself out of bed each day to do this job that felt alien to me… I became depressed and discouraged.
I would beat myself up, like after my Nana came to visit and was shocked that I didn't know how to properly iron my husband's work clothes and had baskets of clean laundry sitting all around us. Surely women in her generation would never have been so incompetent. Why was it so hard for me, then?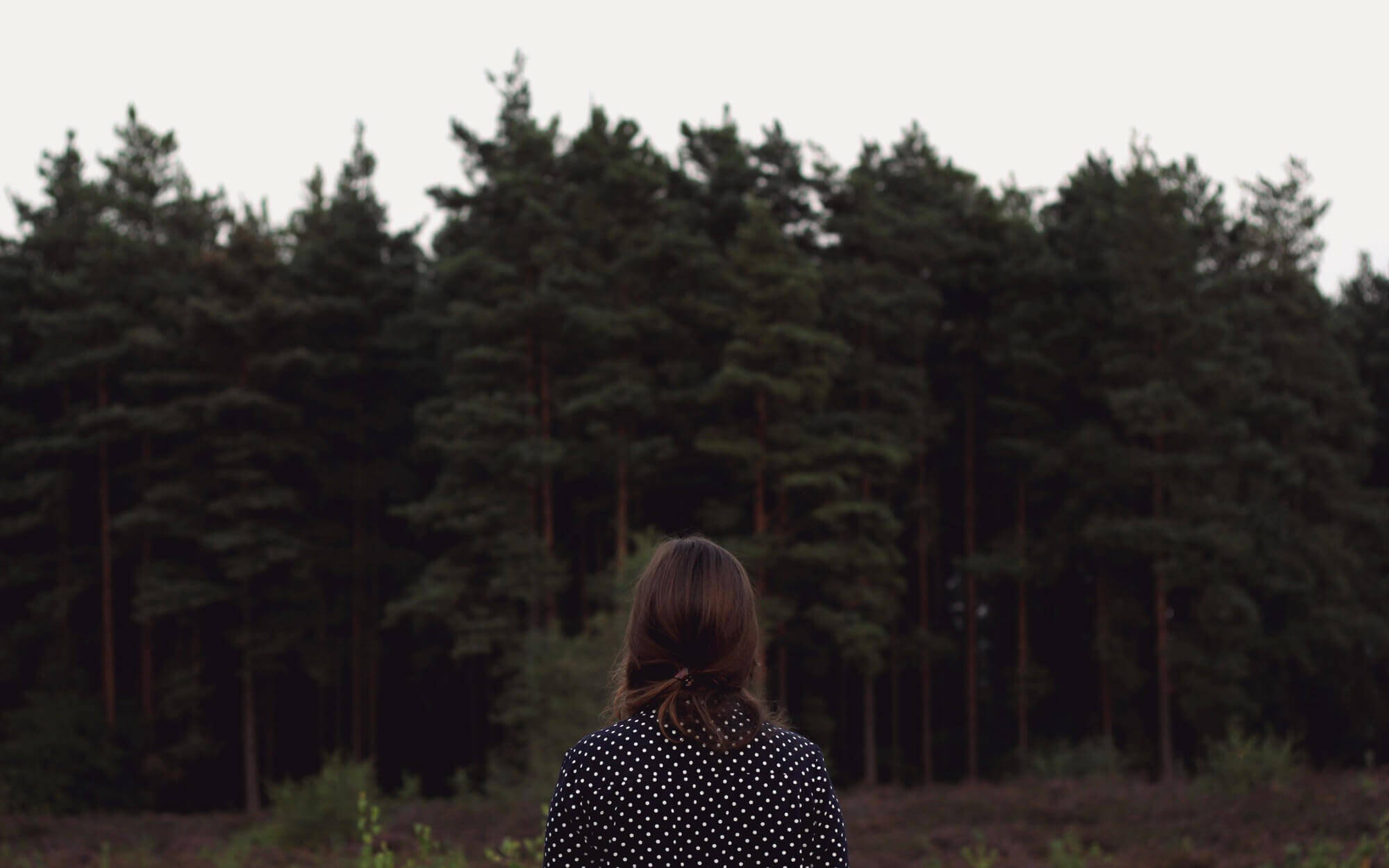 Slowly, imperfectly, awkwardly, I pushed through those years.
What carried me through was my growing conviction that, though it seemed beyond my grasp, being a good homemaker, wife and mother was quite possibly not the stupid, pointless career I had been brainwashed to think it was as a bright teenager being steered towards university.
Perhaps it wasn't just something that unintelligent or uneducated women did.
Perhaps it was actually a genuinely challenging AND critically important role, one that was responsible for weaving together the very fabric of our family, for providing a place of respite and rest, for nurturing relationships, for raising up educated, responsible and conscientious children.
Perhaps being a homemaker mattered. Perhaps it was a higher calling than anyone ever told me.
And if that was the case, I was going to persist in trying, in learning, in stumbling my way through trying to cook a white sauce from scratch, and actually wiping my walls every once in a while, and learning how not to serve tough, chewy beef to those who sat at my table.
Not to mention, figuring out how on earth to do it all while being mommy to first one, then two, then three and eventually four little people who had constant needs, regular bodily functions, the uncanny ability to dismantle a room at warp speed, and the annoying propensity to be selfish, sinful, imperfect people just like I was.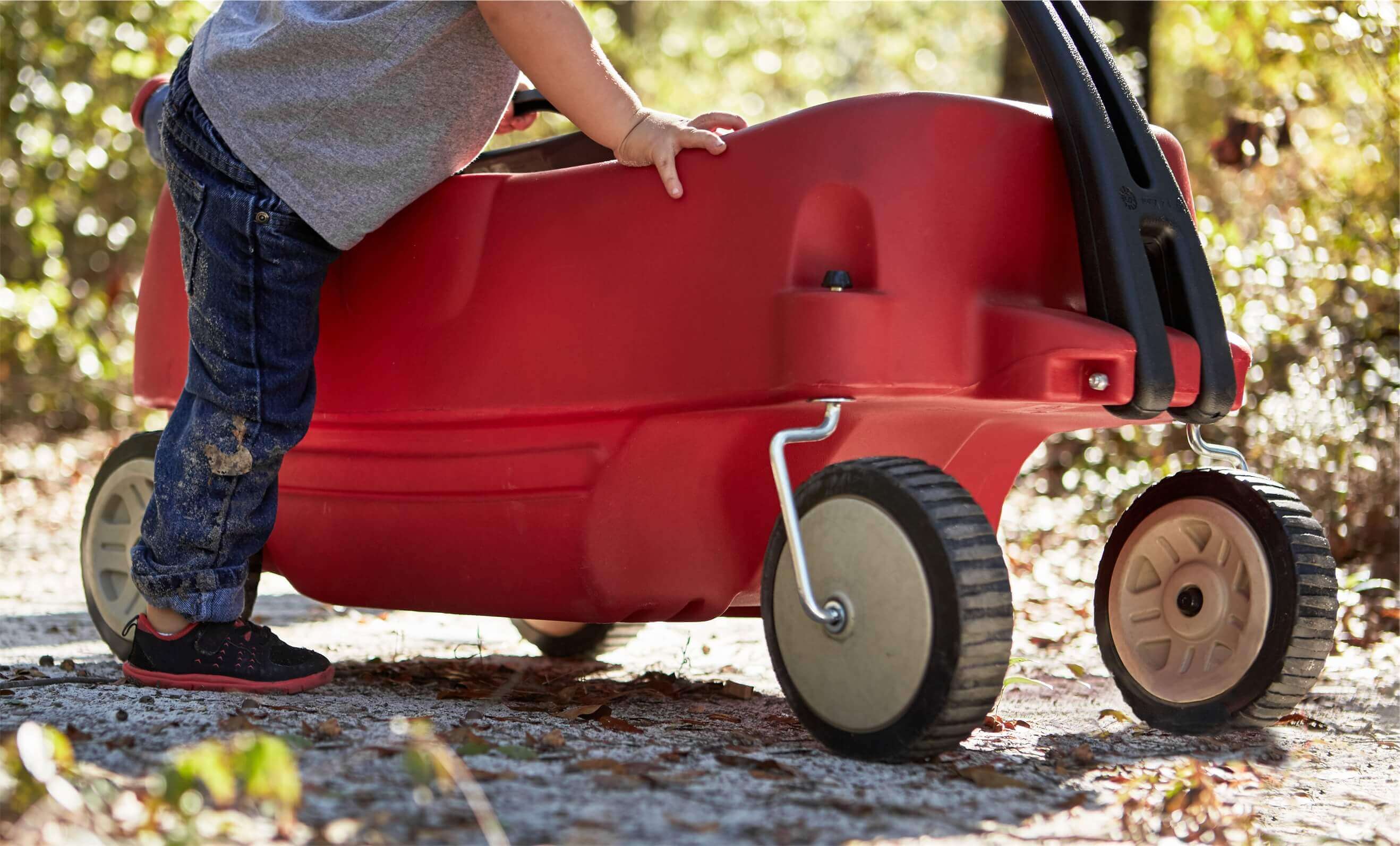 One day, while pregnant with my second child, I heard about blogs. This was back around 8 or 9 years ago, before the dawn of professional blogs, picture-perfect tutorials, and Facebook or Pinterest,.
What I found was a handful of down-to-earth bloggers, who didn't take fancy pictures or write twelve step how-to posts, but instead talked about their daily lives as moms and homemakers. They shared favorite recipes. They gave a cleaning tip. They talked about their schedule. They were honest about the difficulties of motherhood.
For the first time in so long, I began to feel less alone in this uncharted territory of mothering and running a home.
After about a year of faithfully reading, I decided that maybe, just maybe, blogging was something I would like to do. I had been learning, in all of my voracious reading, so much about nutrition and children's health and the state of the food supply and gardening and the toxins that were harmful to us.
I may not have been up for any awards of "homemaker of the year", but gosh darn it, I was beginning to know something of value about being healthy and I desperately wanted to share that with other moms who would benefit from the information as much as I had.
My husband looks back on that time and recalls that starting a blog was one of the best things that ever happened to me as a homemaker. The support and encouragement and ideas I found made all the difference.

In my eagerness to share, I dove in more fervently to the daily duties in our home. I took part in blog challenges, I tried out other people's schedules and cleaning routines, I forced myself to try making more things from scratch so I could share tutorials for doing so.
It was a learning curve of mountainous proportions, but little by little, I was making progress and it showed.
Fast forward 7 years.
I still don't have it even remotely together.
I'm a rather imperfect homemaker, a sometimes harried and voice-raising mother of four (almost five), a never-truly-clean fridge owner.
I regularly get behind with the homeschooling, I lose library books incessantly, and I can't seem to keep up a daily planner for the life of me.
But that's not all that defines me.
That drier lint? It no longer builds up to proportions that would scare the pants off a firefighter.
The laundry? It usually ends up clean and back in drawers and closets, even if clean loads sit out from time to time. (And my darling husband stopped working a job that required ironing, praise the Lord.)
From-scratch, whole food meals? They make it onto our table three times a day (even if they occasionally consist of the fallback scrambled eggs and toast), and most of the time, they taste good, too.
Guests that come to our home? I think they feel warmth and welcome, they seem to enjoy the food I serve, and heavens, they still come back again the next time I ask them over.
But even far more importantly…
I give it my all, each and every day, and that's all I can ask of myself.
I've never stopped learning.
Our home is a happy and healthy place, even when the baby spends all day in just a diaper and you can't see the counters for the piles.
My husband deeply appreciates the role that I play and how hard I work to serve our family.
My kids know that their mama is always there for them, will care for all their needs, wants the very best for them, and sincerely delights in them.
The condition of my floors, or whether I weed the flower garden, or the last time I washed the sheets? They don't matter in the grand scheme of things.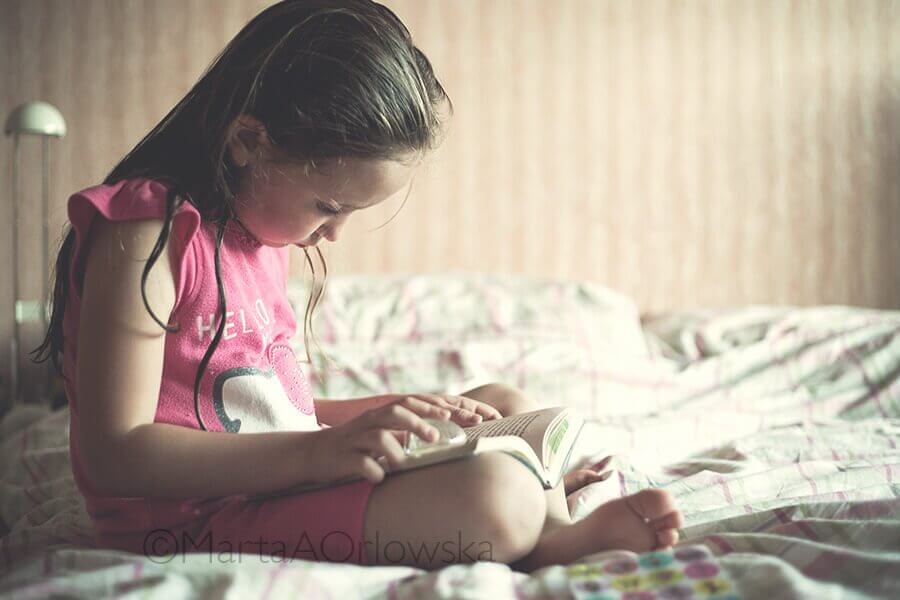 My home has become a place where I daily pour out my heart in the form of driving kids to gymnastics and karate, sitting for painfully long amounts of time as a budding reader sounds out a book, chopping up fruit and vegetables for finicky taste buds, and having important, tear-stained conversations with emotional little girls who will one day be courageous women.
It's hard to imagine a more important job.
And I love that I'm also a work-at-home mom. I relish in writing and running a business and collaborating with other entrepreneurs and using skills that go beyond the running of a home.
But it's surprised me that over the years of working to fit in both domestic duties along with a career, I have never stopped seeing the utter importance of what I do in the home.
Of the type of wife and mother I am. Of the atmosphere that I create in this space where we live out the most common, mundane and significant moments of our lives.
It's for all of these reasons… the hard and overwhelming beginning, the years of struggle and growth, the feelings of joy and accomplishment at gaining these skills, and the knowledge that the work I put my hands to is of far greater and more long-term worth than it might seem to be in the moment…
This is the heart behind this blog, and also the reason my friend Erin and I first created the Ultimate Homemaking Bundle.
NOTE: This bundle sale is over, but there are more to come in the future! Sign up to be notified the next time there's a bundle sale!
Not because we're perfect. Not because we think women should be Martha Stewart. Not because we want to overwhelm you or make you feel bad about all the parts of homemaking that you aren't very good at.
No, not at all. It's because we want you to have the resources neither of us had, and that we both so desperately needed when we started out.
I can't imagine how differently those early years of marriage, motherhood and homemaking would have been if I'd had access to the astounding wealth of information that exists on the internet today, or if I could have purchased an affordable package of helpful homemaking resources to teach me and cheer me on in my efforts.
The homemaking bundle is an incredible package, with resources on:
Cleaning… create a healthy, toxin-free home
DIY/Homemade… fun and frugal ways to express your personal style
Devotionals and Faith… take a break from the daily grind to renew yourself
Finances… build a budget that works
Cooking & Meal Planning… serve easier, tastier meals in less time
Holidays & Special Events… brighten up old family traditions and create new
Homeschooling… homeschool with grace and ease
Marriage… heat up your marriage
Motherhood… find peace, balance & joy in mothering
Organizing… conquer the clutter and simplify your life
Pregnancy & Babies… enjoy a healthy pregnancy and prepare to nurture your baby
Health & Wellness… soothe aches & pains with natural remedies
Working from Home… hone your talents, live your passions and earn money to help your family
My husband and I actually work together on this business, with a phenomenal team of passionate people, and it's a genuine privilege to put these bundles together for you.
We try to cram as much value into them as we possibly can, using a model that allows us to make them available to you for just a limited time, but at a price we hope every family can afford.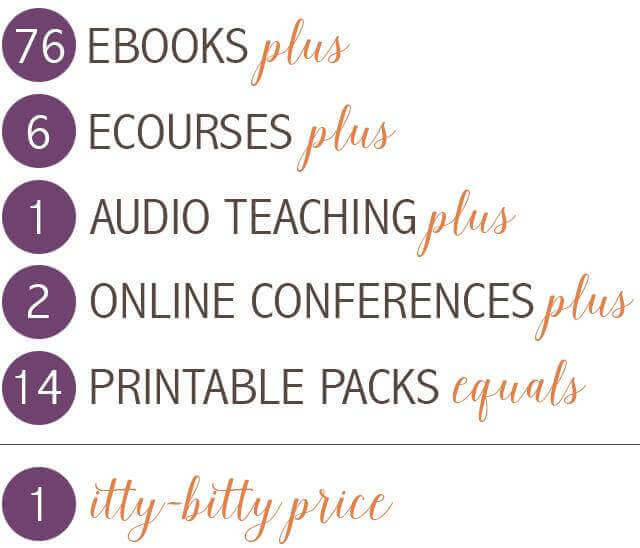 The bundle is a total of 99 carefully selected resources designed to help you grow as a homemaker and better nurture the beauty in your home and family relationships… is only $29.97. (A total value of $984.74.)
That breaks down to 30 cents per book.
Your 30-Day 100% Satisfaction Guarantee
If for any reason, you decide that the Ultimate Homemaking Bundle is not for you, then please send an email to customerservice@Ultimate-Bundles.com and we will refund 100% of your investment. No questions asked.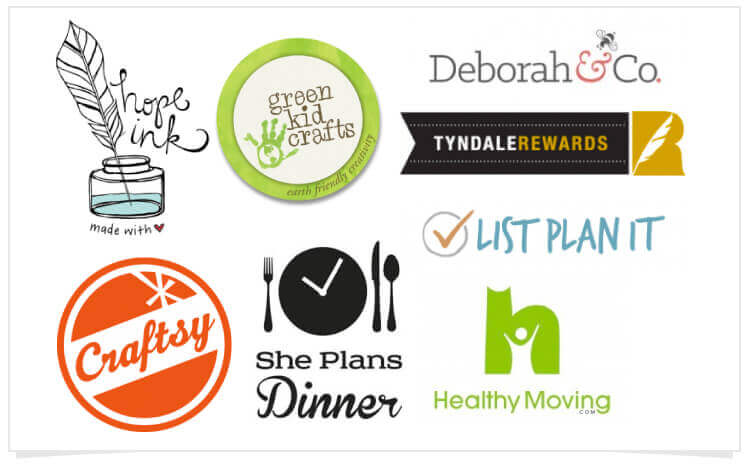 Don't Forget the Bonuses…
These are the icing on the cake. To me, the resources and helps are the heart of the bundle, but all this awesomeness from our bonus partners is just the ooey gooey sweetness on top.
But time is running out! The Ultimate Homemaking Bundle will only be available from 8:00 a.m. EST on Monday, April 20 until 11:59 p.m. EST on Monday, April 27. Sale is now over! Sign up to hear about it next time!
After that, the shopping cart closes and it will no longer be available, so grab yours now!
I genuinely hope and pray that this bundle encourages and equips and builds you up in a meaningful way that impacts your home and family long term.

And please remember… you are NOT alone in your struggles. So, so many of us have been there, too. We've felt that desperation. We've cried those tears. We've needed someone to come alongside us and help.
As you read these eBooks and take these eCourses, may you feel surrounded by other caring women, by mentors, and by friends who want to see you succeed and flourish and thrive in your homemaking.
Much love from myself, and all of us on the Ultimate Homemaking Bundle team. <3
Disclosure: As an organizer and author in this sale, our family earns commissions on bundles sold through this site. Thank you so much for your support.