Green Bean Casserole (The Real Food Way)
Green Bean Casserole is a staple side dish for many holiday dinners. Tasty green beans, creamy white sauce, and a crunchy topping, make it a well-loved family favorite.
Unfortunately, many recipes include canned condensed soup, bacon bits, and French fried onions (also in a can); enough to make a real foodie cringe!
Most of these undesirable ingredients can be completely avoided by using homemade alternatives such as made-from scratch sauce and home cooked bacon. Simply replacing these in your family favorite recipe will give it that real food touch.
Today I'm going to share my family's favorite recipe for Green Bean Casserole. It is extremely rich, including a decent amount of delicious butter. We save it for special occasions, breaking it out once or twice a year, including Christmas.
Green Bean Casserole (the real food way)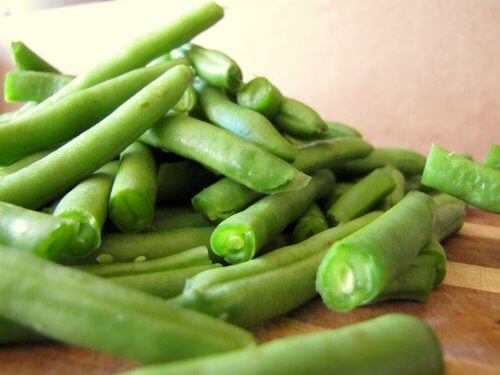 I adapted this recipe from Stephanie Kimmel's delicious Green Bean Casserole, eliminating the white flour and substituting coconut oil for the olive (since it is stable at high temperatures) among other things.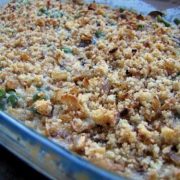 Print Recipe
Green Bean Casserole Recipe
Ingredients
For the Beans:
1 1/2

pounds

fresh green beans

trimmed and cut into 3-inch pieces

2

tablespoons

unsalted butter

2

cloves

garlic

minced

1

small yellow onion

finely chopped

8

ounces

mushrooms

sliced 1/4 inch thick

2

teaspoons

chopped fresh thyme leaves or ¾ tsp. dried thyme

Salt and freshly ground pepper to taste

Optional: Add crumbled

home-cooked bacon to suit your taste
For the Sauce:
4

tablespoons

unsalted butter

1/4

cup

whole wheat pastry flour OR 2 Tablespoons arrowroot powder

2

cups

whole milk

1

tsp.

salt
For the Topping:
1

tablespoon

unsalted butter

1

tablespoon

coconut oil

1/2

cup

sliced shallots

1/2

cup

whole wheat or sourdough bread crumbs

Salt and freshly ground pepper to taste
(This provides a light topping. I frequently double this amount since I love it! The topping is doubled in the picture above.)
Instructions
Preheat oven to 350 degrees.
Step One: Prepare Beans and Mushrooms
Fill a large pot with water and sprinkle with a little salt. Bring to boil and add green beans. Cook for 8 to 10 minutes until they are crisp tender. Drain and set aside.

While beans are cooking, melt the butter in a large pan. Turn to medium-low and sauté onion and garlic in the butter until soft.

Add mushrooms and thyme. Stir and sauté until the mushrooms release their juices. Continue cooking until the juices are reduced.

Season with salt and pepper.
Step Two: Make SauceHere are two methods for making the sauce: one uses whole wheat flour, the other uses arrowroot powder.
Method 1: Using Whole Wheat Pastry Flour
Melt the butter in a heavy saucepan. Whisk in the flour and cook for a minute or two (this will reduce the "floury" taste).

Add milk to saucepan, pouring in slowly while whisking continually. Add salt and stir to distribute throughout. Continue to cook, stirring frequently, until sauce thickens to the point where it will coat a spoon.
Method 2: Using Arrowroot Powder
Mix arrowroot powder and cold milk together until smooth.

Melt butter in a heavy saucepan. Pour in the arrowroot/milk mixture and stir. Cook, stirring frequently, until sauce thickens to the point where it will coat a spoon.
Step Three: Combine Sauce, Beans, and Mushrooms
Combine cooked green beans and mushroom/thyme mixture in a large bowl. Gently stir until mixed. Pour the sauce over the top and stir until evenly distributed.

Pour into a well greased 9 by 11 inch baking dish.
Step Four: Make ToppingAs noted in the ingredients, I often double the recipe for the topping since I like there to be a lot of it. You can also double all of the ingredients except the shallots and increase those as you desire.
In a skillet or sauté pan, melt butter and coconut oil over medium-high heat. Add sliced shallots, cooking about 3 to 4 minutes until soft and turning golden.

Add the bread crumbs and stir to coat with oil. Season with salt and pepper.

Sprinkle topping over casserole.

Bake for 25 to 30 minutes, until the bread crumbs are golden brown and the cream sauce is bubbling.
Is Green Bean Casserole a favorite in your home?