You know it might be time to turn on the heat when…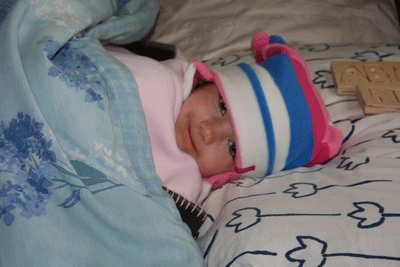 …you find this at nap time!
I remembered a comment from someone a little while back when I was looking for help in dealing with a cold house. They suggested wearing nightcaps to bed. I figured winter hats would work, so I tried it the other night and the kids didn't seem to mind it, and even thought it was kind of fun!
My husband didn't know anything about what I had done, so yesterday he comes into the kitchen and pulls me into the spare room where Abbie takes her naps, and tells me I've just got to see this. There she was, all snuggled up in her touque (there you have it- proof that I am truly Canadian!), and her new fleece birthday blanket under the covers! 
(And no, we're still not turning on the heat. But we are definitely buying another space heater!)