Book Sale Has Been Extended!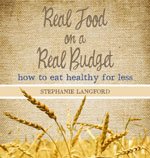 Due to a few technical "bumps" we had at the beginning of the sale and the fact that the response has been so absolutely tremendous, we've decided to extend the sale until this Friday!
Some of the coupon codes for the other eBooks will be ending this week, but I know that most of them are still good for a couple more days.
The sale on my personal eBooks (Healthy Homemaking and Real Food on a Real Budget), though, will be extended completely until late Friday night, November 5th.
If you didn't catch it before, my books are all on sale but here's the best deal of them all:
Buy the Real Food on a Real Budget eBook for only $9.97 (regular $18.97) and we will send you a copy of Healthy Homemaking: One Step at a Time for FREE! That's a 70% savings on the two books combined! To make it that much better, 50% of the proceeds are going towards the care of orphans!