The Best Tips for Using Oils on Face and Hair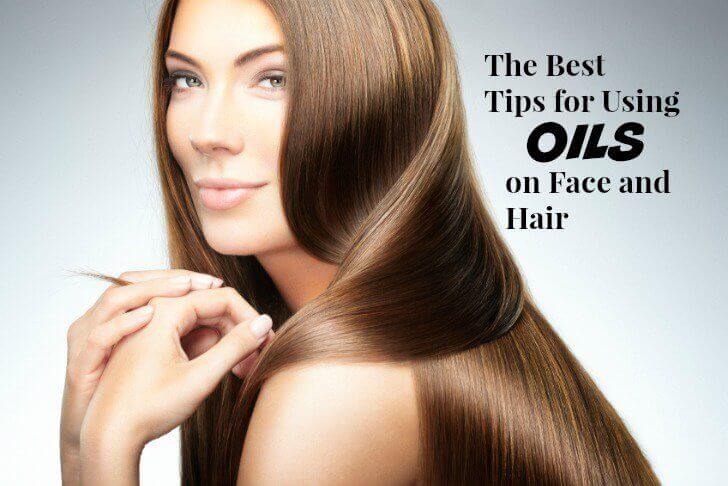 By Andrea Green, Contributing Writer
When I was growing up, the advice we received on skin and hair care was to avoid oil as an ingredient at all costs.
This advice wasn't all bad. Many conventional moisturizers contained mineral oil. A non-plant based oil, mineral oil can clog the pores and lead to breakouts. 
To counteract the breakouts caused by products containing mineral oil, we used products that were "oil-free."
Unfortunately, products that were oil-free dried out our skin, which then produced more oil, so we ended up with more breakouts.
GAH!
Having been taught that oil is the enemy to good skin and hair, it's hard to embrace the new knowledge that oil is actually the best thing for our skin and hair.
My own experience
For years I suffered from red bumps on the back of my arms. Every doctor I saw recommended I use a product to dry it out.
It never worked.
In fact, it often times made it worse.
A few years ago, I tried something new. I used an oil-based scrub in my quest to get rid of the red bumps on the back of my arms.
This scrub has been the most effective treatment for those bumps I've ever used.
That's when I learned that oil is not the enemy. In fact, oil is oftentimes the solution!
If you are new to using oils on your face and hair, read on.

The best tips for using oils on face and hair
Tip #1 – Natural is always better.
Look for oils that come from plants and flowers.
Our bodies naturally secrete sebum to keep our skin moist.
Oils from plants and flowers like avocado oil, jojoba oil, almond oil, and apricot oil are closely related to sebum in their make-up. The fact that they are closely related to sebum means they are readily and easily absorbed.
Tip #2 -Don't worry about skin type.
Oily, dry, combination …We're taught early to identify our skin type and to use products that are tailored to them.
Most natural skin care oils are suitable for any skin type; however, each oil can help with different areas.
For example, if you want to improve your skin's elasticity, use avocado oil. If you want to rejuvenate skin, grab the apricot oil.
The exception is if you are using oils on the face for the oil cleansing method. In that case, you'll want to follow the recommendations of the oil cleansing method.
Tip #3 – Apply oils to the skin while the skin is still moist.
When you apply oil to the skin while it is still moist, it helps your skin to retain moisture. So hop on out of the shower, towel dry, and slather on your favorite oil.
Bonus: Oils are easily absorbed, so you don't have to worry about any oily residue.
Try making Lavender Body Oil for a great smelling and totally moisturizing after shower body oil.

Tip #4- Add oil to your conditioner.
Adding a few drops of oil to your conditioner is an easy way to nourish your hair.
You can add avocado oil, almond oil, or jojoba oil. All will work to boost the moisturizing benefits of your conditioner.
Tip #5 – Massage oils directly into your scalp.
If your scalp is dry and itchy, go ahead and apply an oil directly to your scalp and massage. A great oil to use, and one that you probably have on hand, is coconut oil.
Start at your scalp and massage coconut oil in. Then move down the hair shaft and make sure to apply to ends. Allow to sit on the hair for 15 to 20 minutes before washing as usual. You'll love the results!
What are your favorite tips for using oils on face and hair?
Disclosure: This post contains affiliate links. When you buy through our links, we earn a small commission, which helps to keep this site going so that we can continue to offer free and useful content, so thanks!