Q: What do you get when you put together 40 lbs of raspberries, another 30 lbs of strawberries and blueberries, gallons of discounted frozen raw milk, sprouted grain buns bought on sale, multiple whole chickens, and a 1/4 of a cow?
A: One little deep freeze that is oh-so-rapidly nearing full capacity!
As I put away bag after bag of frozen raspberries last week, I noticed something alarming (and wonderful). It seems that this summer, for the first time ever, we will completely cram our freezer packed full of frozen fruit!
Though we always put away a lot of fruit (mostly berries) each summer, we have never achieved this feat! Not to mention the fact that this is our first year with a slightly bigger freezer than ever before!
But, the kids are getting bigger, and the smoothie that used to easily feed our little family is no longer sufficient. Even Caden wants his fill, and he frantically signs "more, more, more!" as he hoovers down 3/4 of my berry smoothie before I barely even get a sip!
As I stared at the last 10 lbs or so of raspberries in our fridge, waiting to be frozen, and then peered into the note-so-empty-anymore freezer that was still intended to hold 40-50 more lbs of blueberries (not to mention wild blackberries), I realized that I needed to come up with a Plan B.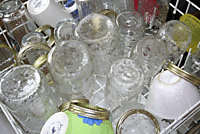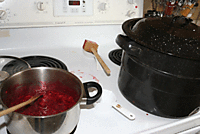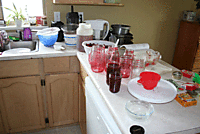 So we decided to make raspberry jam!
Well, jam was only a small part of it. I opted to try 3 different recipes, since I had never tried any of them before. The end result was (I'm sorry- I forgot to take a picture!):
Raspberry Jam– 2 jars (a recipe that only called for berries and honey- no pectin!- we'll see how it turns out, I suppose)
Raspberry Preserves– 5 jars (these are basically whole raspberries in a syrup of honey and water, then canned in a boiling water bath-)
Raspberry Preserves, fermented– 1 large jar (this is the Nourishing Traditions recipe, and calls for mushing raspberries in a jar, adding sweetener, whey and water, then letting it sit at room temperature for 2 days before moving it to cold storage)
The only thing we've tried so far is one jar of the preserves (from a book called Putting It Up With Honey), that had a lid that just wouldn't seal despite trying it several times. I gave up and decided we would have waffles with berries for breakfast the next morning… so yummy!
The title of this post is a nod to a favorite little children's book, Jamberry. When I was working on the jam, these sweet little stanzas kept running through my head:

Under the bridge
And over the dam
Looking for berries
Berries for jam

Raspberry Jam Recipe
Ingredients
3

cups

raspberries

1 1/2

cups

honey
Instructions
Mash berries in a sauce pan. Heat to a boil and cook down for 15 minutes.

Add the honey and bring to 9 F/ 5 C degrees above boiling. Cook for 5 minutes.

Remove from heat and beat with a wire whip for about 6 minutes.

Spoon into hot jars to within 1/4 inch from the top. Complete seals. Process in a boiling water bath for 10 minutes.