Almost-Christmas Ramblings
Just a few thoughts as I prepare to take a little time for celebration, relaxation and meditation this next week: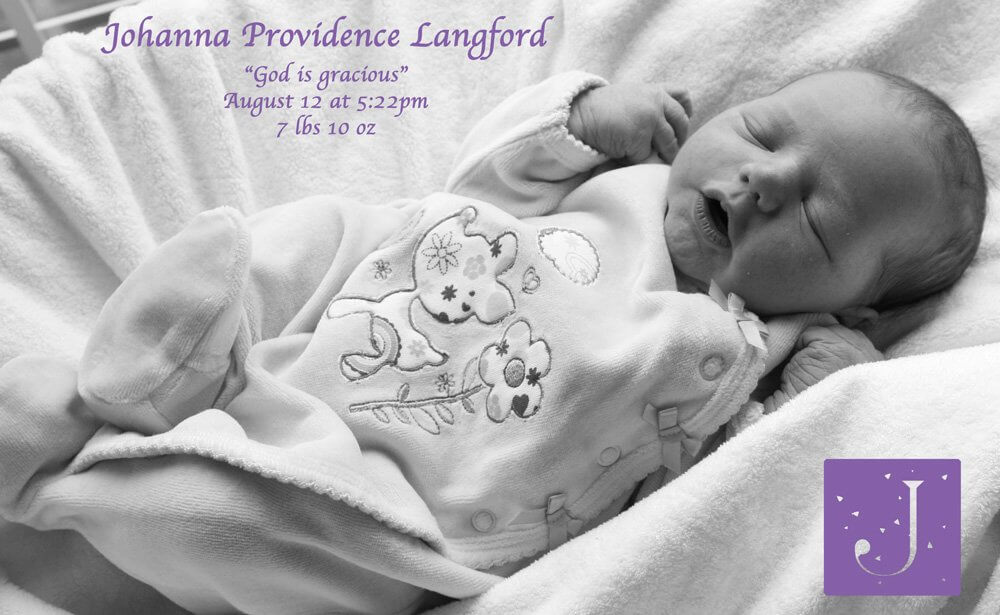 1) The picture you see above is Johanna's birth announcement. It may make some of you feel oddly comforted to know that I picked them up last week. Yes, she's 4 months old. I figured it was high time we let people know we had a baby! Just kidding. I'm pretty sure they know. But still, it would be nice to actually get her photo and thank you cards out the door and into the mailbox. They're set to arrive with the Christmas cards. Rather ideal timing, I'd say. She's definitely a precious gift. 🙂 You may also be interested to know that I got them 100% free from Kodak Gallery and picked them up at my local Best Buy.
2) I am working hard to get to the Blissdom blog conference down in Nashville, TN this February! Not only would it be a complete blast and a chance to meet so many incredible bloggers, but I think it would also be such a help for me as I learn more about balancing family life with blogging, how to improve my writing skills, how to work more efficiently and effectively, and so much more. But I could use your help… we're trying to purchase my plane ticket using swagbucks (by buying Southwest Airlines vouchers). I'm definitely on my way towards having enough, but the faster I can earn my swagbucks, the better. If you haven't already signed up for swagbucks, would you consider signing up through my link to help me earn them a little faster and make my way to Nashville? (Pretty please?) To learn a little more about what they are and how they work, see this post of mine.
3) You may be wondering whether the Year of Herbs series will still continue since my announcement to cut back on blogging somewhat. The answer is a resounding YES but I will have to take more time to piece the posts together or they might just be a little bit shorter than the novel I wrote on garlic. Look for one on either Comfrey or Yarrow or Ginger (still deciding) in the first half of January!
4) Is it possible that I've really spent less time on the computer blogging this past week and a bit, despite having a post up every weekday still? As a matter of fact, yes! I have been stricter with my time spent online, using an online timer that I am loving and is really holding me accountable, and just trying to write a bit shorter/easier posts and learn to work more efficiently. I'm delighted that it's going so well! If I feel that I can continue to keep my blogging time more minimal, you will continue to see posts from me, and that would just make me happy. Thank you all SO incredibly much for your kind and supportive words, your encouragement, your accountability and your own vulnerability and honesty. You're such a huge part of the reason that I love doing what I do. 🙂
5) Wondering what's in the works for January? I am in the process of planning a month of posts centered around getting organized in our homes! Topics I'm thinking to include: organization in the traditional/whole foods kitchen (non-toxic food storage, what to do with all those jars of soaking/fermenting foods, bulk food storage, etc.), getting recipes in order and making meal planning more simple and efficient (as well as how to fit in food prep, remembering to soak grains, etc.), putting together a homemaking binder (this will probably be covered over the course of a week), making a workable daily routine for my current season of life, planning and preparing for spring gardening, and anything else that comes to mind and fits in. If you have any ideas or requests, leave me a comment and let me know!
6) It's vacation time for me and my hubby. It has been a particularly long and tiring month and we need some R&R. Starting tomorrow we are both taking almost a week-long holiday from our businesses (I'm thinking of putting a padlock on the door of our shared office, though that may be a little extreme- and then again, maybe not). We will be spending some time with my extended family on Christmas Eve and Day, as well as having our very first Christmas morning by ourselves since our oldest daughter was first born (so excited to establish some of our own family traditions!), and then Christmas night we will be driving down to Seattle for a few days with my husband's parents and siblings. I had hoped to put out one more Celebrate with Joy post, about Christmas Eve and Day traditions, but it just won't be possible. I will, however, be posting after Christmas about the holiday of Epiphany (Jan.6) and some ideas for celebrating those "12 Days of Christmas".
How's your online time going? Are you preparing to take some time to rest and stay away from the computer this holiday season?