A Comparison of Birthing Settings: Home, Hospital and Birthing Center Births
With all this talk of birthing babies around here at Keeper of the Home, I asked Stephanie if I could compare three common birth settings: home, hospital and birthing center births.*
Whereas a home birth may seem the most natural choice for natural mamas, all three settings have their pros and cons and should be compared, evaluated and prayed through thoroughly before making a decision on where to birth your baby.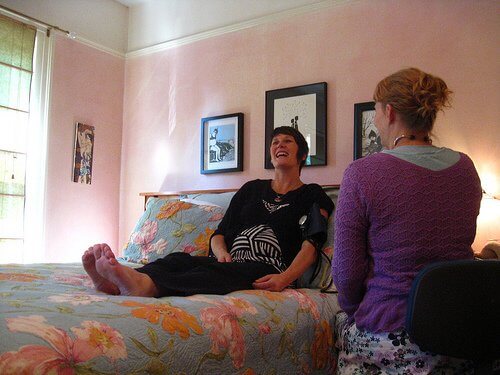 Home Birth
The most natural setting of all three, a home birth is the ideal environment for mothers who want complete privacy and control of their birthing experience.
Pros:
All of the comforts of home are available (own bed, bathtub, food, etc.)
Complete freedom for birthing position (kneeling, squatting, all fours, in or out of water, etc.)
Ambience of choice (Candles anyone? No fire codes to violate here!)
No restrictions on birth witnesses–from your hubby to your grandma to your toddler
No time constraints (Often, a hospital sets a time limit on how long they will allow a woman to labor–usually 12 to 24 hours–before interventions.)
Privacy: No medical team of doctors and nurses running in and out of the room
Much lower cost than other birth settings
Best bet for a completely natural birth: The setting itself, well, sets itself up for this!

Cons:
If an emergency arises (which is rare), you must leave and be transported to a hospital.
If you have other young children and no one to help you take care of them for a few days, resting may prove difficult, although if you have help, resting in the comfort of your own home is best (and actually more restful). (Hopefully, most people have help!)
Even though the cost is lower, some insurance companies do not cover home births. You must weigh whether or not your family can afford the out-of-pocket expense of the home birth versus what your insurance will cover in another setting.
Why have a home birth?
If you desire privacy and complete birthing freedom, a home birth may be your best option.

Image by intruso4
Reasons not to have a home birth:
If you are a high-risk pregnancy: Midwives are trained to access your risk factors, and some even have back-up doctors that will evaluate their patients as well if anything is in question. If either the mother or unborn child has any known serious medical conditions, a homebirth may not be a good choice.
If you or your husband are fearful about it: One emotion that can hinder a natural birth is fear. If you are fearful in your setting, no matter how natural it is, you will be less likely to achieve an unmedicated birth. Although studies have shown home birth to be safe, only you know whether or not you feel comfortable in this setting.
If homebirths are illegal in your state, you may want to seriously consider the pros and cons of breaking the law. Some states allow unassisted births but not births with certified professional midwives (I know–where's the logic in that?). Know the law, pray through your decision, and stick to your convictions in the matter. (And if you don't like the law…do your best to try to change it by writing your state representatives with the research that shows the safety of home birth!)
Home Birth Stories: Babykin's Birth Story @Creative Christian Mama, Zachary's Story @Raising Leaves , Landon's Story @The Joys & Woes of Motherhood, My Son was Born in a Kiddie Pool @Venison for Dinner, Caden's Birth Story and Johanna's Birth Story @ Keeper of the Home.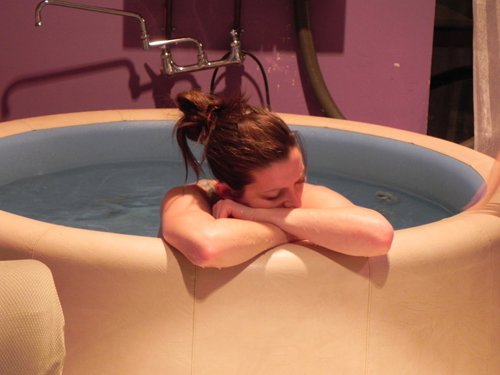 Birthing Center
If you desire a homelike setting away from home, a birthing center may be the place for you.
Pros:
Homelike: Most have good-sized beds (not hospital beds) and tubs and are attractively decorated.
Some medical interventions are available–if needed.
Most are housed near (or even attached) to a hospital in case an emergency arises.
More freedom than in a hospital setting (for changing positions, etc.)
Less expensive than a hospital birth
High chance of achieving a natural birth
Go home the same day as birth

Cons:
You must travel to birth center (Bumpy ride during contractions!).
If not accredited, your insurance may not cover it.
Going home the same day may be a pro but it can also be a con if you do not have anyone at home to help care for you and the baby.
Why have a birthing center birth?
If you are fearful of a home birth but want a home-like setting, a birthing center may be the perfect setting for you.
Reasons not to have a birthing center birth:
You are a high-risk pregnancy.
You want to spend the night in your birth setting.
Your insurance does not cover it, and you cannot afford to pay out of pocket.
Birthing Center Stories: Samuel's Story @Intentional by Grace (pics above!)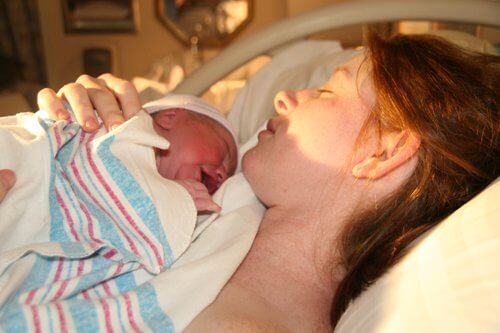 Hospital Birth
Is it possible to achieve a natural birth in a hospital setting? Absolutely! But, be warned, it does take more work. What do I mean by that?
Let me explain. I've had two hospital births. Granted, they were in two different hospitals, in two different states, but I didn't prepare at all for my first birth. I had grown up hearing stories of my mother's quick and easy natural births…and I just assumed I would be the same way. Was I ever wrong!
I was able to deliver vaginally–but after 16 hours of being confined to a bed, pumped with pitocin, hooked up to a catheter–and with an epidural in my back (after hallucinating on another pain medication). No, my first birth was anything but natural.
I studied and prepared for a natural labor my entire second pregnancy….and I achieved just that. But it took preparing myself for opposition (most hospitals are not accustomed to natural labors), using a midwife, hiring a doula and the support of my husband and a massage therapist friend.
But I did have a wonderful experience (I labored at home except for the last 4 hours, spent much of the time at the hospital in the hot shower, and I even got to pull her out myself and let her do the breast crawl!). I'm now preparing for my third birth in that same hospital with the same midwife and same doula.
See also: How to Have Natural Childbirth in the Hospital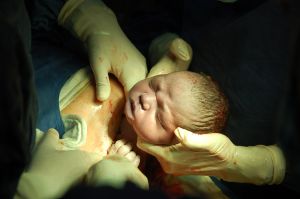 Image by aleheredia
Pros:
Any and all medical interventions needed in case of an emergency.
Can stay overnight and rest. (But this can also be a huge con if you hate hospitals!)
NICUs available if there is a problem with the baby.
Insurances typically always cover hospital births.
Cons:
You must travel to the hosptial.
Depending on the facility, hospitals are usually much more restrictive on birth positions.
The ambience is not home like in the least.
Limited privacy (especially during delivery).
Least likely setting to achieve a natural labor, as interventions can often be pushed (even when unnecessary).
Must stay overnight (or longer) for observation. And tests on your baby may be required (Although you can sometimes decline tests and especially vaccines, such as the Hep B and Vitamin K shots.)
The food is usually bad (HFCS in your yogurt, anyone?).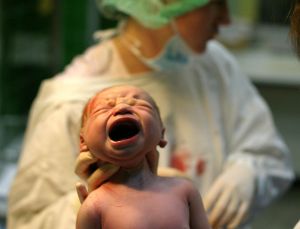 Image by tkobosz
So why am I personally having a hospital birth?
1. My husband does not currently feel comfortable with homebirths. I am to be submissive to him. For that reason, I haven't even given it much thought.
2. My insurance doesn't cover other settings. (And we did look into a brand new birthing center in our county, but, sadly, it won't be accredited until 3 months after our birth, so our insurance won't cover it either.)
3. Homebirths with CPMs are illegal in my state. (And there are no CNMs in our area that deliver in homes.)
I found these resources to be incredibly helpful while preparing for childbirth:
Hospital Birth Stories: Labor & Delivery the Quick, Easy, Cheap & Healthy Way, my own hospital birth story, Emily's story
*Although I only have firsthand knowledge of hospital births, I spent hours of research on various birth settings (including interviews with women who had birthed in all different settings and both hospital and homebirth midwives) for an article I wrote about the uproar of the arrest of a midwife in my state in the spring of 2011. I used much of that research in writing this post.
What birth setting did you choose: home, hospital or a birthing center? Why did you choose that birth setting?