How to Have Natural Childbirth in the Hospital
Though I am a huge advocate of homebirth with a trained midwife (having just had my second successful homebirth), I also know that it is not for everybody. I was delighted when Emily offered to write a guest post presenting another angle on natural births and how to have a beautiful birth experience in the hospital. I would love to hear from others in the comments who have also had a positive hospital childbirth experience!
*******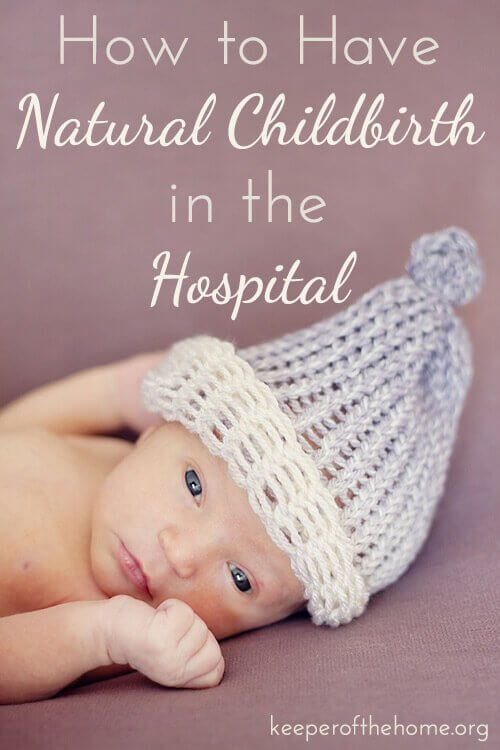 Guest Post by Emily
When I became pregnant with our first child in 2007, I knew right from the start that I wanted to have a natural birth. Mostly, I wanted to avoid having a c-section for any reason other than absolute medical necessity. I knew that too many interventions could lead down the path to a c-section, and I knew I was willing to deal with the pain of labor to prevent going down that path. I also knew that it would not be easy for me to have a natural birth, and not just because of the labor. Unfortunately, in today's society it seems that there are many obstacles in the way of a mother that desires to give birth naturally, and the most powerful one is the place where the majority of women give birth, the hospital.
Hospitals don't expect women to give birth naturally. They don't expect that you understand or are prepared for your labor and birth. They don't expect you to be able to manage your contractions. They expect that you will be in pain, be overwhelmed, and want interventions and medication and that is what they are set up to provide. They don't expect that you would actually desire to have a natural birth experience.
I think it is so important to prepare for your birth, especially if you are going to give birth in a place that does not put a high value on natural birth. Here are seven of the ways I found that helped me achieve the birthing experience I wanted while in the hospital.
1. Do your own research. Read, read, read as much as you can about natural birth. You are the final decision maker for your birth experience and how you want your birth to be, not the nurses, the hospital staff, or even your doctor. Research and knowledge will help you to make good decisions and overcome the fear and unknown of labor. (A great place to start is with Unbound Birth, an ebook that offers many great suggestions on how to have natural birth in the hospital.)
2. Take a good birthing class. This is one that I didn't take my own advice on, my husband and I just went to the class that the hospital offered. If I had to do my first birth over again I would take a class that was more focused on natural birth, like the Bradley Method. This will help you feel prepared and supported in your decision.
3. Make it a family affair. It is so important to know that your husband is on board, and understands and supports your desire to have a natural birth. Your husband will probably be your most important birth coach. Encourage your husband to go to childbirth classes with you and also to read books on natural labor. It is so helpful if your husband understands the process of labor, what you will be going through, and how to comfort and encourage you.
4. Get support in addition to your husband. The best decision I made with my first birth was to use a doula. The support of my husband and my doula helped me to feel confident in my ability to birth naturally and allowed me to achieve the birth experience I wanted. Not feeling supported in your decision can make it harder to resist giving in to interventions and medication when the going gets tough. So whether it's your sister, your mom, your best friend, or your doula, have someone with you that supports you 100%.
5. Talk with other moms who have had natural births, especially those that have given birth naturally in a hospital. This was one of the most encouraging things I did before my daughter was born. It really helped me to believe that I could do it. It also wouldn't hurt to talk to moms who didn't have great birth experiences. All births that end with healthy babies and moms are good birth stories, but it may help to learn from those who had births that didn't go exactly as the mother had hoped.
6. Write out your birth plan. Go over it with your doctor or midwife ahead of time and take it with you to the hospital to give to the nurses. You might be surprised that your nurses may really want to help you achieve your goal of natural birth. I was so fortunate to have great nurses for both of my births who were supportive and encouraging because they read my birth plan and knew the type of birth I wanted.
7. Once you are in labor, stay home as long as possible! Laboring at home is much, much more relaxing than laboring at the hospital. And when you're relaxed you will probably progress faster and easier (although that's not a given). Plus, as long as you are at home you won't have the option of medications and interventions so you will learn to manage the contractions without them and know that you are able to do it. That way you won't be as easily tempted by the meds once you get to the hospital.
For those of you who don't have the option of having a homebirth, or just don't feel comfortable with it, but still desire to give birth naturally, I'm here to encourage you that it is possible to have a natural birth in the hospital – I know, I have done it twice now! In planning and preparing for natural childbirth I learned, and experienced, that it is not just about avoiding a c-section, but is about the joy and strength that comes from the amazing experience of working with your body to give birth to your baby. Believe in yourself and trust your body! You really can give birth naturally – it is what your body was made and designed to do!
For more information on natural childbirth, these are books I found helpful: The Official Lamaze Guide: Giving Birth with Confidence
by Judith Lothian and Charlotte DeVries; The Birth Book: Everything You Need to Know to Have a Safe and Satisfying Birth (Sears Parenting Library) by William and Martha Sears; Homebirth in the Hospital: Integrating Natural Childbirth with Modern Medicine
by Stacey Kerr M.D.; and Empowered Pregnancy by Theodore Peck.
Have you had a natural hospital birth? What things did you find helpful in your experience?
Disclosure: This post includes affiliate links.