Forget About Giving Toys … Choose Experience Gifts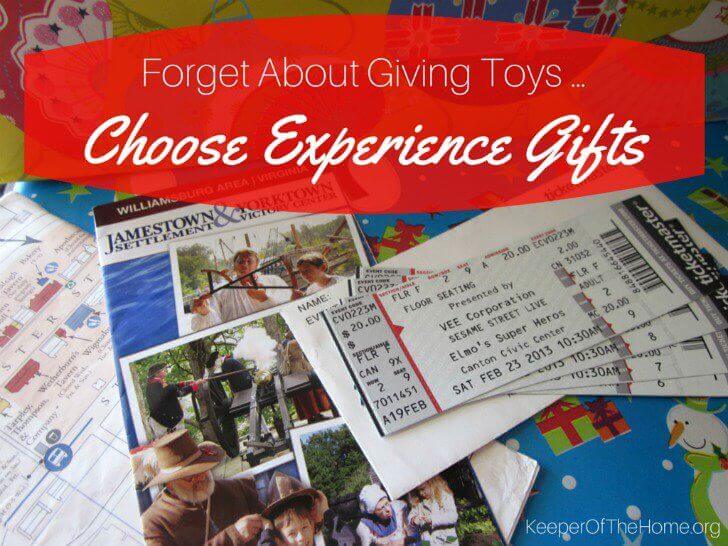 By Hilary Bernstein, Contributing Writer
Toys lay scattered across the floors of my children's bedrooms. Despite my daily reminders to pick up, chore chart attempts and a rotating toy system that did – for a time – work wonders, my children have no desire to routinely clean their rooms.
I can't say that I blame them. I didn't want to when I was 4 or 6, either.
As much as I think I'd like to help the process along by getting rid of most of their toys
, I just can't. They do love to play with the toys they have. And I love hearing them play quietly in their own rooms, filled with imaginative play conversations. These are the sounds I always imagined my house would be filled with when I dreamed of becoming a mom. I just didn't imagine the messy rooms that also would be part of it.
I'm learning to accept the messy rooms and remind myself that someday I'll miss seeing toys everywhere. Yet I'm also fully aware – and mentally preparing myself – for the onslaught of Christmas toys.

What's a minimalistic parent to do?
Even though my children never ask for many toys, our generous family members and friends shower my son and daughter each December. The generosity is kind. And it's appreciated. But it's difficult to make any strides in minimalism when our kids' rooms are overflowing with stuff.
Since my children truly don't need anything, I'm not shy in telling grandparents about the gift conundrum. They know our children – and they know how much stuff they have. I also share how it's tricky for my husband and I to decide what to buy for our own children. We want to give good gifts that will be enjoyed. [Tweet "We don't want to give just for the sake of giving."]
We do share a few gift ideas of toys our children have been talking about. But I've noticed that the kind of gift my children really love is an experience gift. (I happen to love them, too!)
I love that experience gifts create memories. I love that they don't take up room in my house. I love that they can be anticipated and savored.
Some of my family's favorite experience gifts have been:
Memberships to museums and zoos,
Vacations,
Day trips,
Performances,
Movies, and
Meals out.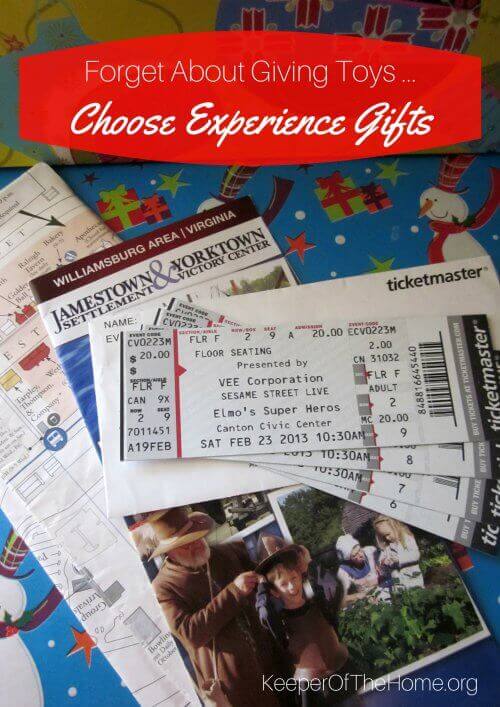 The packaging or presentation doesn't have to be fancy – the gift is all about doing something. Sometimes the gift giver is part of the experience, which is great. Other times, it's just a gift for our family of four. Either way, experience gifts are the ones I hope to receive – and the ones I'm most excited about.
How do you fight the battle with stuff in your own home? What kind of gift ideas do you have for a family that doesn't need more stuff? What are your favorite kind of experience gifts?
Disclosure: This post contains affiliate links. When you buy through our links, we earn a small commission, which helps to keep this site going so that we can continue to offer free and useful content, so thanks!