3 Herbal Iced Tea Recipes to Beat the Heat
I grew up drinking sweet iced tea made from your standard black tea. And when the sweet tea pitcher ran out, someone was sure to throw a fit.
Sweet tea was a part of life, and it wasn't until I went to college that I discovered not everyone drank tea the way I was raised to drink it. Some people had the audacity to drink their tea unsweetened, and even still, others drank their tea hot with honey and lemon. *gasp*
When I made the switch to a more natural lifestyle, I discovered the amazing world of herbs.
Herbs are incredibly versatile. They can be added to just about any recipe, made into an herbal tincture, snipped off the vine and eaten raw, or enjoyed in teas. Plus, herbs are easy to grow right in your backyard!
Today, I want to share some of my favorite herbal iced tea recipes. (I keep a pitcher
 of herbal iced tea in our refrigerator all summer long!)
How To Make Herbal Iced Tea
There are various ways to make herbal iced tea, but here is how I make mine:
Bring half a gallon (or 8 cups) of water to a near boil.
Rinse fresh herbs, and add them along with the tea leaves to a half gallon mason jar
. Rinsing herbs from our herb garden is one of my toddler's favorite kitchen tasks.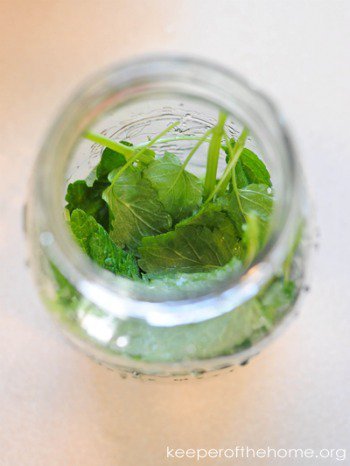 Add hot water to the jar.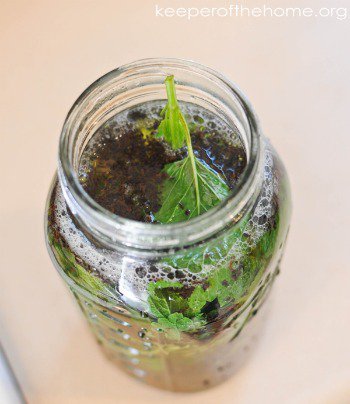 Cover loosely with jar lid and let it sit on the counter until completely cool.
Once the mixture is cool, strain off herbs while pouring the liquid into your storage jar.
At this point, you can add any sweeteners you want, but I've found I like my herbal tea just the way it is!
Then, I add cold water until I have a gallon of herbal tea.
Pop it in the refrigerator to continue to cool, or pour over ice and serve!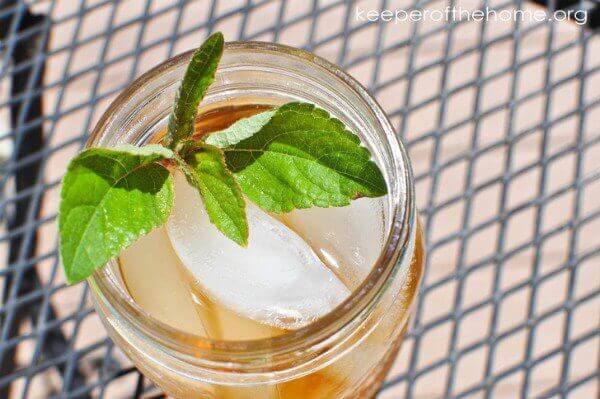 So simple. So refreshing. So nourishing.
Try one of these herbal teas to help beat the heat this summer while loading up on incredible nutrients your body needs.
3 Herbal Iced Tea Recipes to Beat the Heat
Lemon Pineapple Refresher Herbal Iced Tea
This herbal iced tea is incredibly mild and very tasty, which makes it great for children! You can easily eliminate the black tea, if you prefer to cut out the caffeine.
3 parts lemon balm: Lemon balm is easy to grow yourself, and it's full of nutritional benefits.
1 part pineapple sage: Pineapple sage brings a tropical touch to this tea mix.
2 tablespoons black tea: Black tea adds a little more flavor and zing.
1 whole lemon, sliced (optional): If you have a lemon on hand, adding it will make this an alkalizing power drink!
Cooling Peppermint Herbal Iced Tea
Peppermint tea soothes the digestive tract and cools the body naturally. Peppermint tea is a great alternative to coffee, and can be enjoyed hot or cold.
This cooling peppermint tea is a also hit with kids.
Fill 1/3 of a half gallon jar with fresh peppermint leaves. If using dried peppermint, you'll cut the amount in half.
Substitute chocolate mint for peppermint for a sweet treat!
Lemon-Lime Ginger Herbal Iced Tea
Brace yourself for a dose of refreshing! Add:
3 parts lemon balm: Lemon balm can be paired with so many other herbs.
Thumb length slice of ginger root: Ginger root gives this tea a spicy zing with the added benefit of aiding digestion and lowering inflammation in the body.
4 tea bags of green tea: Green tea is a powerful antioxidant and a great addition to any herbal tea.
1 whole lime, sliced (optional, but highly recommended): The lime really gives this tea a nice, refreshing kick, and limes are a rich source of vitamin C.
1 part cilantro: The surprise ingredient in this herbal tea is cilantro. Cilantro has the ability to help transport toxins out of the body, and you may find yourself loving the extra flavor it adds.
Do you have any favorite herbal iced tea recipes? Share in the comments!
Disclosure: This post contains affiliate links. When you buy through our links, it helps to support this site, so thanks!