31+ Fun & Frugal Thanksgiving Activities & Freebies for Kids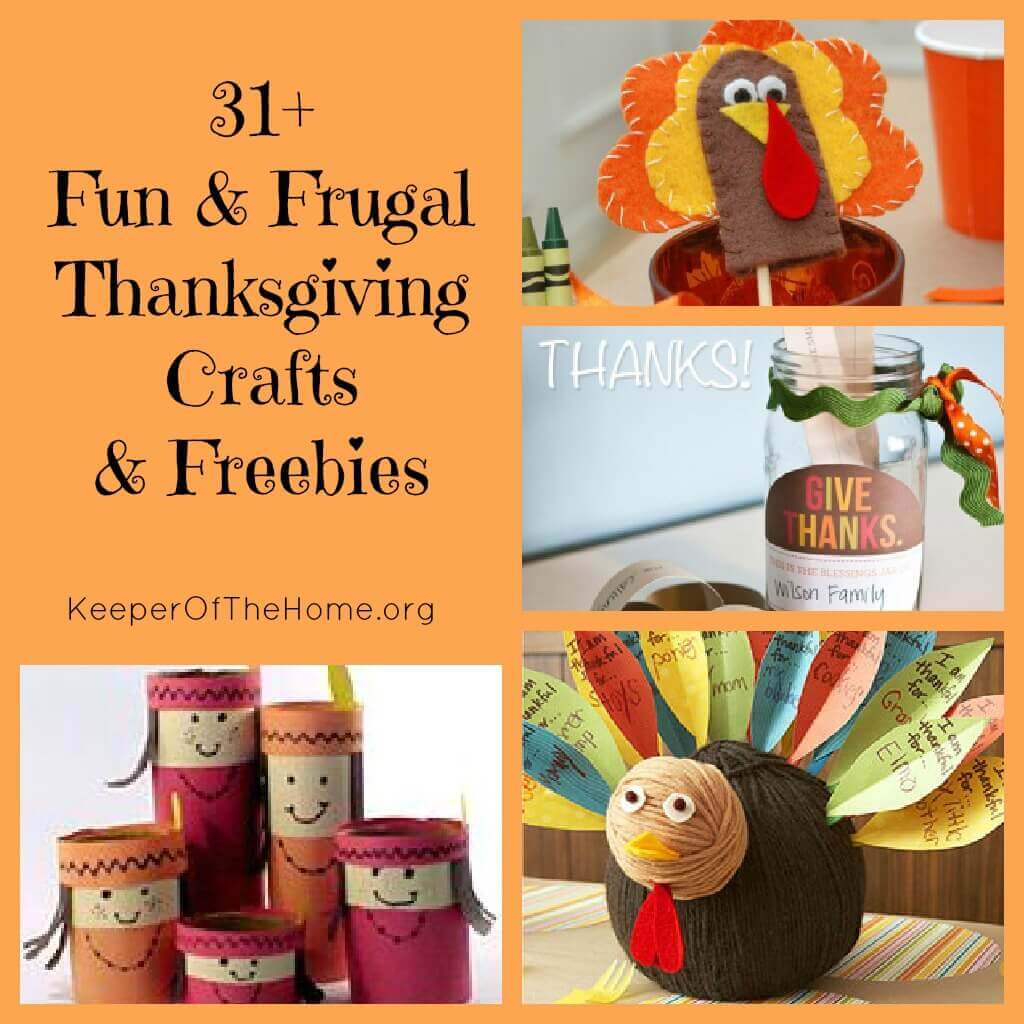 By Crystal Paine, Contributing Writer
Looking for some inexpensive and simple Thanksgiving-related activities for your tots, preschoolers, or grade schoolers? I've culled the internet and put together a list of over 31 of my favorite Thanksgiving-themed activity ideas, plus a number of free downloads and printables. Enjoy!
Fun & Frugal Activities
Make Turkey Footprints or Turkey Spice Handprints.
Play Turkey Color Bingo.
Stitch some Thanksgiving Turkey Finger Puppets.
Create your own Pilgrim Hat.
Sew turkeys from old socks and felt.
Use toilet paper and paper towel rolls to construct Pilgrim and Native American centerpieces. Or, you could also make these Pilgrim Finger Puppets.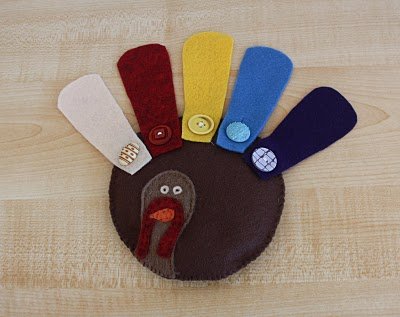 Sew a Button Turkey.
Play the Roll a Turkey Game.
Cultivating Grateful Hearts
Create What I'm Thankful For Oven Mitt Books with your preschooler.
Cut out your handprints to make this I Am Thankful For… Turkey craft.
Image from Paper Coterie
Create a Gratitude Jar — Paper Coterie has free printables to make this really easy to do! You can also read about helping your kids create their own Gratitude Journal over at Let's Lasso the Moon. (And, later this week, Courtney will give us her family's version of a gratitude journal here at Keeper of the Home!)
Create a Thankful Tree — Ann Voskamp has downloads and instructions for creating your own Thanks Giving Tree.
Make a Thanksgiving Gratitude Chain with these free printables from Silver Box Creative.
Create this cute Thankful Turkey from yarn and construction paper.
Books to Read
KC Edventures has a list of 10 Thanksgiving Books to Read. You can find another great list of Thanksgiving-themed picture books here. We requested these from our library!
Free Printables
Free Pilgrim Paper dolls — You can also find free printable Pilgrim Paper Dolls here.
Free Homeschooling Unit Study on Pilgrims — This unit study has free printables to aid you in studying about the Pilgrims and the first Thanksgiving. It's geared for preschool through 5th grade. You can also find a free One-Week Study on Pilgrims here.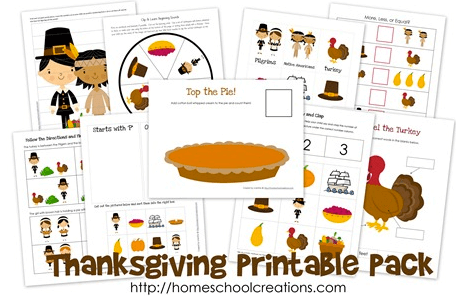 Free 138-Page Thanksgiving Printable Pack — Creative Learning Fun is offering a huge 138-page Thanksgiving Printable Pack with activities for preschoolers and kindergarteners. You can also download a free Thanksgiving Printable Pack from Homeschool Creations and a free 121-Page Thanksgiving Printable Pack from 3 Dinosaurs.
Free Thanksgiving Math Printable Pack — RoyalBaloo has a free downloadable Thanksgiving Math Pack with printable math activities for Kindergartners and First Graders.
Free Thanksgiving Tot Pack — Our Little Monkeys has a free downloadable Thanksgiving Tot Pack available. You can also download a free Thanksgiving Preschool Pack and a free Thanksgiving Tot Kit.
Free Turkey Printable Pack — 2 Teaching Mommies has a Turkey Printable Pack available to download for free.
More Ideas: Find 40 Thanksgiving Crafts and Activities for Kids Ideas here, 36 Thanksgiving Crafts and Activities here, and Montessori-Inspired Activities here. And don't forget to check out the 30 Pumpkin Recipes, Crafts, and Ideas here.
What are your favorite Thanksgiving activities?