2012 Christmas Gift Guide at Keeper of the Home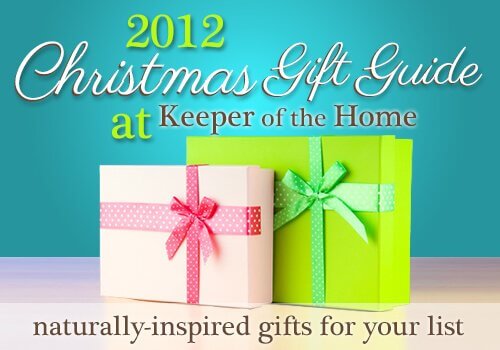 Christmas gift guides have been around a long time.
But, this year we've decided to take what makes us stand out in the blogosphere (providing inspiration, information and resources for a natural, healthy lifestyle) and use it to ease your search for the perfect gifts to complete your list.
Do you prefer to buy gifts that are handmade? Eco-friendly? Made with pure ingredients? Sustainably made or sourced? Support small business owners?
Our goal is to build a list of great companies that carry just the type of gifts you feel good about giving.
Who is this gift guide for?
Well, that all depends on who you are!
Are you a shopper?
If you've got a list that you'll be checking twice this year, and you're on the lookout for beautiful and practical items to give to your loved ones (that don't compromise your values), then you will definitely enjoy coming to check out this list.
The Christmas gift guide will include a wide selection of businesses and online shops with quick links so you can find them easily, a description of what they sell, favorite items from each shop, and a general price guideline so you know what to expect. How handy is that?
Are you a small business owner?
We would love to include your online shop and share you with our readers!
Keeper of the Home readers are predominantly women ages 20-45 (ie. the shoppers in the household), 85% of them have children or are expecting, and well over 50% have household incomes of $55,000. They want products that keep their families safe and healthy, that protect the earth, that support good farmers, fair trade and small business, and that make their homes pleasing places to be.
By choosing to be a part of our gift guide, your company and products will be seen by literally hundreds of thousands of women. Here's a peak at our recent monthly traffic statistics:
Visits: 490,777
Unique Visitors: 403,878
Pageviews: 663,855
Facebook "likes" 22,500+
Twitter: almost 5,000 followers
What do you get as a sponsor of the Christmas Gift Guide?
Each sponsoring business will receive their own feature on our 2012 Christmas Gift Guide page, which includes a 200×200 pixel image or logo, up to 4 links to your shop (you can specify products or pages to link to), and a solo Facebook post (where your company is the star).
Plus, we'll be linking to and promoting the gift guide from our blog for 3 full months, to ensure that readers continue to visit and find it (and then, find you!).
Curious what your ad will look like? Here's a sample: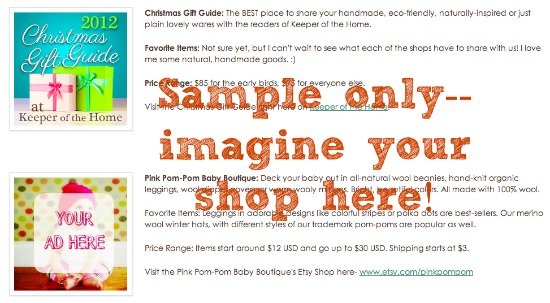 Gift Guide Sponsorship includes:
Alphabetized listing of your shop
200×200 pixel graphic ad or logo
Shop description and URL of choice
One Facebook post per sponsor
The guide will be linked to on our navigation bar and sidebar for 3-month duration
One group blog post Oct.15 highlighting all participating shops
Social media promotion of the guide throughout the 3 months
How do I sign up?
We will be accepting sponsors from now until October 1st (for the early-bird price of $85).
Late applications will be accepted until October 8th (at the regular price of $95) or until spots fill up. Sponsorship is available on a first come, first serve basis, so make sure that you apply right away to avoid being disappointed.
We are accepting shops that sell a wide variety of goods that fit into the following categories:
Home decor & art (things like Christian/scripture prints, greeting cards, etc.)
Upcycled or handmade goods, including clothing, scarves or knit items, decor, vintage stuff, jewellery/accessories, etc. 
Children's toys- wooden, cloth, handmade, non-toxic, very creative (play silks, blocks, play food, etc.).
Homemaking items, such as quality kitchen ware (particularly things like cast iron, stainless steel, bamboo, etc.), pretty aprons, daily planners, journals, calendars or stationary.
Natural skin and beauty care
Gentle baby care products
Organic or sustainably-made children's clothing
Fair trade certified coffees and teas
Anything herbal (beauty, remedies, teas)
Gardening novelty items
Beeswax or soy candles, with natural (ie. essential oil) scents
Novelty "real food" (infused olive oils or vinegars, confections made with alternative sweeteners, etc.)
Anything with an eco-friendly focus 🙂
Do you have something else that you think would be a good fit? Just go ahead and apply and we'll consider your shop!
The group blog post featuring all sponsors will go up on October 15th. Following that, the gift guide will remain available for readers to see from Oct.15th through to January 15th (to allow for after-Christmas sales).
To apply to be a 2012 Christmas Gift Guide Sponsor, simply complete this online form.
Want to promote your shop further? 
For all gift guide sponsors, we will be offering a 20% discount on sidebar advertising during the months of October to January. Advertise in any or all of those months for the tidy price of $100 per month (an amazing price considering our recent traffic increases!). We also offer 300×250 above-the-fold premium sponsorship, and are willing to discuss discounts on these spots as well.
If you're interested in adding sidebar ads to your gift guide sponsorship, please note it on your form, or email Lindsey at advertise (at) keeperofthehome (dot) org.
Any other questions? Please don't hesitate to contact myself or Lindsey! We would love to discuss how to make the most of the gift-giving season for your business.
Can you all believe that we are moving into the Christmas season? What plans do you have for making the most of it?
Pretend ad image uses a lovely photo by {Charlotte.Morall}