11 Simple Meals for Busy Nights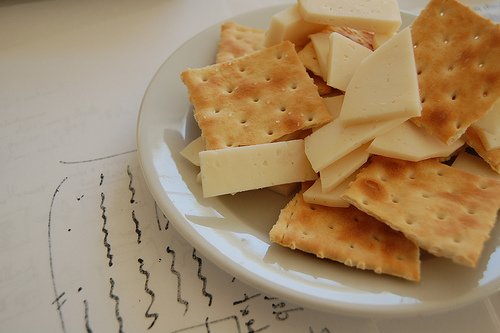 ;
As 2011 comes to an end, we're sharing helpful lists to help you save money, stay healthy, get organized, creatively repurpose, frugally gift-give, intentionally celebrate and more in our "11 Things for 2011" series throughout these holiday months.
Written by Kate Tietje, Contributing Writer
It's already mid-November. Thanksgiving is fast approaching, and after that is Christmas, and then New Year's.
With a myriad of family gatherings happening on or around these dates, plus Christmas plays and other school events, and holiday parties — it's a busy time. So busy that you may not have that much time to cook!
Instead of throwing caution to the wind and relying on some packaged foods during this busy season (which will almost certainly mean you'll end up not feeling well and possibly gaining some unwanted weight!), turn to these 11 simple real food meals that come together quickly and easily.
1. Chicken and Potatoes
One of our favorites, it literally cooks in less than 20 minutes, and includes plenty of healthy coconut oil. Serve a salad or some steamed broccoli on the side, sprinkle some raw cheese on top (if you like) and you have a quick, easy, healthy meal.
2. Taco Salad
So simple to make and everyone can customize theirs however they like. Pre-soak and pre-cook beans and keep them in the freezer and this one goes on the table in less than 20 minutes.
3. Fried potatoes with broccoli and cheese sauce
Eat it by itself, or add some quickly cooked burgers or leftover shredded chicken and you've got an easy, yummy meal.
4. Smoothies and scrambled eggs
Smoothies are easily customizable and can be made in minutes. So can scrambled eggs (add chopped veggies or meat or cheese if you like). Simple!
5. Frozen Waffles
That you've made yourself, of course. They freeze excellently, so you can just pop them in the toaster. Cover them with butter and real maple syrup, or whipped cream and fresh fruit. Cook some quick sausage patties to go with them if you like.
6. Quesadillas
Buy some whole wheat tortillas (I buy mine at Trader Joe's sometimes) or make a double or triple batch and freeze them. Make them just cheese, or throw in pre-cooked, shredded chicken or veggies. Serve frozen beans alongside if you like.
7. Pigs-in-blankets
I haven't posted this recipe yet, but I made a huge batch of these and froze them (pre-baked). They can be heated up, or even taken along and eaten as they thaw. They're basically soaked crescent roll dough wrapped around uncured hot dogs. They take a little work up front (not too much hands-on time, really) but once they're frozen they're dinner in minutes.
8. Pita Pizzas
Use a pita and top it with tomato sauce, cheese, and anything else you have around. The pita's already baked, so you only have to melt the cheese. Dinner in 10 minutes!
9. Marinated Beef Strips
I like to make two or three pounds and freeze them in the marinade. Then I pull them out in the morning, they're thawed and well-marinated when I want them. Fry them up quickly in a pan and pair them with beans and lettuce for a taco-salad-style meal, or pair with fried potatoes or rice. We have done all of those ways.
10. Cheese and crackers
An old standby, just pull out a box of organic crackers and some raw cheese. Have an apple, some beef jerky, or dried fruit to go with it.
11. Mac'n'cheese
If I'm really struggling, I get a box of organic mac'n'cheese and cook it up with good quality butter and cream. I add some steamed broccoli and chicken, ground beef, or canned tuna (which my kids love) alongside. Fast and yummy!
What are your top (fast and easy) meal choices for busy nights?