10-Minute Lunches: "Tea Room" Chicken Salad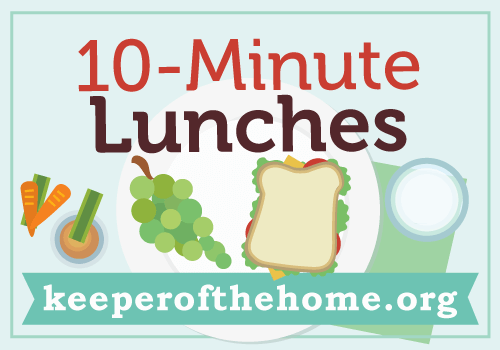 By Erin Odom, Contributing Writer
I've always loved chicken salad. To me, it's the perfect feminine tea party food. Give me chicken salad, a freshly-baked croissant, a cup of fresh fruit and a spot of hot tea, and I can just sit and pretend I'm enjoying high tea in a different land and time.
But I have a confession: I've always been nervous to make my own chicken salad. Surely I couldn't throw together a salad as delicious as a fancy tea room's!
But here lately I've been on a mission to get more protein into my diet–especially into my lunches. I am much too prone to just whip up a smoothie for lunch, and I'm starting to realize that I need something more substantial. And eating a real lunch may actually help me lose weight.
So when I had some cooked, shredded chicken on hand a few weeks back, I decided to look through my pantry and fridge to see what else I could pull together to make a yummy, protein-filled lunch.
I whipped up this "tea room" chicken salad in 10 minutes flat!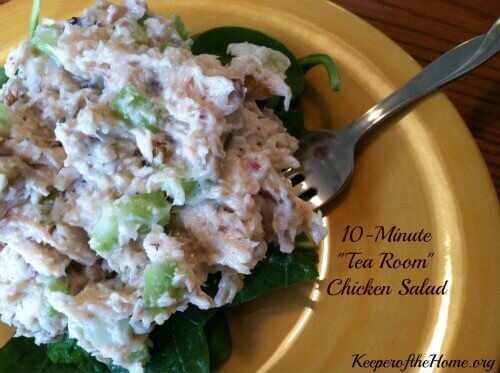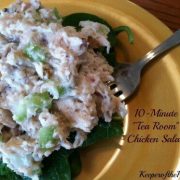 Print Recipe
10-Minute "Tea Room" Chicken Salad
Ingredients
1

cup

cooked shredded chicken

1

rib of celery

chopped

1/8

cup

coarsely chopped walnuts

1

Tbsp.

coarsely chopped dried cranberries

1/3

cup

mayo

sprinkled onion powder

salt and pepper to taste

1

drop liquid stevia

optional
Instructions
Combine and serve on a bed of lettuce or spinach or with crackers or bread!
Other Quick Lunch Ideas:
10-Minute Mediterranean Chickpea Salad
Do you eat anything substantial for lunch, or is it usually hit or miss? What's your favorite chicken salad recipe? Do you make your own?