One Hour + Two Stores = 30 Dinners {Planning a Month of Meals}
;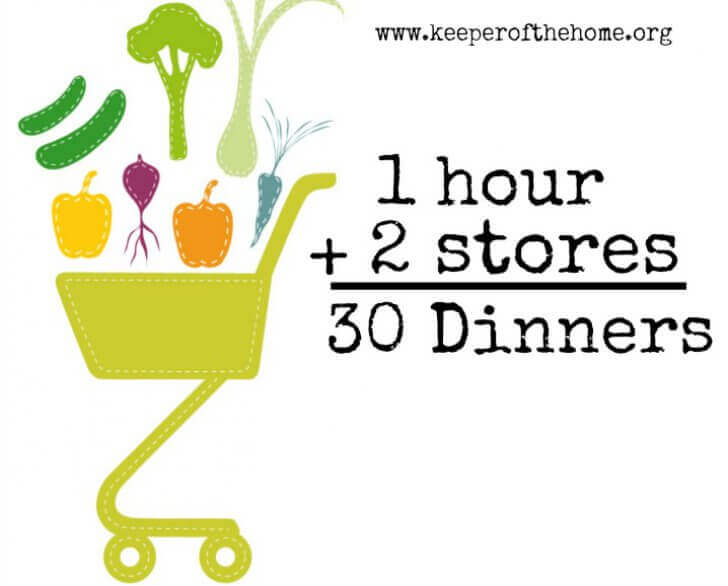 By Jessica Smartt, Contributing Writer
If you're like me, if you hear the words "plan all your meals for the month," you want to run away screaming.
Recently I started wondering, though…would monthly meal planning save me time from running back and forth every week to five different stores? I have a young baby, so time is definitely limited around here. Could planning all the dinners AT ONE TIME save me some time?
[Tweet "Could planning a month's worth of dinners AT ONE TIME save time? "]
So I tried it…
And, it has! I shop at two stores – Trader Joe's and Aldi once in the beginning of the month to get all our supplies. You can see our list of regular Trader Joe items here. And of course, Aldi is super-cheap on many staples … and surprisingly good at dealing with food allergies, which we deal with!
After going to these places once, I only have to grab produce periodically throughout the month. And bonus: it has definitely saved me money. AND I don't feel that feeling every week, "Ugh…I have to plan our meals again…" (I only feel it once a month! Ha!)
If you've been considering taking the plunge, I promise it is easier than it sounds. Here are some things that made do-able (even enjoyable?).

Make it a fun event.
My sweet husband has let me escape to Panera for my meal-planning time. I know, right? What a gem I found. If you can't do that, block off some time, get in a cozy spot in your home, grab a coffee and a special snack, and give yourself at least an hour uninterrupted.
Make sure you're awake.
This might sound ridiculous, but if you are in the little-child-raising stage that I am, you don't do things that require a lot of brainpower on little sleep. At least, I can't! So pick a time of the day when you know you'll be bright-eyed to plan your meals.
Keep a list of all the places you look for meal inspiration.
Obviously, I keep a lot of meals on Pinterest (check out my allergy-friendly meal board). I also made a list of my favorite recipe sites.
I count up the days we'll be home and need dinner, and write the total number of meals we need for the month.
Come up with a meal pattern.
There are many different ways to do this. You could have:
Monday: soup
Tuesday: pasta
Wednesday: meatless
Thursday: fish/eggs/paninis, etc.
Friday: pizza night
Saturday: grill out
Sunday: easy
We sort of do this, although these winter days we have soup a lot. I usually do chicken twice a week, meatless once, fish once, and red meat once or twice.
Make a list of all the meals that sound yummy.
This is the part that's the most overwhelming, but I try to have an ongoing list on the fridge for meals that we've enjoyed, things that sound good, etc. So first, I mark those down.
I have a few meals we always eat once a month, like spaghetti, turkey burgers, roast chicken, and grilled chicken, so I add them. Then I look in the freezer for frozen meals.
Finally, I browse my sites for meals. If a meal is large (like a soup or chili) I always make a double batch, and write that meal down twice. I've found that I can use the same amount of meat in a dish and just add extra broth, beans, or veggies, and the meal lasts for two meals.
Plug them in the calendar.
No stress, because obviously you can change the week of. I try to include a good mix of freezer meals, easy, "hard," etc.
Go shop!
I do a big load at Trader Joe's and Aldi's. I love Trader Joe's because we get some great staples there. Whatever store you choose, I advise getting everything that will last for the month in these large trips. Then you may just have produce to pick up here or there.
If you need some suggestions for meals, I've shared 30-days of fall and chilly-weather whole-food meals.
Have you ever planned a month of meals? How do you typically do it?
Disclosure: This post contains affiliate links. When you buy through our links, we earn a small commission, which helps to keep this site going so that we can continue to offer free and useful content, so thanks!