Whole Wheat Buttermilk Waffles
As we seek to improve our health in different areas this month, we all know an important aspect of that is starting each day with a healthy breakfast. Breakfast is an important meal, and an opportunity to start off the day right by feeding our families fruits, whole grains, protein, and healthy fats (and even veggies!), and avoiding overly processed and high sugar conventional breakfast foods. Eating a well rounded and healthy breakfast is often easier said than done though, especially on busy mornings.
It's also really easy to fall into a rut when it comes to breakfast. I know there are times that I feed my kids oatmeal and blueberries everyone morning for a week (or more!) because it's easy and convenient. This year, I've decided to start start planning our breakfasts, the same way that I meal plan for our dinners each week, so that I can plan variety into our breakfasts, while still being quick and easy.
Some of my family's favorite breakfasts:
Homemade yogurt with fruit and raw honey
Omelets or scrambled eggs with veggies
Green Smoothies (this is another great way to sneak veggies into breakfast)
Oatmeal with blueberries
Homemade Granola
Hard-boiled eggs with fruit
Waffles are also one of my family's favorite meals. We love them for breakfast, brunch and even dinner. My mom makes the BEST waffles ever (partially thanks to an amazing vintage waffle iron), and she passed down the recipe from my grandmother she uses, to me. I made a few changes to make it a little healthier (the original called for shortening), and also adapted it for soaking, and I still think that these are exceptionally good waffles.
Like my mom, I love to serve these waffles with just a drizzle of maple syrup and peaches that were frozen in season. Scrambled eggs, sausage or bacon make this a complete and filling meal.
The great thing about these waffles too is that they freeze beautifully for quick and easy breakfasts later. You can make an double batch, or just use whatever batter you may have left over, cook them until they are light brown (not too dark), and then line them up on a cookie sheet to freeze. Store them in a freezer bag and then just pull out as many as you need for a quick breakfast and pop them in the toaster.
Also, if you're like my hubby and don't like maple syrup (which isn't a terrible problem because it is a little pricey), instead of using store bought imitation syrup, try making your own syrup at home.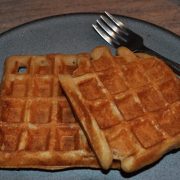 Print Recipe
Honey Butter Syrup Recipe
Instructions
Melt the butter in a saucepan over low heat, turn the burner off and add the rest of the ingredients and stir until combined and smooth.  Serve warm.
We can serve our families a variety of healthy, yummy and quick breakfasts with a little planning ahead and by using wholesome ingredients. For more inspiration, also check out Anne's post for great real food breakfast ideas!
What your family favorite breakfast? What do you do to make getting breakfast on the table quick and easy?