Who knew going cheap and minimalist could be so good?
So, in the past month I've ditched shampoo, starting using the Oil Cleansing Method for my face, and started making my own toothpaste. Any one curious to know how it's all going?
Actually, I don't think that I mentioned I was doing the Oil Cleansing Method (OCM). I discovered it in this post at Sorta Crunchy (very, very big hat tip to you, Megan!) not so very long ago (you'll have to visit this woman after my own heart to find out more of what it's all about!).
I've surprised myself by really enjoying using the OCM. I only do it once every second night, and other than that, I stick to plain old water and a teensy bit of a natural lotion if my face is feeling dry in between (which it really hasn't been lately). My skin doesn't feel oily, and hasn't broken out, which quite honestly I half expected to happen.
Instead, I feel like it's actually a bit clearer looking, and even (dare I say it?) a bit glowy?
I've also noticed that my nose area, which often gets dry and flakes a bit (in the midst of oiliness, blackheads and whiteheads galore, which is such a conundrum to me), has been neither dry nor flaky as of late. I might have even had slightly less breakouts and such. Hmmm… I might have stumbled upon something!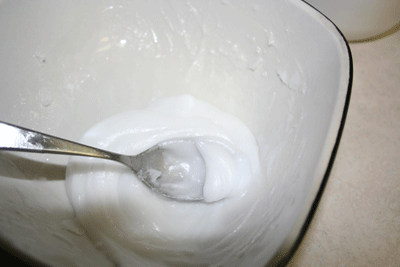 Secondly, the toothpaste I mentioned last week. It's going… ok. I don't love it, don't hate it. Don't really care for the taste of it, but haven't bothered to play around with it to spruce the taste up either, which I know I could. I guess I'm just getting accustomed to the taste of the baking soda?
I haven't asked Ryan or the kids to try it, and I won't until I can make one that tastes better. For now, I'm using this up (probably), and will give it another go after. My mouth does feel clean, anyways, and I certainly liked the low cost factor, the lack of unknown ingredients, and how simple it was to make.
Thirdly, the hair. Are you all just on the edge of your seats, dying to know? (Indulge me a little, ok? Just pretend like it's interesting)
I love it! No poo' is definitely the way to go!
I guess it's been about a month now since I first posted about my crazy, crunchy move to not using shampoo. Since that time, I have been consistently doing the no poo' method, with great results.
I went through a short period of increased greasiness, but also noticed that if I removed the apple cider vinegar from my routine, the greasiness really isn't an issue. I am using just about 1/2 a tsp. of baking soda, which I rub into wet hair, and then rinse out. That's it.
At the same time as I made the switch, I also decided to go cold turkey on showering only every second day. I have dry skin/eczema issues on my hands that can get very painful and debilitating at times, so I thought that less hot water might be a good thing. I've always needed to shower every day because my hair gets to greasy and stringy, but that need is slowly (definitely slowly- it hasn't been as fast as I had hoped) decreasing.
The first day that I wash with baking soda (I keep going to use the initials b.s. and then think better of it every time), my hair looks and feels great. Light, manageable, good body, etc. The second day I put it up in a ponytail and just know that I've had better hair days and that it can only get better from here. I can handle going out to grocery shop, but I try to arrange my washing days for those days when I know that I plan to be social, spend a nice evening with my husband, etc.
And because I love you all so much, here are a few pictures (including one I would normally never post anywhere), but they suit the purposes of this discussion: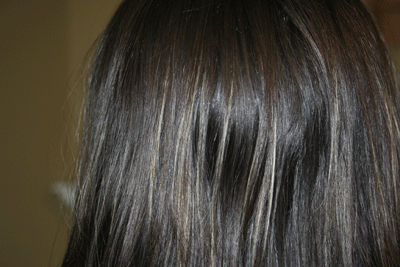 This is my hair on a day that it was washed (with baking soda only), about two weeks ago. Nice and shiny, hey?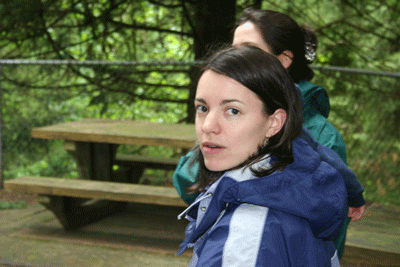 This other (awful) photo is of me at the park last weekend, again, on a washing day. I think it looks at least as good as usual, maybe even cleaner and shinier than usual (and the in-between days will get better in time, I'm sure).
So that's my update! Has anyone else tried any of these things, and how did you feel about it?