The Great Debate: Is it Wrong for Christians to Be Wealthy?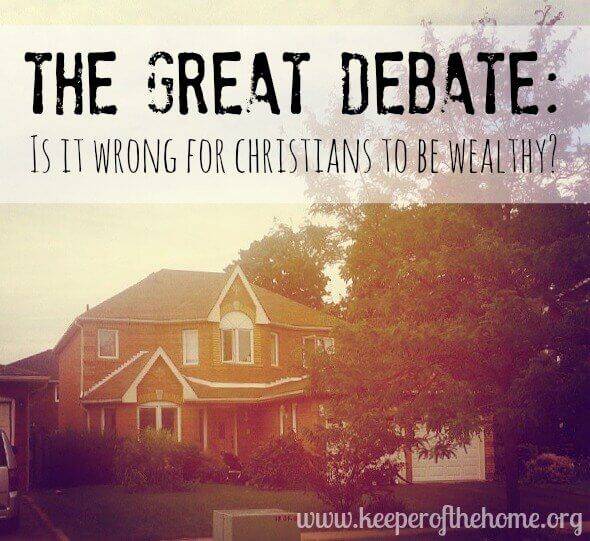 By Beth Ricci, Contributing Writer
I walk into my bedroom. I see the naked white walls. I imagine them with a small collection of hanging prints and unique pieces like this one, or maybe a bunch of printed instagrams, like this. It would really make the space into something special, I think to myself.
Maybe add a few colourful throw pillows and a couple of new matching alarm clocks to replace the 15-year-old one we scrounged from his parents' basement. Because everyone deserves matching alarm clocks, right? Or at the very least – a night table on which to place your clunky, old one.
Before I know it I'm spending money like crazy in my mind (and/or in reality) on things I "need".
OK, fine, things I don't technically need for living and breathing, but things I definitely really want because ___ (fill-in-the-blank), and since our ultimate purpose is self-fulfillment it's pretty much the same thing, right?
(Note sarcasm.)
Questioning our spending choices…
Some of my reasons are honestly good, you know, like the desire to bring beauty into my home; wanting to create a peaceful atmosphere for my family; desiring to teach my kids an appreciation for visual creativity and artistic expression.
I want to help my children experience the grandeur and gift of music, so I enrolled them in music lessons. We treat ourselves with indulgently-fresh produce at the farmer's market because we value local and healthy food. The list goes on…
Then there are even more practical reasons: like wanting a new desk so that I can have a dedicated space for writing–my passion and my fledgling business that I hope to grow to help provide for my family. That's not excessive, right? That sounds OK?
Well, what about my book wishlist on Amazon? Or that adorable maxi skirt at GAP that's on sale? And the $29 I spent on a new lamp for my new desk?
What about the money I really want to spend on new decor for my plain and boring dining room, or an outing to Legoland that cost us over a hundred bucks with admission and gas money, or the ultimate wealth cliche: those $5 fancy lattes at Starbucks?
Are those wasteful? Are they excessive? Are they wise uses of God's money?
It's a tough call, right? Nobody wants to change their lifestyle. None of us want to sacrifice our comfort. Our culture preaches a Gospel of Self-Fulfillment instead of self-sacrifice, but the line between is often blurred.
Jesus talks about possessions.
OK, so here's the real kicker…the part that gets me every time:
Doesn't Jesus command us to take care of the poor? The widows and the orphans? It seems pretty clear.
Luke 3:10-11 And the crowds asked him, "What then shall we do?" And he answered them, "Whoever has two tunics is to share with him who has none, and whoever has food is to do likewise."


Luke 12:33-34 Sell your possessions, and give to the needy. Provide yourselves with moneybags that do not grow old, with a treasure in the heavens that does not fail, where no thief approaches and no moth destroys. For where your treasure is, there will your heart be also.


John 15:12 "This is my commandment, that you love one another as I have loved you…"

1 John 3:17 But if anyone has the world's goods and sees his brother in need, yet closes his heart against him, how does God's love abide in him?
Do you find those verses as tough to swallow as I do? What do they mean in our North American daily lives? We have, quite literally, "the world's goods" and yet we do not give. Or, we give some…but keep lots for ourselves to maintain our comfortable lifestyle. Is this right?
I wonder if it is possible for a Christian to be very wealthy and also be obedient to these commands? How could they be? Whoever has "two tunics" (more than they need) should give away their excess. How does that translate to us?
For our family, in terms of income, we are very much on the low end. We are barely making ends meet right now, but we live (rent) in an upscale neighbourhood in a large home thanks to a kicker of a deal (pictured above – we have the main floor and upstairs).
We are not wealthy by our culture's standards (not by a long shot) but we are still wealthy compared to our brothers and sisters in Christ in third-world countries.
So, armed with the questions, what do we do?
Option A) Arms waving wild surrender in the air, "OK, I give up! We'll sell it all and live in a box and eat rice and beans forever!"

Option B) Find an interpretation of all of those verses that somehow justifies being exceedingly wealthy, "so that I can give lots of money to poor people".
Or…
Is there a balance somewhere?
I have wrestled with these questions for a very long time now. In fact, they took on very personal meaning in 2003, 2006 and 2007 when we spent time in Africa.
My husband and I spent three months in Tanzania in 2007 on a missions cultural internship. We lived with a local family and entered into daily life with them. They taught me to cook, to speak Swahili, to dance (OK, they tried). They showed me hospitality, gratitude and joy.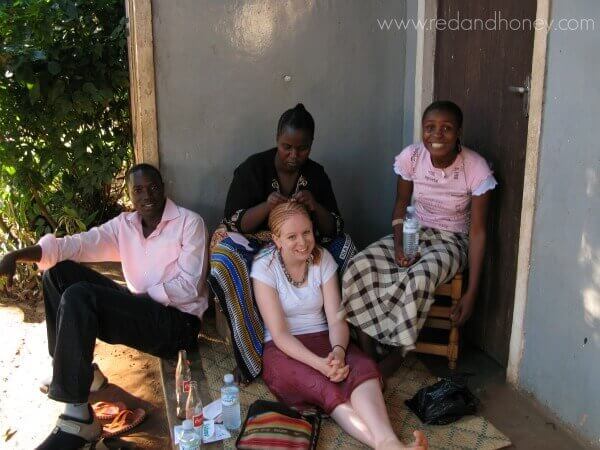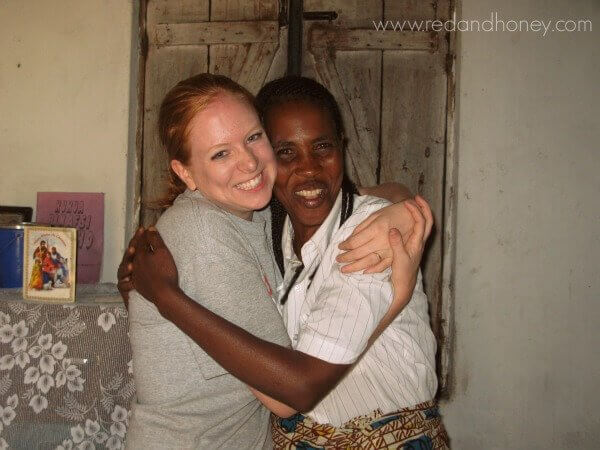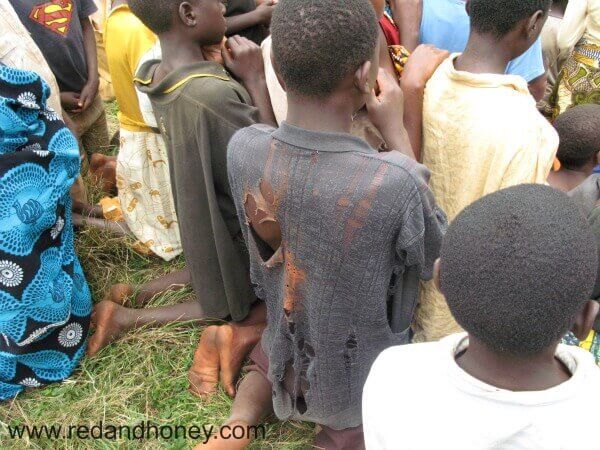 These people are our brothers and sisters in Christ. I looked into their faces, I loved them, I cared for them, and, yes, I was compelled to generously give. But today, the struggle remains in my daily life.
I can't help it – maybe you can relate? I swing back and forth on this issue more than a grandfather clock at midnight, y'all. It's one of the most divisive and heated debates ever among Christians: do we have too much stuff? Do we have too much wealth?
Is it OK to have excess when too many in our world die for lack of basic food and water and healthcare? Really, is it?
On one side people are saying "there's nothing wrong with wanting nice things", and on the other side people are biting their lip, asking "but what about the poor and hungry that we are supposed to serve?"
To be honest – I find myself forever in danger of justifying my own selfish ambitions, but hardly ever in danger of being "too generous". I think that should serve as a warning.
I struggle with my "consumeristic" tendencies every single day. Greed is one of those insidious sins that winds its way into our hearts and minds in our culture, camouflaged until it's practically unrecognizable.
I haven't even come close to figuring this issue out. Right now I'm agonizing over my white bedroom walls.
Some will say "Oh, just go for it. Enjoy your creative expression and your beautiful space and spend the money without feeling guilty".
And some will say "That $50 or $100 could buy a lot of rice and beans and ugali. It could pay for another AIDS retroviral treatment for beautiful Mama Augustina. It could buy a lot of clothes for children wearing literal rags.
It's a mysterious balancing act that I'm still working on.
Today I want to hear from you. Here are the questions I leave you with…
What is your view of wealth and Christianity? Are they compatible? What is our responsibility to the poor? How do you make money decisions with these realities in mind?
Is it wrong for Christians to be wealthy? What does that balance look like for you?