Gratituesday: He even cares about the groceries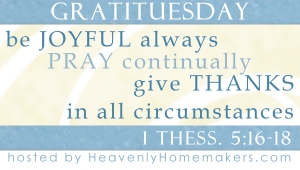 Therefore I tell you, do not be anxious about your life, what you will eat or what you will
drink, nor about your body, what you will put on. Is not life more than
food, and the body more than clothing? Look at the birds of the air: they neither sow nor reap nor gather into barns, and yet your heavenly Father feeds them. Are you not of more value than they?
Matthew 6:25-27
God is so good…
I am continually amazed at the ways that His providential hand shows in so many of the "little" areas of life. On Saturday, I decided to get a whole bunch of grocery shopping and errands out of the way, to give my husband peace and quiet in the house to work on his own Getting Things Done system.
For the last year or two, I have made a conscious effort to commit both my grocery budget and my shopping days to the Lord, asking Him to help me wisely steward what I have been given, to bless my efforts and to provide for our family's needs. Over and over again, He does so in abundance!
This past Saturday was no exception:
** The wonderful organic eggs that I usually get from a local farmer for a great price (because I buy his "seconds", or non-perfect looking eggs) are not available every year from about May-July. Abbie and I were purposeful about keeping our eyes open for signs in the country that said e-g-g-s (thought we'd add in a little reading practice, too :). On the way to get our raw milk share, we happened to pass a sign for Free Range Eggs $3.00, which is a great price. Perfect! I've found my egg supplier for the next few months!
** My budget was feeling crunched this month, due to needing to do a fairly big order for some staples from the co-op I order from. I had worked my shopping trip out very carefully, with a budget for each different store I was going to. My husband didn't know this and asked at the last minute for just a few of his favorite treats from some of those stores. I smiled and said sure, inwardly wondering how on earth I was going to make it work. Even with the treats, I managed to come in slightly under budget at 3 out of 4 stores, making room for the amount I went over at the last store.
** Since we use so many bananas in our morning smoothies, I try to buy them when they are ripe and discounted, since I'm only going to freeze them anyways. Sometimes I will go weeks and weeks without finding any that are discounted, but this time I found 3 bagfuls! 
** The biggest thing: I've been saving up for about 6-8 months to purchase a front portion of grass-fed beef from my local meat shop. I was so disappointed last week when I called to double check that I had enough to place an order, and was informed that fronts never come in less than 150-180 lbs, which which was far above the 100 lbs I had been expecting to buy.
While in my meat shop purchasing some chicken and turkey, I casually asked the owner whether it was true that I couldn't get a front for less than 150 lbs, as I was hoping for more like 100 lbs. His face lit up and he said that he had just the cow for me, right there in the back of the shop. He went back and weighed it while we took a potty detour, and when I came back he told me triumphantly that it weighed almost exactly 100 lbs!!!
I quickly calculated the money that I had saved and the price per lb, and realized that I was within $4 of the cost, before tax. I've also been saving up our cans and bottles for the last few months, intending to bring them in for a refund. With the recycling refund, I should have basically exactly enough to cover the meat, with tax. I wouldn't be surprised if I end up within pennies, because sometimes God is just so precise that way. :) 
Suffice it to say, I'm just so grateful for a God who not only cares about all of the big things, but who sees to it that our family is so richly provided for as we attempt to make careful use of the finances and health that He has entrusted to us!
Join in Gratituesday over at Heavenly Homemakers!
Do you have any stories to share of how God provides for your family, down to the smallest details? I would love to hear them!