What a fun holiday weekend we had!
Do we really get to do this again, for two whole weeks??? I can't believe how soon our Arizona trip is coming up! We leave in a week and a half for Grandma's house, and in two weeks we board the plane!
But back to this weekend… we started out on Friday night with an impromptu night with two couples from our church. We had them over to chat and play Settlers of Catan (our favorite game!). Ry and I teamed up in hopes of winning, and lost anyways, but we still had such a great time.
On Saturday, I let Ryan sleep in a little while I played with the kids, and then I was able to leave for over 4 hours to have some personal retreat time, work on my ebook, and pick up the last of our blueberries for freezing. I had a wonderful time, and was really encouraged by it.
Sunday we went to church (well, not Ryan, as he was sick on Saturday night and still feeling a bit ill on Sunday morning). Right after church we headed straight down to a friend's house in Washington. The border was crazy (being Labor Day weekend), so we packed up the kids and their carseats and walked across, where my friend picked us up.
We spent a lively and enjoyable afternoon with a group of my friends from university whom I don't see nearly enough (I went to Trinity Western, btw). We all brought brunch items and ate an amazing brunch (that was really more of a linner, or dunch if you like, as we didn't manage to eat until nearly 2pm!). Our family stayed and played until past 8, when we finally decided we better get the kids home and make sure that our car was alright where we parked it (thankfully, it was!).
Monday morning, we awoke to the delicious realization that it was still the weekend! Since we have zoo memberships, my husband suggested that we pack up and spend a few hours at the zoo. We invited his sister and brother-in-law and their 1 year old son to join us, which made it that much more fun. Here are some highlights: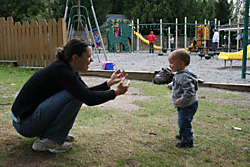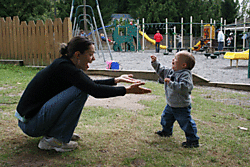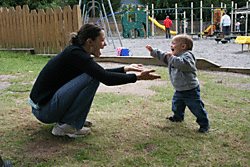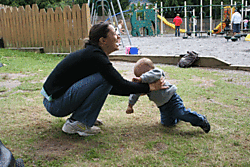 My sweet boy took his first steps this weekend! They were long awaited, but oh so worth it!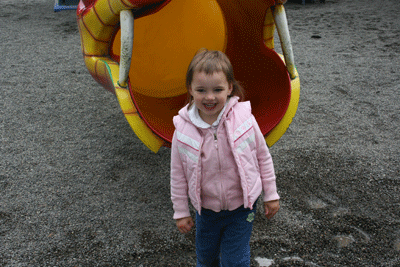 Abbie almost enjoyed the playground at the zoo better than the animals itself (she claims, though, that the lions and tigers we watched being fed were her favorite).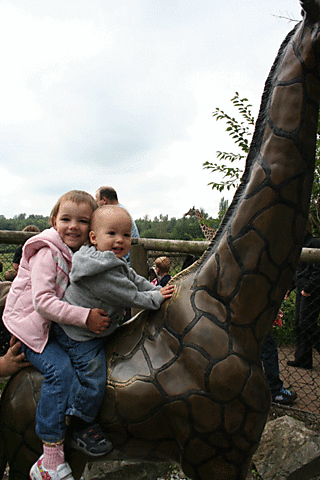 So it's not quite the real thing… they were thrilled to ride on a "giraffe" nonetheless!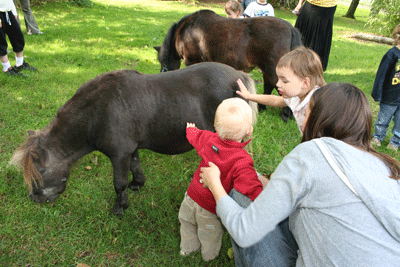 These sweet minature horses were just wandering around on the path, and Abbie had so much fun with them. Here she is (a mommy in training!), teaching her cousin to be gentle when he pets them.
On the way home from the zoo, we stopped to pick up a flat of blackberries to freeze, as well as a few piping hot corn on the cob to snack on, from our favorite berry picking place (it's all about the experience- their little market, the gorgeous flowers, the Porch with it's milkshakes and berry shortcakes, and the most incredible berry pies ever!).
All of the berries are nearly frozen, which is good because I have so many things to do this week! Finish planning our trip itinerary, make more pickles with our garden cucumbers, pick up my passport, host a homeschool meeting, get back into the swing of homeschooling, try to find time to pick some more blackberries and make a batch of jam, keep fighting the powdery mildew in my garden (more on that later)… it's a full to overflowing week!
Hope you all had a wonderful holiday weekend! What did you do? I'd love to hear about it!