Summer Organization Tips for Work-at-Home Moms (and Other Moms Too!)
Note from Ann: Instead of our usual Marketplace highlight and Real Deals post, today I want to share something special with you. In case you are not familiar with the Ultimate Homemaking Bundle or if you feel you are waaay too familiar with the bundle (I get it, trust me!) I want you to know that each year we bring these to you because of the huge response we get from readers who find so much value in them.
They may not be for you and that is totally fine, but for many they provide so much help and encouragement that I really feel the need to share them! If it's not for you, don't worry—today is that final day!
But if you are interested or just not sure what the fuss is all about, then please continue to read below as time is running out and I would be so sad for you to miss it. 
P.S. Even if the bundles are not for you, know that we still try to make each post a value for our readers! Much love and appreciation for your patience and kindness, with blessings, ~Ann
Summer Organization Tips for the Work-at-Home Mom (and Other Moms Too!)
With one more month to go, I have some planning and organizing to do so I can get the most enjoyment possible with my kiddos home every day this summer.
The hardest part for me is staying organized. I tend to spread out my projects all over the office and kitchen, mostly because I'm trying to do so many things at once and then they all get mingled! (And then I wonder why I can't find things, ahem!)
One of my priority projects before summer gets here is to go through the Cozy Minimalist Mom course from Myquillyn Smith at the Nesting Place.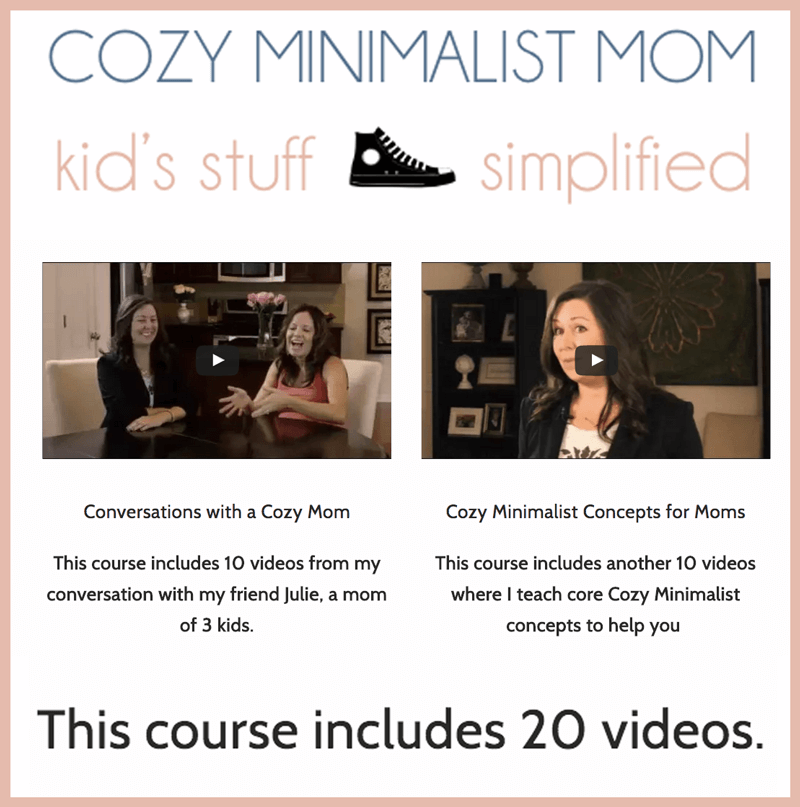 It's something new in this year's Ultimate Homemaking Bundle and perfect for where I am in life at this moment. I'm about done spring cleaning, so now its time to get knee deep into organizing so I don't struggle over the summer with everyone stumbling over me and all my many hats!
In this video series, Myquillyn shares 10 concepts to make your home a cozy minimalist home, even with kids!
Aside from my own messes, I find my home still struggles with clutter even now that my kids are teens and not leaving toys all over the floor. I don't miss stepping on those Legos! But nowadays, it's sports equipment, school books and backpacks, shoes and hairbrushes.
As the family grows and kids get older, our routines change, and the way we need to organize changes. If your home is anything like mine, these concepts will help you too:
You can't organize clutter.
Everyone deserves a place to be messy.
Don't decorate by default.
Systems should serve you.
…PLUS six more! This is a $29 value! ($29, the same cost of this entire bundle!)
Unbelievably, there are 13 other just as fabulous resources included to help you get organized. Everything from getting rid of clutter, cleaning by seasons and making over your calendar to conquering laundry and finding  systems and routines that help you simplify and find joy in your role as a homemaker.
When I first decided to take on running Keeper of the Home I had NO IDEA of the amount of time it would take. Seriously, my husband said 'oh, it's a blog, you should do it, it will only take you a couple of hours a week'… Yeah right, lol….it's a full time job+!
I had never been a work-at-home mom and didn't have a clue how hard it would be to juggle the demands of a full work day while still being in our home taking care of the homemaking duties and our family. I salute all you WAHMs out there!
It's been about six months now (wow, time flies!) and I'm still trying to figure out how to balance my work/home schedule. (Does that ever really happen???)
I've been looking for self helps, organizational tools, motivational resources, and inspiration to help me as a WAHM. I'm happy to say that Stephanie, our founder, who has been a WAHM for several years now, has put together an awesome collection of books in this year's bundle just for WAHMs!
Starting with 5 Steps to Landing Your First Work at Home Job to help you decide on, prepare and launch your career to planners and guides that will help you build a framework, save time and money whether you are working for hire, starting a blog or in direct sales, there are plenty of tips for you.
I'm working my way through all of these WAHM resources:
The one that has my attention right now, because it's about that time, is Summer Sanity Savers for the Work-at-Home-Mom.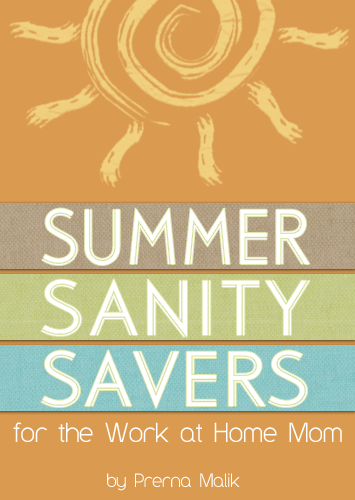 A big thank you to Prerna Malik for putting together these tools that will help me (and you, too):
Be prepared before the summer fun begins
Decide what to drop and what to delegate
Organize and plan
Build a routine and a schedule that works for you
Printables
Editorial, social media and marketing calendar templates
Plus there are creative ideas for summer activities with the family and self-care 'snackers' to keep yourself refreshed even when you are short on alone time! This is something, I have learned, that is ultra valuable for my entire family. If you are used to having kids at school all day, having such a big change in your schedule can be a difficult adjustment for everyone!
Three things to help your summer go more smoothly:
Be prepared: this may mean planning everything on your calendar or just a few things that you normally wouldn't plan and wish you had, like self-care. 😉
Gather supplies, whether it's craft supplies, board games, water balloons, popsicle molds, sunscreen, seasonal recipes, or even library books.
Make a big calendar for the entire summer so you can get a big picture and fill in or take out where needed. (I just started mine on a giant white board.)
If you're a big planner or if you just like to slide into each day and see what it brings, you can find plenty of ideas and encouragement in the Organizing and Systems section and in the Self-Care collection of this year's Ultimate Homemaking Bundle.
TIP: If you've already got this covered, go you! But maybe you know of a mom or a WAHM that could use some help and encouragement…this would be an awesome Mother's Day gift! 😉
What summer organization tips keep you sane? What resources have you found helpful?