Cloth Diaper Liners: No More Rash Overnight!
You may or may not remember how we've been having trouble with Caden getting rashes when we use cloth diapers overnight. We've been able to continue on with cloth in the day, but have been using more natural disposable diapers just at night, for the past 6 months or so.
But no longer! Last week a much anticipated package arrived in the mail. It contained numerous pocket diapers (for the new baby), and also 3 micro-fiber terry inserts that I had expressed a desire to try (thanks Mom!).
I wasn't sure if the microterry would do the trick, but I've used them for both naps and nighttime the past 6 days, and he is still rash free (whereas a rash would usually break out after only one night in cloth)! Whohoo! These are obviously much more absorbent than the plain cloth liners we've been using, and they seem to really whisk the wetness away from his skin. I couldn't be more thrilled!

Bolstered by this discovery, I went back to my new favorite cloth diaper site, Cloth Diaper Clearance, and decided to pick up a few more liners. The wonderful thing about this site is they carry a lot of really excellent and even high-end brands, but at discounted prices (and nope, I'm not an affiliate- just a happy customer!). Many of the diapers and accessories are either seconds (meaning they have minor flaws or imperfections, but are still completely usable) or are discontinued (old colors or patterns or designs) or possibly just overstocked. Either way, we end up getting a great deal!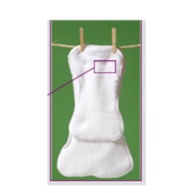 The liners I am most in love with at the moment are the Haute One Size Microterry Insert. These come with both a small liner, and a much larger one, and they snap together and can also be used separately. They are intended for stuffing into a Haute Pockets One Size Diaper (which I just received two of and am really happy with!), but they also work perfectly as a liner for a fitted diaper with a cover. For only $3.50 each, these are a steal!
 I've also purchased some Fuzzi Bunz Micro Inserts (also made of micro-fiber terry cloth). They are similar in size to the smaller liner on the Haute Inserts, except that they have square corners rather than round. These are currently a mere $1.50, and I'm equally happy with their absorption.
Has anyone else discovered this wonderful site? What kinds of liners do you find work well to keep little ones dry through the night?