Pineapple Upside Down Muffins (gluten-free, grain-free)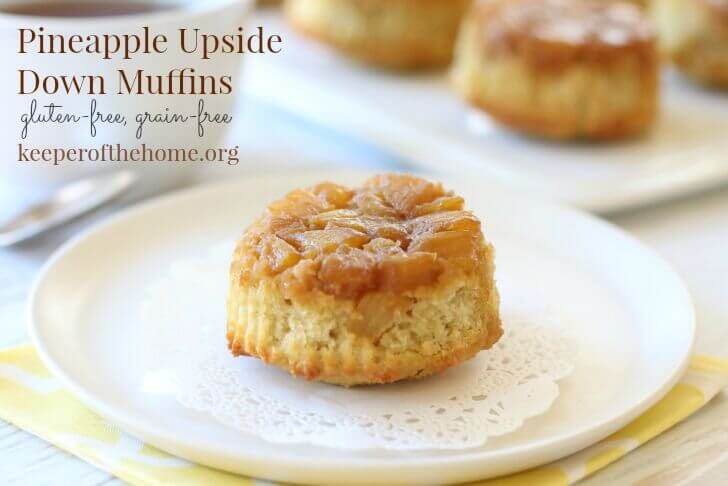 By Kelly Smith, Contributing Writer
If you're a fan of pineapple upside down cake, you're going to absolutely adore these scrumptious gluten-free, grain-free muffins that taste just like their namesake. Hands down, these slightly sweet, rich pineapple-flavored treats are my personal favorite muffins!
As a gluten-free girl living in a house full of grain-loving guys, I've made it my mission to find delicious and healthy ways to transform traditional favorites into delightful gluten-free, grain-free creations that everyone can enjoy – whether or not they're living gluten-free.
This simple, yet decadent recipe is a tasty example of how easy it is to transform a classic dessert into a healthy treat everyone loves. In fact, you have my promise that no one will even know it's grain-free, unless of course, you tell them!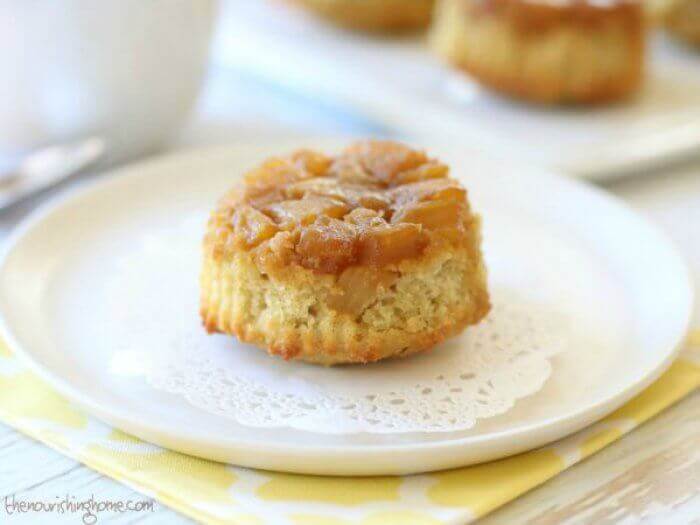 The secret to these light, moist muffins is using either dairy or non-dairy yogurt in place of milk. That's why I use yogurt in many of my grain-free baking recipes. Feel free to use your favorite store-bought brand of plain yogurt, but I prefer to make my own homemade Greek-style yogurt. It's not only great for grain-free baking, but also for making lots of other delicious recipes, such as my family's favorite quick Berry Breakfast Parfaits.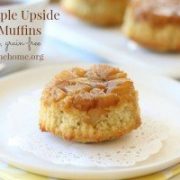 Print Recipe
Pineapple Upside Down Muffins (gluten-free, grain-free)
Ingredients
Pineapple Layer
1

heaping cup of fine-diced fresh pineapple

2

tablespoons

butter

melted (or coconut oil)

2

tablespoons

coconut sugar

1/4

teaspoon

vanilla extract
Instructions
Preheat oven to 350F. Place 10 parchment muffin liners into a 12-cup muffin tin; set aside.

For the pineapple layer: Measure one heaping cup of fine diced pineapple. Use a small lid placed over the measuring cup to press the pineapple down in the cup in order to squeeze the pineapple and extract the juices. Pour out the juice (or reserve for another use). Set pressed pineapple aside.

In a medium bowl, whisk together the melted butter (or coconut oil), coconut sugar and vanilla until well combined. Add the pineapple and stir well to combine.

Evenly divide the pineapple mixture along the bottom of the 10 muffin cups. Set muffin tin aside.

For the muffins: In a small bowl, combine the almond flour, coconut flour, baking soda and salt. In a large bowl, whisk together the eggs, yogurt, honey, lemon juice and vanilla until well blended. Using a spoon, stir the dry ingredients into the wet and mix until well blended.

Spoon the muffin batter over the top of the pineapple layer, making sure to evenly divide the batter among each of the 10 muffin cups.

Bake for approximately 15-20 minutes, until a toothpick inserted into the center comes out clean. Allow muffins to cool in the tin for five minutes. Then transfer to a wire rack to finish cooling.

Then, gently remove the paper liners from each muffin and place on a serving plate with the pineapple layer facing up. Enjoy!
Disclosure: This post contains affiliate links. When you buy through our links, we earn a small commission, which helps to keep this site going so that we can continue to offer free and useful content, so thanks!
This post is sponsored by Plan To Eat. If you know you need to make strides towards regular meal planning and you're looking for a tool to make it easier, I highly recommend you check out Plan To Eat's virtual tour. Sign up for a free 30-day trial to see how it works! Plan To Eat was born from a desire to eat real food — great food — prepared at home, together as a family. Plan to Eat is an online menu planner that uses your recipes, scheduled for the days you want them, automatically generating your grocery list, organized the way you like to shop. Eat well. Eat together.