Looking Forward: An Advent Calendar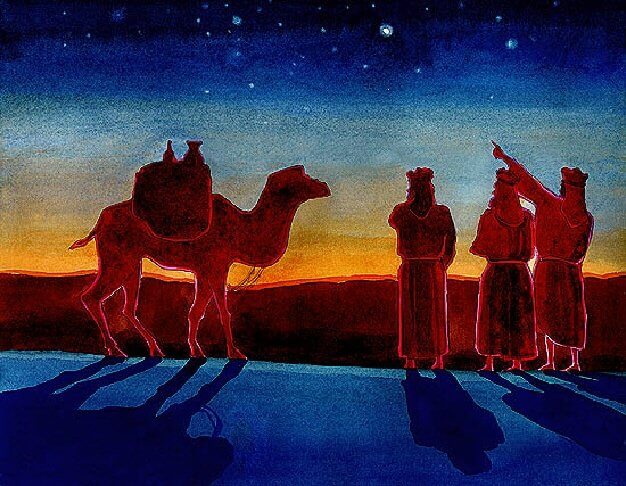 Written by Sharon Kaufman, Contributing Writer
What and When is Advent?
The word "advent" means arrival or coming in Latin. Specifically, it relates to the coming of the Christ at the incarnation. Advent is celebrated in the weeks leading up to the day we set aside to remember the birth of the Messiah. It begins four Sundays before December 25, whether that Sunday is in November or December. This year Advent begins on Sunday, November 28th. However, when using an Advent calendar, counting down the days till Christmas begins either 24 or 25 days before, usually on December 1st or 2nd.
Why Do People Celebrate Advent?
Thousands of years before Jesus became flesh and dwelt among us, God's people anticipated His coming. They longed and looked for the Messiah, the One who would set things right. During that time of waiting, no one knew when or how God would send the Promised One to redeem mankind.
On this side of Bethlehem when celebrating Advent, in essence, we are re-enacting the many years that God's people waited patiently and anticipated the coming of the Messiah, man's only hope for restoration with God. Now that the waiting, is over we have all the more reason to rejoice because of God's indescribable gift of LOVE, His own Son. In a world that has no place for Jesus, Advent really is about preparing our hearts for the Savior – making room for and receiving Him with joy, humility and gratitude into our lives, celebrations and families.

Image by kelanew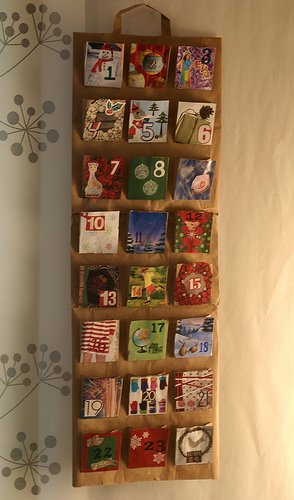 The Advent Calendar – A Wonderful Way to Teach Your Child About the Gospel
Advent serves a tool to point our children to Christ, the Promised Savior. An Advent calendar, as a family tradition, is one way children can become acquainted with the details of the incarnation. The calendar counts down to Christmas as the child opens a little door or pocket, etc. each day to reveal some small treasure that is hidden. My Advent calendar – compliments of my mom – uses little felt nativity figures. One day a magi is revealed, another day a lamb or an angel, right up to the day before Christmas or Christmas day itself. By then, the scene is complete, baby Jesus and all.
The nativity figures, after being removed from that day's pocket, door, box or envelope, etc., could be ornaments that get hung on the tree or used to assemble a separate nativity scene. There are child-friendly creches available now that are unbreakable (see links below for purchased Advent calendars). A Portion of the Christmas story could be read, corresponding to the nativity figurine for that day until it is completed on the last day.
Start Now to Assemble Your Advent Calendar
There are a multitude of ideas available below. Also, click on the different photos in this post for links to tutorials, etc. If you start now, you should have more than enough time to be ready by December 1st. Take a look at the following links to get started; and don't forget to involve the kiddos in putting the calendar together.
http://craftastica.blogspot.com/2008/11/recycle-bin-advent-calendar.html
http://allsorts.typepad.com/allsorts/2007/11/advent-calendar.html
http://ourhouse.typepad.com/full_circle/2007/12/advent.html
http://www.diyfather.com/content/how-to-make-your-own-advent-calendar-for-kids
http://www.flickr.com/groups/561389@N24/

Complimentary Ideas
The nativity advent calendar can be complimented with other Advent calendars. One simple idea is to make a paper chain with each day offering an activity for your child. Tear off one chain per day and have fun with the activity. This link offers such a calendar that can be printed. (A few of the activities on the chain are from a Catholic perspective, so just adjust or change those days to suit your religious preference.)
For other ideas, do an online search for advent calendars to make. You'll be surprised at the volume of ideas!
If you'd rather purchase a nativity advent calendar, here are some links:
Kurt Adler Wooden Nativity Advent Calendar with 24 Magnetic Figures
(This site offers reviews for the Kurt Adler Wooden Nativity Advent Calendar. Look for the 5 stars under the name for the reviews, but go to the next site listed here for a better price.)
Advent Calendar from Catholic Supply (This site has the highly rated Kurt Adler Wooden Nativity Advent Calendar with 24 Magnetic Figures for much less than amazon.com.)
Bestselling Advent Calendars from ChristianBook.com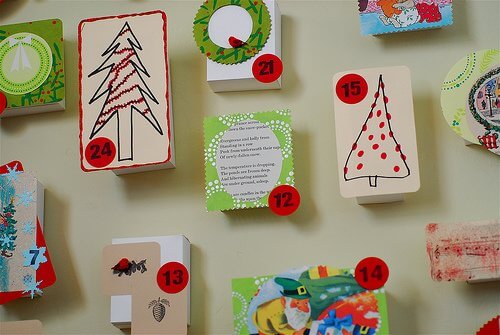 A Unit Study on Advent
For a great online advent calendar with more info than is imaginable, go to this website. Though many of the links found on this site are either broken or have changed, the information at this site alone is more than enough for designing a great unit study about Advent.
How has celebrating Advent in years past changed your family's perspective on Christmas?
Do you have an idea for an Advent calendar that you could share?