Menu Plan Monday- March 3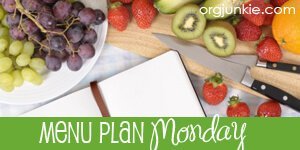 I have a question for everyone this week. I realized today that I cook very strangely (much more strangely than I thought) compared to most people. I guess over the years I've grown accustomed to the healthier and very homemade fare that we eat, and quite honestly am not even sure exactly what is "normal" to other people. I've sort of lost touch with what I used to eat!
So here's my issue… when inviting others over to our home, I am unsure of what to make for them. I try to serve meals that I feel like are fairly normal, but sometimes even those go over like a tons of bricks. I suppose that what I deem to be only very mildly different is still wayyyy different than what many people eat.
Here's the question: How can I stick to cooking healthy food for my family (and for others), but make food that will serve and bless them? What types of meals do you serve to those whom you know do not eat the same types of food as your family does (if you are someone who eats more like we do)? I would really appreciate your suggestions and ideas!
And now, onto this week's menu!
Monday: Quesadillas (from last week, because we ended up having too many leftovers), using sprouted corn tortillas, pinto beans, peppers, cheese (goat cheese for me), and sour cream and homemade guacamole for everyone but me.
Tuesday: Spicy Black Bean Burgers and Sweet Potato Chips
Wednesday: At a church event
Thursday: Cream of Broccoli Soup (I'll use homemade chicken stock and goat's milk in it) and grilled cheese sandwiches (for me, homemade sourdough spelt bread with goat's cheese).
Friday: Baked salmon, Buternut Squash with 12 cloves of garlic  and steamed cauliflower.
Saturday: Sandwiches (my hubby's request)- no-nitrate meat from my favorite little meat shop, lettuce, sprouts, homemade mayo, mustard, and tomato/cucumber for Ryan and Abbie (not me), with French Lentil Salad (recipe below).
Sunday: Crockpot Chicken and Quinoa
Can you tell I'm recycling a lot of recipes from the last few weeks? I'm running out of ideas of what to eat on my diet! Oh well, I'm half done! 🙂
French Lentil Salad Recipe
Ingredients
2

cups

green/brown lentils

soaked overnight

3

cups

water

1

each carrot

small red onion, celery stalk, and small red pepper, cut finely (julienned is nice)

1/2

cup

parsley chopped

1/2

cup

extra virgin olive oil

1/2

cup

red wine vinegar

Salt and pepper to taste

4

ounces

feta cheese
Instructions
Bring lentils and water to a boil. Reduce heat and simmer for 15-20 minutes (may take longer) or until lentils are just tender (but not mushy). Drain, put in bowl and let cool slightly.

Toss lentils with carrot, onion, celery, pepper, salt and pepper, oil and vinegar. Chill and serve sprinkled with feta cheese.