Living Simply Saturdays: We're back!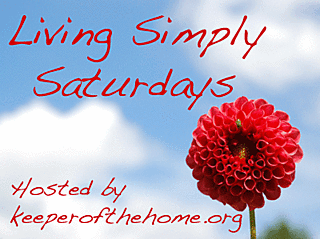 Mildly travel weary, surrounded by laundry, yet so happy to be home and full of wonderful memories made together, we're back from vacation! I promise I'll tell you all about it and share some pictures from our trip next week!
For now, Lindsay of Passionate Homemaking has so generously agreed to host the Living Simply Saturday carnival once more, as she did such a fantastic job of doing last week! I intend to take the remainder of this weekend to get unpacked, re-organized, and ready to jump right back into the saddle on Monday morning.
During this weekend and the upcoming week, simplicity for me looks like focusing on those areas that are most pressing and need my attention, and knowing which areas can be left for just a short while. Right now, my areas of priority are the end of summer harvesting from my garden (as well as weeding and planting more of my fall harvest crops), picking apples (gleaning from a local park orchard), buying late in season (ie. discounted!) peaches, and then spending several days working hard to put it all away by canning, freezing and dehydrating.
With all that needs to be done right now, there are a few areas that I will not be spending as much time on: time-intensive meals and food preparation, house cleaning (aside from dishes, etc.) and formal home schooling (though I personally think that helping with gardening, harvesting and preserving is an extremely valid aspect of home education!).
Learning to allow myself the freedom to not keep up all that I normally do during short seasons of extra activity has really helped me to keep from feeling overwhelmed and stressed out. The house will not fall to pieces. We will be well nourished enough on scrambled eggs and fruit smoothies for dinner. I need not fear that my daughter is at risk academically because she spent a week in her apron at Mama's side freezing peaches and canning tomatoes. All is well.
Thanks to all who contribute to the Living Simply Saturdays carnival- I thoroughly enjoy and appreciate your posts and comments! I'll see you next week, as I share about our trip, update you on the garden and food preserving efforts, and continue on with some of the recent series I've been writing (doing well in the conventional grocery store, and living with PCOS)… see you on Monday!
In the meantime, find this weekend's edition of Living Simply Saturdays over at Passionate Homemaking!