Living Simply Saturday: Utterly dependent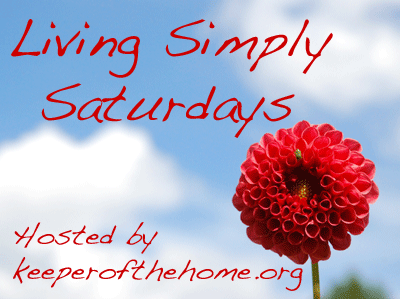 Some weeks take a whole lot more thought, to wade through the material in the chapter of From Clutter to Clarity and consider how I can apply it to my life.
This week, however, took about 2 seconds flat. I was instantly convicted with this paragraph:
Often we intellectually admit that we need God, but practically we choose to go it alone. Is your image of yourself overinflated? Do you take pride in making your own way? Do you feel confident that you can breeze through life with little more than a divine nod from above?
This is a question that I need to be asked right now. The consistency (or rather, the inconsistency) of my time spent in prayer and the Word is answer enough to the question of whether I feel like I can go it alone.
If I'm honest with myself, many days I do. I make meals, clean the house, do the laundry, homeschool my kids, write my blog, spend time with my husband, encourage a friend… all on my own strength, or at least, so I think.
Sure, I have challenging days where I recognize my weakness and fall to my knees, so completely humbled and aware of my desperate need for Him, and cling to Him all day long. Most days, though, it is so easy to become somewhat of an island. Self-sufficient. Independent. Capable. Strong. In control. In need of nothing and no one.
But, how foolish! To forget that everything I am and have comes from God, my Creator and Sustainer. I am deceived to believe that I actually do anything on my own (apart from what He allows me to do), or that I have any innate goodness or strength in and of myself.
You may notice that I often seek to point out God's sovereignty, His rule, His power, my own sinfulness and my need for a Savior. These are all ways that I continually remind myself that as much as I may feel that I have it all together (and what a prideful thought that is!), that in actuality, I am more weak and broken and desperate than you could ever imagine.
"The saying is trustworthy and deserving of full acceptance, that Christ Jesus came into the world to save sinners, of whom I am the foremost."  1 Timothy 1:15 (bold mine)
My husband and I are reading the book When Sinners Say "I Do"
, and one of the most powerful chapters for me so far is entitled "Waking Up With the Worst of Sinners", and the worst sinner being no one other than ME!
If I am to be honest about the state of my own heart, I would readily admit that I am the biggest sinner I know (and not because I am necessarily worse than anyone else- we are all equally sinful in the eyes of God- but because I live day in and day out with this heart and these thoughts). I know the depths of my sin, and let me tell you, it runs deep and it's not pretty.
And so, if I truly come to grips with this fact, that I am thoroughly sinful, and desperately in need of a Savior, then I will realize how absolutely, utterly dependent I am on His sustaining grace, each and every second of every day.
With that knowledge comes that fact that I am truly not my own, but His, designed for His good works and His plan and in need of His guidance and strength and power continually. I think that the more we grasp the deceitfulness and sinfulness of our own hearts and the folly of attempting to do anything on our own strength, the more that we will call out to Him moment by moment!
Nancy's question is such a great one to ask ourselves:
Are you comfortable with the idea of being totally dependent on God? Is dependence on God easier to imagine in some areas of your life than in others?
**This was the last chapter in the first part of the book, focusing on Inner Clarity. The second half of the book starts to deal with Outward Clarity- physical clutter, crowded schedules, love of possessions, stewardship, balancing our budgets and more. It's incredibly practical, and I'm looking forward to beginning to work through it in January!**