How I Started Using Essential Oils (and the Mistakes I Made…So You Don't)
I started using essential oils because I wanted sleep and for my husband to stop snoring! After I had addressed those issues, I started wondering…. "What else could these do?"
It felt a little crazy to me at first. (And my extended family tended to second that idea!)
But I felt so drawn to the oils, I knew there was something there.
I tried several different brands and talked to different reps to find the right fit for me. At first, I didn't even know what I was looking for, but once I found it, I knew. So, to save you some time and effort, I thought maybe I would start my blogging here at Keeper of the Home with that information: the WHY and WHERE of essential oils.
Why use essential oils?
The words I typically hear people use when talking about WHY to use essential oils are EMPOWER, NATURAL, SUPPORT, CONTROL.
But when I was just getting started, those words didn't mean too much to me.
Empower what? Control who?
Now, don't get me wrong,  I LOVE to feel in control of … well, of everything! But I did not realize I could be in control of my health! I had been blind in thinking I had to follow the status quo and react to things in my home rather than be proactive and preventative.
Once that mindset changed, I knew essential oils would be a critical piece of my home life.
Now these words started to mean more to me. I wanted to be in CONTROL of my choices. I wanted to feel EMPOWERED to handle issues as they came up in my home and to support our bodies naturally. All of a sudden I was like this Supermom with all the power in the universe! Though I say that jokingly, it was also true in a sense.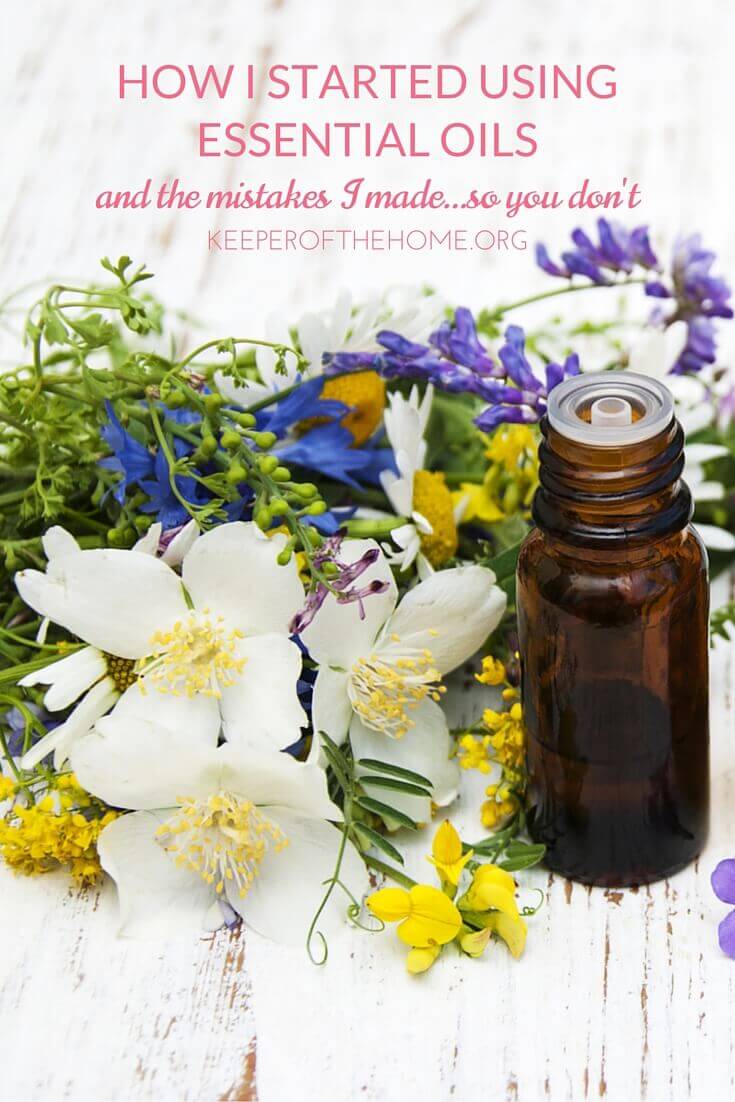 Finding the right essential oils
In my research, I realized that brands mattered and not all oils were created equal. I realized that if I wanted to have the power of this essential oils universe, I needed to choose wisely.
I bought about four different brands when I first started. The two critical things I learned to look for were QUALITY and EDUCATION.
The first bottles I bought from off the shelf were adequate but a little off somehow. One bottle actually crystallized into glass in under a month! And there was no one to tell me what to do or how to do it. I asked the clerks but they really didn't know any more about oils than they did about organic cheese!
Next, I bought from one direct sales company through a casual acquaintance. She sent me a couple recipes for my oils and a reference book that probably was helpful, but I didn't know enough to find anything in it. I asked for more help but it was limited.
Finally, I went to a class with my cousin who told me this experience would be different. And although I was highly doubtful and not planning to buy anything else at that point, it was different right away. The education was the piece I was missing. I bought another kit and switched brands right away.
From that point on, the mentor I had signed up with supported me and was always ready to provide tips and talk about options to use my oils. I received another book but she assured me she would look things up for me until I got the hang of it.
This led to one of my pivotal moments with the oils. Approximately one month after getting my second kit of oils, my youngest started kindergarten. Two weeks into the beginning of the year, she developed some chest irritation and I felt like supermom. Here we go!! I will get to use my oils to solve the world's problems!!
Hmmm…. Not so much. I read the book, put things in her diffuser, put things on her feet…. Put more in her diffuser… tried a different blend. Nothing!
What?! This was supposed to EMPOWER me!! I felt defeated. (And trust me, that was not the first time!)
Finding the right options to support your body can be tricky and we all have those times that things just don't seem to work. This is why good support is critical.
My mentor saw a Facebook post I made and told me to come over. She looked into several things and recommended two oils for us: Ylang Ylang and Geranium. Wait, these are not related to occasional chest discomfort! BUT, they ARE related to stress, separation, grief, sensitivity….. OHHHHH! Psychologist mom had totally missed the point.
Our bodies will reflect our emotional state and I had missed that completely. Major mom fail! But redemption came from using those oils (my mentor gave me samples – another important thing when you need something right away), and the irritation eased in a couple of days.
My recommendations for essential oils
So, my two recommendations when you choose the right oils for you: know your company and know the quality of the oils you are choosing.
It is always best to buy directly from the distributor so you know no tampering has taken place.
Second, make sure you sign up with someone willing to provide ongoing support and education. That continuing education has been critical for me in using my oils regularly and growing in the journey of controlling my home and empowering our path in stewarding our lives effectively!
I hope that helps you make some decisions for your home, and I would love to provide you the mentoring offered to me with oils you already have or oils you would like to try. Let's get out there and enjoy the beauty of these amazing options!
Have you tried using essential oils? What's your experience?