Living Simply Saturday: "A Mother's Work is Never Done"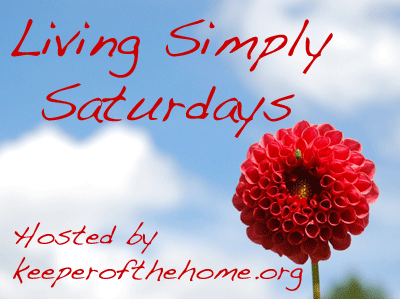 Welcome to this week's edition of Living Simply Saturday- The "A Mother's Work is Never Done" carnival (and gosh, isn't it true?).
This week, I'm so eager to hear all about your answers to these questions I posted last week (see that post for more background on the point of this week's carnival):
** How do you keep the weekends (or whatever your family days are) simple? Restful? Worshipful?
** What techniques do you employ to keep your kitchen or other housework minimal?
** What ways do you pre-plan or prepare during the week, so that your load is lighter?
** Anything else you'd like to share with us along this topic!
As for myself, here are a few of the ways that I work to give myself a bit of a break on the weekends, so that I can enjoy relaxed, focused time with our family during my husband's days off, and  strive to have a Sabbath day where we get to church as prepared and unstressed as possible, with time for rest and/or fellowship with others afterwords:
~ I plan out my weekdays so that all of my major cleaning tasks are taken care of by Friday afternoon. This includes having all of the laundry finished, folded and put away by that time as well (though I sometimes have a basket still sitting around come Saturday- life happens, of course!). The only cleaning I expect of myself is general tidying, meal cleanup, and unexpected messes. I do my best to turn a blind eye to whatever else needs to be done!
~ I make my larger and more work-intensive meals from Mon-Fri, so that I usually have some leftovers in the fridge by the time the weekend hits. This helps to make for easy lunches, and also cleans out the fridge a bit for the upcoming week.
~ For Saturday nights, I usually chose something really simple and throw-together, like sandwiches, pasta with sauce, pizza (which I've already made the dough for), etc. For Sundays, I try to make good use of my crockpot and put something in while I'm cooking breakfast that morning (or even prepare it the day before, and just put the pot in the fridge until Sunday morning). My favorite Sunday meals are soups, stews, or things like chicken or roasts with veggies. Delicious and filling, but I can walk away. My kind of cooking. 🙂
~ I find it helps to give the kids a bath on Saturday morning or afternoon, so that they don't need one on Sunday morning. I like them to be freshly bathed for church, but it's a bit too much to do it on Sunday mornings.
~ Most Saturday nights, I choose and lay out complete outfits for both of the kids. That way, it's already been decided and I know that everything is ready, I'm not surprised by a mystery stain or realize that the matching tights are in the wash, etc. I also try to do this with my own clothes, or at least think through what I would like to wear the next day and make sure that it's clean and ready to go. I don't know about the rest of you, but if I don't do this I am likely to try on 4 or 5 different things in the morning, losing valuable getting-ready time!
~ Yesterday, I took the kids out to the zoo for the entire day, and I was reminded of something really valuable. It is easy to let weekends and days off turn into just another day to do errands, stay around the house, do projects, putter around, etc. Not that those are always bad things, but sometimes we just need to be intentional about making plans to actually do something with our families! I often actually feel like I've had a more refreshing and enjoyable weekend if we've made specific plans to get out and do a family outing of some sort. Making those kind of plans in advance can be especially helpful, rather than letting the weather or my mood or energy level prevent me from suggesting something fun we could go and do. I think it also serves my husband if I think ahead and plan these things, rather than leaving it up to him on Saturday morning.
~ I try to avoid my computer past Saturday mornings, once I make sure that every is going smoothly with Living Simply Saturday. It's too easy to get sucked into doing work, and I would rather push myself to try to get it all done during the week, and if I run out of time, then not at all. Sundays are even more important to me to try to leave the computer turned off, to keep the day truly restful and focused where it should be.
~ Though I'm not typically much of a napper (I just lay awake thinking of all the things I could be doing instead of sleeping!), the one time you might find me asleep is with the entire family on Sunday afternoons. It is not uncommon for the lot of us to conk out for a couple of hours after lunch, and what better day to do this than on the Sabbath, the day that God has given us to rest?
I think that's it for me… now it's your turn! Please, share your ideas, wisdom, tips and suggestions with us for how you, as a mom and/or homemaker, find the time to rest, relax, focus on relationships and keep the Sabbath.