Giveaway Week: Living Clay Package from Nature's Cleansing Clay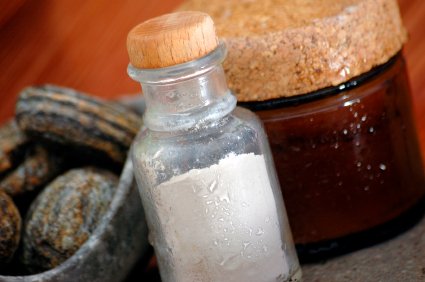 I first heard about the strange and curious practice of eating clay by reading Nourishing Traditions. The idea was absolutely foreign to me, but intrigued me as I had been learning more about trace minerals and the important part that they play in our health.
It was still a good two years before I finally went ahead and purchased the recommend Azomite clay for it's high mineral content. Shortly afterwards, I began reading about the benefits of Bentonite Clay, not for nutrients necessarily, but rather for cleansing and detoxing and possibly helping my husband's acid reflux issues. I had already gone off the deep end with my first purchase… why not serve my family some more dirt?
I still have much to learn about the benefits of using a cleansing clay like Bentonite, so I will let today's giveaway speak for itself a little and give a brief history lesson about the use of clay:
Healing clay may be a new concept to some of us, but it has been used for thousands of years. Long before recorded history, humans have used healing clays externally and internally to cure illnesses, sustain life and promote general health. Ancient tribes of the high Andes, central Africa and the Aborigines of Australia used clay as a dietary staple, a supplement and for healing purposes…

The Essenes (authors of the dead Sea Scrolls) used clay for the natural healing of a wide variety of illnesses and injuries, and there are numerous Biblical references to the healing powers of clay…

Early in the 20th century, Julius Stump, a renowned Berlin Physician, successfully used clay therapy to treat Asiatic cholera. A contemporary, Dr. Meyer Camberg, used green clay to neutralize arsenic poisoning. During the 1st World War, German physicians offered clay therapy as a solution to the food poisoning, dysentery, diarrhea, and wound infection that was rampant among troops on both sides, greatly reducing mortality rates…
Today's giveaway is for a particular type of clay called Calcium Bentonite Clay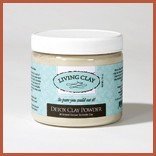 They also refer to it as a "Living Clay" for this reason:
"One of clay's peculiarities is based on its physical-chemical domination. From a thermo-dynamic point of view, we must admit that clay cannot be the sole source of energy of the phenomena it produces. Clay is effective through a dynamic presence far more significant than a mere consideration of the substances it contains. It is a catalyst rather than an agent in itself. This is possible because clay is alive – 'living earth'.
Priding themselves on having the highest quality clay (and I have been told that not all clays are equal), Nature's Cleansing Clays are "all natural calcium dominant Bentonite clay with Montmorillonite properties from the Smectite family of clays. Unlike other clays, only Smectites can both absorb and adsorb. Characterized by its expandable properties, Living Clay® is considered a green swelling clay recognized for its effectiveness in drawing out impurities and toxins."
Wondering what on earth you would do with clay? Here are some of the common uses for Bentonite Clay from the website:
Internal cleansing and detoxifying (in particular, removing heavy metal toxins)
For skin issues, like psoriasis and eczema
Treating acne
In facial masques and treatments, and other spa treatments for skin
In clay baths, which are both for the skin and also for the detoxification process
Parasite removal (in humans, and also in pets and other animals)
Other possible uses include: losing weight, removing spider and varicose veins, wart removal, curly hair treatment, toothpaste and tooth powders, and more.

To learn more about the use of clay, read articles about clay as a natural healing treatment, and read testimonials, check out this website.
How to take clay? You can simply mix it with some water or juice and chug it down, add a bit to smoothies (I find thick banana-based smoothies cover it well), or put it in baths. It can also be used on the skin directly, like a masque. For those wanting the most painless way to take it, try buying plain gelatin capsules as I did and make your own clay capsules– so easy to make, and easier to get down.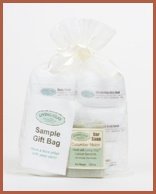 Today's clay giveaway comes from Nature's Cleansing Clay, where they specialize in selling very high-quality Calcium Bentonite clay, both by itself (for any types of use, including internal) and also in pre-made clay products like moisturizers and cleansers.
Enter to win a "Living Clay" Package including a 4 lb tub of Detox Clay Powder, a Living Clay book, and a Sample Gift Bag containing various soaps, creams and more (a total value of $104.95!)

To enter the giveaway, simply click on the link below to fill out a survey form. Rather than having to leave multiple comments for each entry option, you can just complete the one survey and you're done!

Giveaway has now ended.
This giveaway is sponsored by Saving Naturally, helping you live healthy while spending less.