Teaching handicrafts to little ones
I made a realization today. I really enjoy crocheting!
I haven't done it since I was in university, and only for a very short period of time at that. I made one lovely, dark sage green, very soft lap blanket which my son uses in his crib, despite the fact that it is entirely uneven due to continually dropping or picking up extra stitches. Today, however, I pulled out my old hooks and some yarn that Abbie and I found cheap at a thrift store, watched a couple of tutorials to freshen up my memory, and rediscovered this relaxing hobby!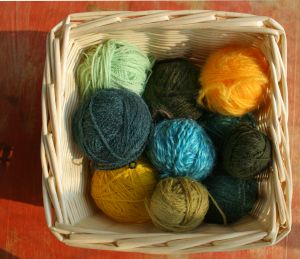 Now that I know what I am doing once again (well, sort of), I am trying to teach Abbie how to crochet. It was a little bit frustrating today, though. It's very difficult for her to put all of the different elements together- holding what she has already crocheted, plus the yarn she is using, plus the hook. It's just a bit too much for her, and I guess I didn't realize that it might be.
Any tips on how to teach it, so that it's easier and less frustrating for a little one? Do you think that four is maybe too young to be able to have the coordination to put it all together? 
I'm really eager to start teaching Abbie some of these types of handicrafts (crocheting, sewing, knitting, etc.). We've done a little bit of simple stitching and that seemed to be a lot more child-friendly. I was hoping that crocheting might be similar, but maybe I was wrong.
Any other ideas? How have you introduced crafting like this to your little ones? Any good resources to share? And on a side note, where can I find a pattern for making those adorable, crocheted dish cloths? 🙂