Blogiversary Q&A- Round 5
I've been working frantically to get these questions answered before the end of the week, and I've finally succeeded! I hope you've enjoyed getting to know a little bit more about me, and maybe your curiosity has been somewhat satisfied… if not, you know where to find me! 🙂
Alisa asked- My other question is about homeschooling. You mention homeschooling yet your oldest is only 3 or 4. Why do you choose to formally school your child at this point?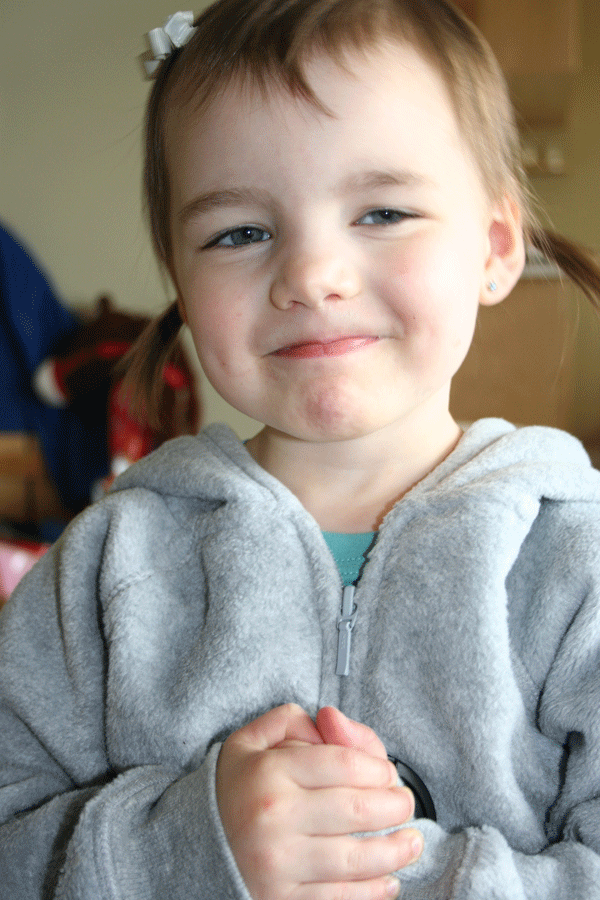 Well, I'm not sure that I would say we are "formally" homeschooling quite yet. At this point, we keep things pretty relaxed and free of many expectations, except that our daughter will obey and participate with a good attitude. You're right, though, in that we are purposefully choosing material to expose her to, activities for her to complete, and spending specific time working on not only heart and character training, but also on some academic foundations.
But I suppose the truest answer to the question of why we've started so early is this: We believe that education is a lifelong process, and not something that begins when you're 5 and ends when you're 18 (or after university, or whatever). We want for our children to love learning and to be internally motivated, lifelong learners, and in our opinion, the best way to do that is to make learning a constant in life, not something that happens only when they reach a certain age or between the months of Sept-June (we plan to homeschool through the summers as well).
You will often hear me refer to homeschooling as "home education", and I suppose we prefer that term because it lends itself to the idea of someone who is being thoroughly educated (a diverse and complex process which can take many forms), as opposed to being "schooled" (which gives the impression of tasks to be completed, and a concrete start and end time).
Do you plan to homeschool when your in subsequent years? If so, is it because you think homeschooling is better than a traditional school setting or because it would be too expensive to send your children to a christian school?
Yes, we plan to homeschool our children all the way through!
And that second question would take me so long to answer as thoroughly as I want to, so suffice it to say this:
1) We want our children at home, with us, most of the time. This is how we plan to accomplish the kind of discipleship and teaching talked about in Deuteronomy 6:5-7, "Love the LORD your God with all your heart and with all your soul and with all your strength. These commandments that I give you today are to be upon your hearts. Impress them on your children. Talk about them when you sit at home and
when you walk along the road, when you lie down and when you get up." How difficult it must be to do this when your children are away from you for 5-6 hours a day (or more)! We definitely know families who are raising wonderful, Godly children, while having them attend school, but this is the way that seems best for us.
2) We don't want our children to be influenced by students and teachers who do not have a Christian worldview, during their early, formative years (particularly when we cannot be around to know what is being taught and said and to help our children work through it with a Biblical framework).
3) It is definitely expensive to send our children to a Christian school (especially when I'm already at home and capable of teaching, and have no intentions of going back to work). But even if money wasn't an issue, they would be exposed to many things that are questionable (there may be some good schools out there, but I think all of us who have gone to school, even Christian school, know that no school is without it's issues and without questionable students and even teachers).
4) I want the privelege of being with my children, and I don't want to give it up to someone else, no matter how wonderful of a teacher they may be. They're our kids, given to my husband and I to raise (as well as to answer to God for!) and I want to soak up the years that I have with them!
That still didn't do the question justice… Oh well. 🙂
Alison asked- Are you a native Canadian? What about your husband? (It sounds like his mom lives in the States?)
Yes, I was born in Canada, in the Vancouver, BC area. My husband was, too. His family is actually Canadian, but his Dad has been working with a couple of American companies and living in the US for about 10 years.
How did you two meet?
We met while working at a social services agency, where we were both a sort of Foster Parent. We took turns living with a troubled 12 year old boy (who was in the custody of the ministry), 3 days on, 2 days off. What a way to check out a potential spouse- just become a parent with them! I loved seeing his heart and his love for the Lord, and one thing led to another. We dated/courted for 8 months, and were married 5 months later, and just celebrated 5 beautiful years!
What did you do before you married? I know I read this somewhere on
your blog, but I can't remember now. (Did it have something to do with
museums? Or art?) And how did you choose that career, and you would you
ever go back to it?
Actually, I am so completely hopeless at art, but you may be remembering that my sister-in-law is a beautiful artist. Before we were married, I finished my BA in Psychology and Biblical Studies at Trinity Western University. After that, I spent about half a year at the social work agency where I met my husband, then went back into autism therapy, which I had begun doing in my 4th year of university. I did that, as a behavioral interventionist (ABA) for another year, before we got married and moved to Japan. There, I became an ESL teacher, something I had never studied in or done before! Randomness. It's all just completely random, I know! I have to say, I'm just loving my current career as a mother and homemaker, and I'm pretty sure I'll just stay put where I am! 🙂
If I were to ever get another job outside of the home (which would be very far off when my kids are out of the home or at much, much older), I would not go back into my previous fields. Instead, I would complete the diploma that I began and become a Holistic Nutritionist. I would do private consulting, and teach seminars, and write books (hmm, I guess my blog is good practice, isn't it?). I've also thought of becoming a Bradley childbirth instructor. Or a midwife. So many good options out there, but it's really not something I think about too much.
Thanks for asking all of these great question- there were fun to answer, and a nice change of pace. And thank you so much for your kind words and encouragment on my 1 year blogiversary! It's been a good year, and I'm looking forward to many more.
See you tomorrow for Living Simply Saturdays!