Cinnamon Apple Salad Recipe: A Perfect Holiday Side Dish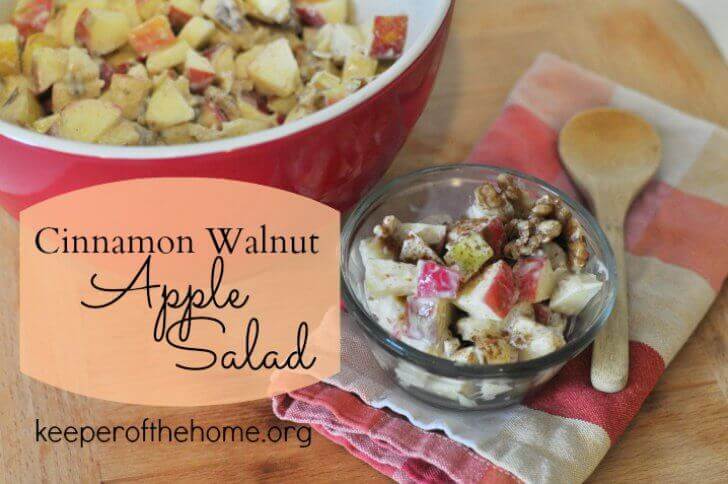 By Emily McClements, Contributing Writer
My mom is a great cook. She grew up on a farm in Northwestern Ohio with vegetables from the garden, fruit from their fruit trees, fresh milk from their cow with real cream and homemade butter, eggs and meat from the neighbors' chickens, and fresh beef from their cattle. She learned how to cook from her mom, my grandma, who was also an amazing cook, and then she passed her love of fresh, local, and homemade food on to my sisters and me.
I remember a lot of things about the food we ate in our family when I was growing up. When I was younger we had a garden in our backyard, and even after it became too much to keep up, my mom frequented the Farmer's Market once or twice a week to feed us local, in-season fruits and veggies. I grew up loving beets and lima beans; two things I still can't get my husband or kids to touch.
Over the past few years, as I try to get a nourishing meal on the table for my family every night, I've realized my mom had more than a few tricks up her sleeve for quick and simple meals when I was growing up. One of my favorite memories, breakfast for dinner where my dad cooked the pancake batter into animal shapes for my sisters and me, was actually a night off from cooking for her. Or "pizza boats" were really just an attempt to throw together a quick dinner using leftover buns and spaghetti meat sauce with a sprinkle of cheese on top, and popped into the toaster oven.
Then there was one of my favorites, apple salad, which seemed like a treat to us, but I now realize was just a simple, and delicious, way to serve us fruit in the winter time. Now I serve apple salad to my own family, with a few just a few small changes from my mom's original "recipe," to make it a little healthier. It's still an easy way to serve fruit as a side dish, and this recipe is perfect to include in your upcoming holiday meals too!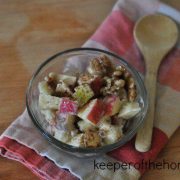 Print Recipe
Cinnamon Apple Salad
Ingredients
4-6

smaller apples

or 3-4 large apples

2

bananas

Red or green grapes

halved (optional)

1/2

cup

plain yogurt

1

tsp.

maple syrup

1/4

tsp.

vanilla

1/2

cup

chopped walnuts

Cinnamon to taste
Instructions
Chop apples and place into a large serving bowl.

Sprinkle apples with a few shakes of

cinnamon

, to taste.

Pour yogurt mixture onto apples and stir to combine.

Cut up bananas into pieces on top of apples. Add chopped walnuts and grapes, if using, to bowl and stir gently to combine. Serve immediately.
A few notes
You can also use vanilla yogurt in place of the plain yogurt, maple syrup and vanilla mixture. My mom would add marshmallows as well, and I think that's why we thought it was a treat. I leave the marshmallows out now, but if you have some homemade ones, it might be fun to add them for a special occasion. The yogurt helps to keep the apples and bananas from turning brown once cut, but it's still best to serve this as soon as it's made. It keeps nicely in the fridge if you have leftovers, but it doesn't look as appealing after sitting for a while. Enjoy!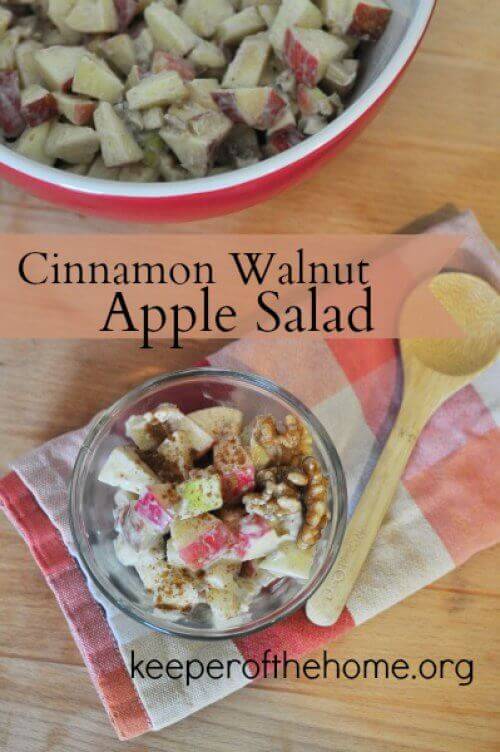 Did you have a favorite food or meal growing up that you realize now was just a quick trick or a shortcut to serving a healthy meal? Share your favorites with us in the comments!