Cauliflower Pickles: Refrigerator Pickles Recipe
By Andrea Green, Contributing Writer
Will you be planting cauliflower in your garden this year?
One of our family's favorite way to eat cauliflower is pickled. Pickling is such a great way to preserve your garden's bounty.
Cauliflower pickles taste great alongside a burger. They also are an excellent picnic food. Ditch bringing chips. These cauliflower pickles give you plenty of salty crunch with less fat, less calories, and less processed yuckiness.
The best part of this recipe is it doesn't require any canning skills. You'll simply pour the pickling juice over the cauliflower, allow to cool, then refrigerate. These will stay fresh in the fridge for about 3 months! (As if they will last that long!)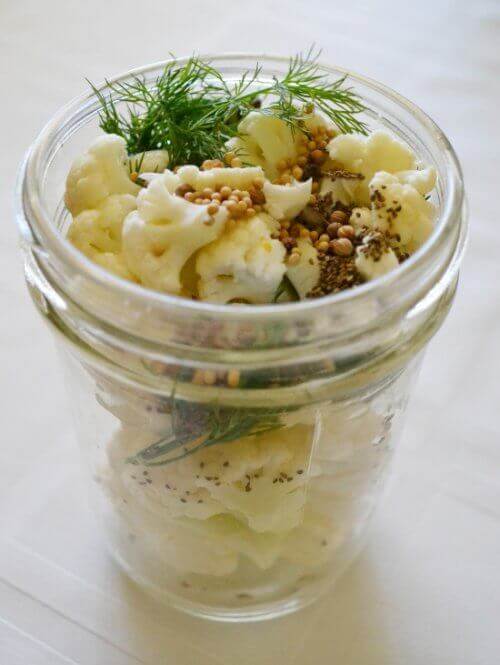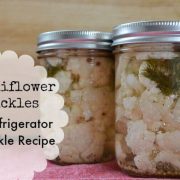 Print Recipe
Cauliflower Pickles: Refrigerator Pickles Recipe
Ingredients
4

cloves

garlic

peeled

2

cups

water

1

cup

white vinegar

3

teaspoons

sea salt

fresh dill

1/2

teaspoon

celery seed

1/2

teaspoon

coriander seed

1/2

teaspoon

mustard seed

1

head cauliflower

chopped into large pieces
Instructions
In a small saucepan, bring water to a boil. Add the peeled cloves of garlic. Reduce heat to a simmer and allow garlic to cook for 5 minutes.

Add vinegar and salt to water and garlic. Cook just until salt dissolves.

Stuff two wide mouth pint jars with the chopped cauliflower.

To each jar, add sprigs of dill, 1/4 teaspoon per jar of celery seeds, coriander seeds, and mustard seeds. Place 2 cloves of garlic in each jar.

Pour the brine evenly into each jar, filling until almost to the top.

Allow to cool before refrigerating.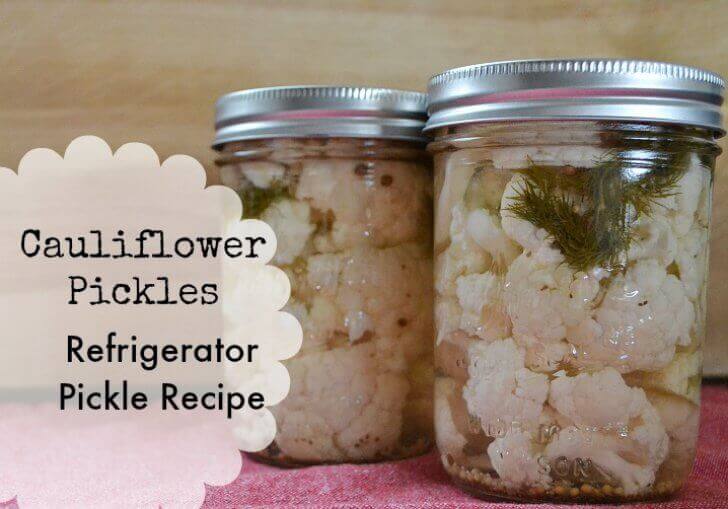 Making cauliflower pickles really is that easy!
The beauty of this recipe is you can use the brine to pickle just about anything – carrots, cucumbers, or even green beans! Whatever you have an abundance of from the garden, you can pickle it!
What is your favorite vegetable to pickle?
This post is sponsored by Plan To Eat. If you know you need to make strides towards regular meal planning and you're looking for a tool to make it easier, I highly recommend you check out Plan To Eat's virtual tour. Sign up for a free 30-day trial to see how it works! Plan To Eat was born from a desire to eat real food — great food — prepared at home, together as a family. Plan to Eat is an online menu planner that uses your recipes, scheduled for the days you want them, automatically generating your grocery list, organized the way you like to shop. Eat well. Eat together.